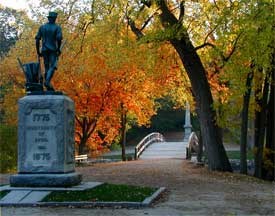 What is the name of the river?
The North Bridge spans the Concord River. Ironically, as Nathaniel Hawthorne once pointed out, the name Concord implies peace and harmony.
How old is the North Bridge?
The North Bridge that visitors walk over today is actually a recent (summer of 2005) restoration of the last bridge built on this site in 1956. The 1956 bridge is the fifth bridge to occupy this hallowed ground since the time of the battle in 1775. The bridge that was there in 1775, the "battle bridge," was taken down in 1788.
Are there really bodies buried in the Grave of the British Soldiers? Do we know who they were?
Yes, there are two soldiers buried in the grave. British military records indicate that there were three soldiers (all privates in the 4th Regiment) missing and presumed dead after the North Bridge fight: James Hall, Thomas Smith and Patrick Gray. One of these three men is buried in Concord center; there is a stone marker for him on Monument St. The other two are buried here.
Who wrote the poem on the British gravestone?
They came three thousand miles and died,
To keep the past upon its throne.
Unheard beyond the ocean tide,
Their English mother made her moan.
This is a stanza of a poem called "Lines" by James Russell Lowell.
Who sculpted the Minute Man Statue?
A young Concord man named Daniel Chester French won the contest to create a monument for the 100th anniversary of the battle (1875). Civil war cannons were melted down to create this cast bronze statue. French later created many other pieces of art, including the seated Lincoln statue in the Lincoln Memorial in Washington, D.C.
Does the Statue represent a particular person?
No; it represents a (generic) farmer who leaves his plow and picks up his musket to defend his land and liberty. However, when French was researching the statue, he did make sketches of some of the descendants of Isaac Davis of Acton (killed at the Bridge). This statue is the logo for the National Guard, and is the one shown on the 2000 "Massachusetts" quarter. It is also on U.S. Savings Bonds, and was on War Bonds during WWII.
---