The Minute Man statue by Daniel Chester French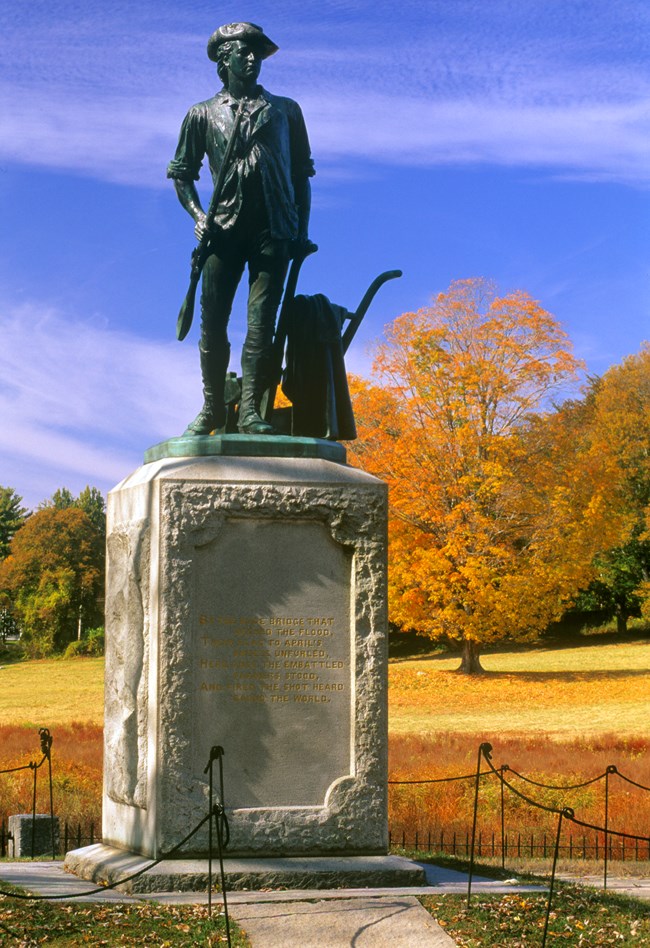 Unveiled for the Centennial celebration of the battle on April 19, 1875, The Minute Man statue, by sculptor
Daniel Chester French
, is an American icon an
d has stood guard over this hallowed ground ever since. It is set near the spot where the first colonial militia men were killed in Concord on that fateful day in 1775.
The 7 foot tall bronze statue was cast from old Civil War cannons by the Ames Foundry of Chicopee Massachusetts. The pedestal base measures 7 ½ feet tall and 4 ½ feet on each side. Inscribed on the front facing is the first stanza of the poem "The Concord Hymn" by Ralph Waldo Emerson:

BY THE RUDE BRIDGE THAT
ARCHED THE FLOOD,
THEIR FLAG TO APRIL'S
BREEZE UNFURLED,
HERE ONCE THE EMBATTLED
FARMERS STOOD,
AND FIRED THE SHOT HEARD
ROUND THE WORLD.
The Minute Man has come to mean many things to many people. He stands as a reminder that sometimes our freedoms must be fought for, and to never take them for granted. He has adorned the uniforms and flags of our nation's National Guard as they serve around the globe. This "embattled farmer" has been on postage stamps, U.S. Savings and War Bonds, coins, corporate logos, as well as used as a mascot by local schools.
Secured under the base of the stature are two time capsules. The first one placed there in 1875 includes: Lemuel Shattuck's book History of Concord, the Account of the Fight from the Diary of Rev. William Emerson; a 1874 Town Report; Photographs of Daniel Chester French and The Minute Man; Map of the Village in 1775; Map of Center of Concord in 1874; coins, stamps, newspapers of the time and invitations to the 1875 celebration.
In January of 1975 the Minute Man was removed from its base so that a mold could be made of the statue in case it were ever damaged. At that time it was suggested that a second time capsule be created for the upcoming Bicentennial of the Battle. Girl Scout troops from the Town of Concord were selected to run this project. Contents of this second time capsule are: microfilm containing images of letters, photographs and scrapbooks made by the Girl Scouts; a cassette tape with "The Sounds of Concord"; an American flag; a Bicentennial flag; military patches; Girl Scout pins; and money.
The time capsule was installed on March 29, 1975, when the statue was returned to its pedestal, during a ceremony which included the Girl Scout troops and dignitaries from the town, the Girls Scouts of America, and the National Park Service.
Last updated: July 8, 2022