Pets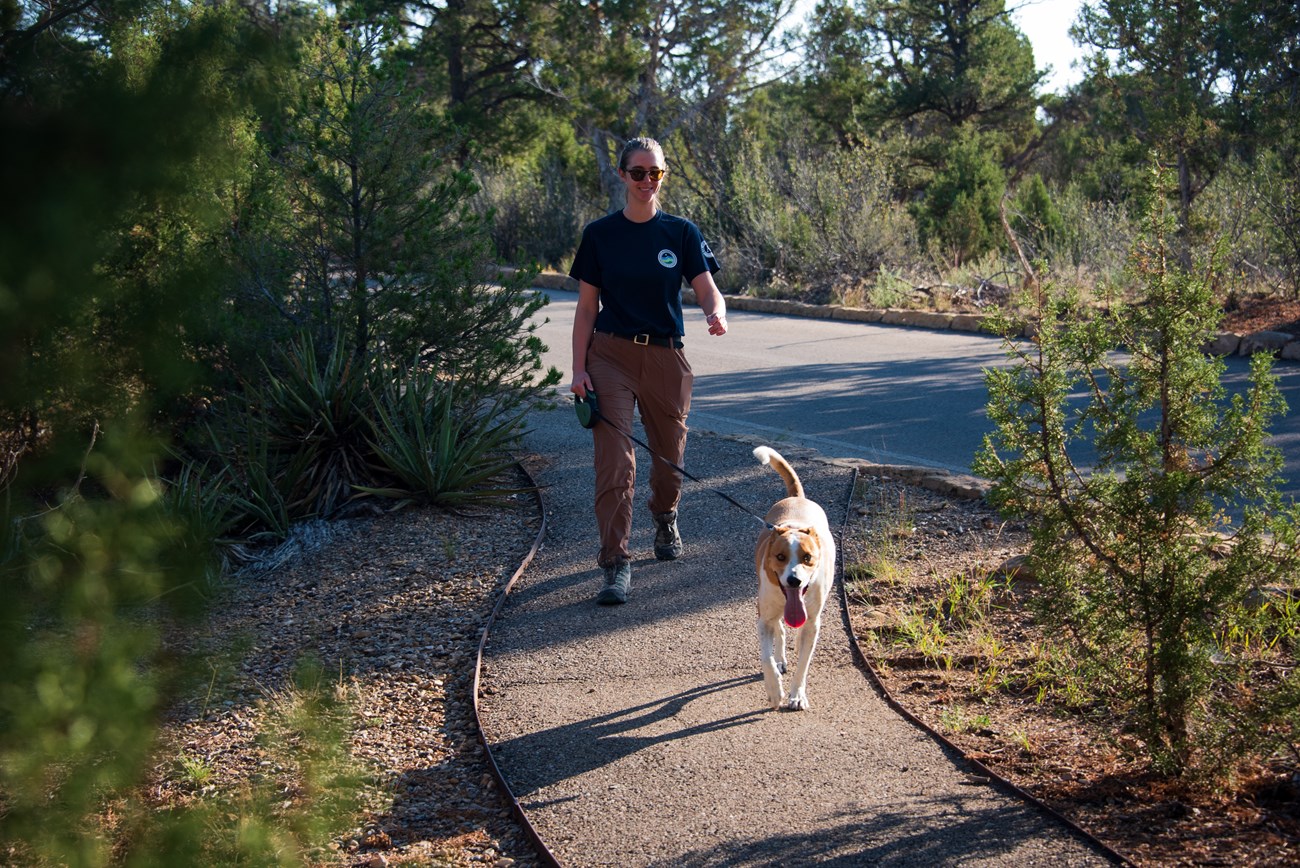 Pets are welcome in Mesa Verde National Park, but to protect your pets, wildlife, and other visitors, please follow these regulations:
Pets must be leashed (6 feet/1.8 m or shorter leash) at all times.
Do not leave pets tethered or unattended.
You must clean up after your pet.
Pets are not allowed:
In buildings, inside ancestral sites, most overlooks, and on most park trails (see below).
Leashed pets are allowed:
On paved roads, in parking lots, and on campground roads.
On some paved trails, including Park Point and the Mesa Top Loop sites.
On some paved trails in the park headquarters area, including the back porch of the Chief Ranger's Office, where Spruce Tree House can be seen. Dogs are not allowed at the lower Spruce Tree House overlook.
On most Wetherill Mesa trails, except the Step House Trail, including the Long House Loop, Badger House Community, and Nordenskiöld Site #16 Trail. Note: Wetherill Mesa is closed in 2023
Service Animals
Service animals are allowed anywhere that you are allowed to go in Mesa Verde. For more information, visit the service animals page.
Keep Your Pets Safe
Keep your pets well hydrated and cool. Water is available at the restrooms in the Park Headquarters area and at the Visitor & Research Center, and seasonally at the Morefield Campground, Wetherill Mesa, and Cliff Palace parking lot.

Temperatures at Mesa Verde are often too high to safely leave pets inside vehicles. Leaving a window open is not enough: temperatures inside cars can rise nearly 20 degrees Fahrenheit within ten minutes, with with windows cracked.

Sometimes your pets are happier, and safer, staying at home.
Boarding
A kennel is available in the Morefield Campground. See the kennel section of Aramark's Morefield Campground webpage, or call the kennel at 970-565-2133, for current information on kennel hours and pricing.

The following organizations can provide additional information on boarding pets in neighboring communities:


Last updated: May 6, 2023