Mesa Verde Visitor and Research Center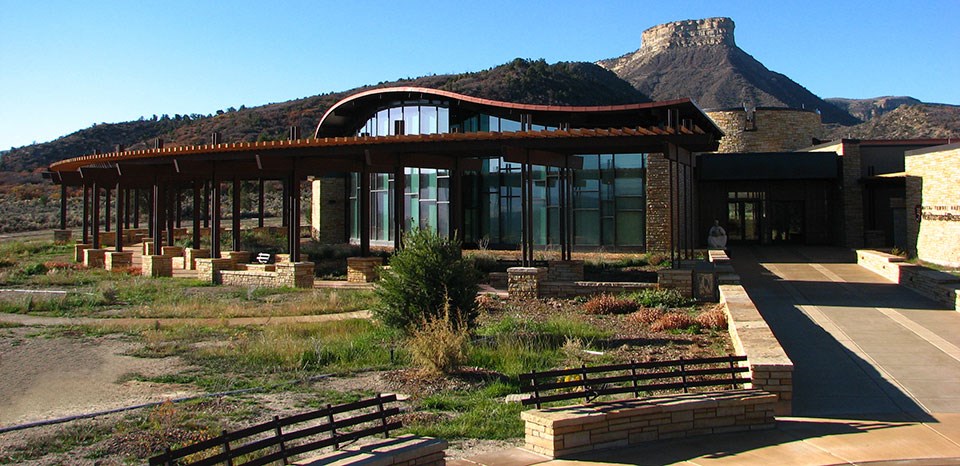 Be sure to make the Mesa Verde Visitor and Research Center your first stop so park staff can help you plan your visit. The Visitor and Research Center is located near the park entrance, just off of US 160. It is the park's primary facility for orienting visitors to opportunities within the park and surrounding area. It also houses a state-of-the-art research and storage facility for the park's archives and museum collection of over three million objects.
Exhibits
The visitor center exhibits are designed to help visitors plan their visit to the park and to offer glimpses into the richness of Ancestral Puebloan culture and daily life. You'll also find exhibits highlighting:
the modern descendants of the Ancestral Pueblo people

the park's museum and research collection

the LEED® (Leadership in Energy and Environmental Design) building's energy-saving and sustainablility features

several original sculptures and other pieces of art that reflect modern artists' perspectives on Mesa Verde, its people and landscape
Other Available Facilities
The Mesa Verde Museum Association bookstore features books, trail guides, maps, and other items that you may find useful during or after your visit.
Restrooms are located near the entrance to the visitor center.
Free WiFi is available in the visitor center lobby and parking lot area.
Visitor Center Hours (Currently Closed Until Further Notice)
January to early April, 8:30 am - 4:30 pm*
Early April to late May, 8:00 am - 5:00 pm
Late May to early September, 7:30 am - 7:00 pm
Early September to early November, 8:00 am - 5:00 pm
Early November to late December, 8:30 am - 4:30 pm*
*The visitor center is closed on Thanksgiving, Christmas, and New Year's Day.
For specific hours of operation during the time you are visiting, please go to the Visitor Services and Interpretive Program Schedule.
Last updated: April 18, 2021