Cedar Tree Tower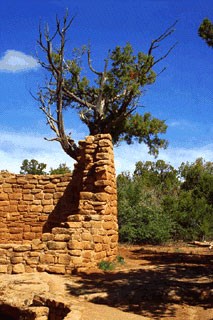 Cedar Tree Tower is one of several tower sites that have been discovered on the mesa tops. Towers were primarily built during the Classic period (A.D. 1100 to 1300) at Mesa Verde and are usually associated with a kiva. The purpose of a tower-kiva complex is not known. Some speculate that towers had a ceremonial purpose based on their close association with kivas. Other people propose that the mesa top towers were part of a communication system.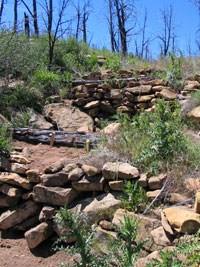 Adjacent to the Cedar Tree Tower area is the trailhead for the Farming Terrace Trail. This 1/2 mile loop trail provides an opportunity for a leisurely hike. Along the trail there are good examples of Ancestral Puebloan check dams and farming terraces.
Terracing was a common strategy used by the people of Mesa Verde. Check dams were built along sloping, narrow drainages, creating the terraced effect. The dams slowed water runoff from rainfall or melting snow. As the water slowly ran down the drainage, soil would be captured behind each dam. These pockets of soil retained moisture and became perfect places for planting. The Farming Terrace Trail helps you to discover how farming was accomplished at Mesa Verde 800 years ago.
Last updated: August 31, 2021