Balcony House Tour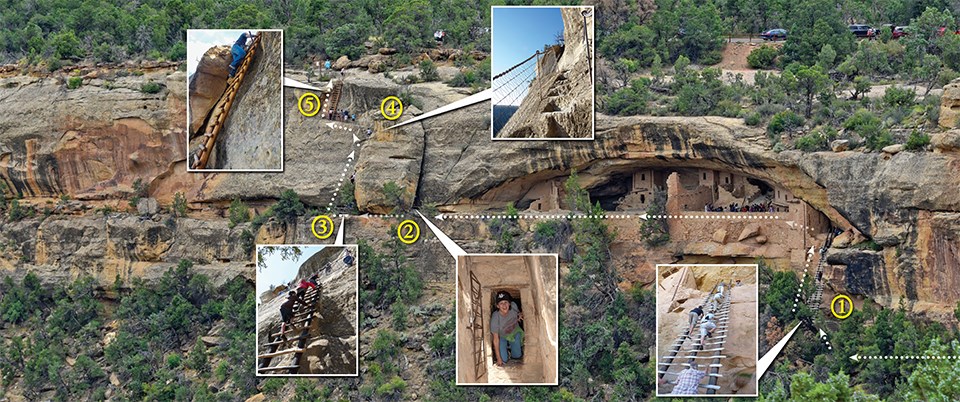 A visit to Balcony House is a 0.25-mile (0.4 km) hike. The tour requires walking down a 130-step metal staircase then, (1) climbing up one 32-foot (9.8 m) ladder to enter, two small ladders, and 12 uneven stone steps within the site; (2) crawling through an 18-inch wide (46 cm) by 12-foot (3.7 m) long tunnel as you leave the site, and (3 - 5) ascending a 60-foot (18 m) open cliff face with uneven stone steps and two 17-foot (5 m) ladders to exit.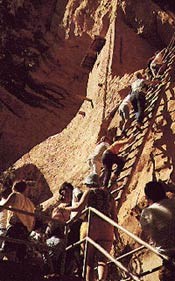 You may enter Balcony House by ranger-guided tour only. Tours are offered from late April to mid October. It is one of the most intimate yet adventurous tours at Mesa Verde. A visit to Balcony House will challenge your fear of ladders, heights, and small spaces, and will give you the opportunity to explore the common areas of a mid-sized, 40-room dwelling.
The Balcony House tour requires visitors to descend a 100 foot staircase into the canyon; climb a 32 foot ladder; crawl through a 12 foot, 18 inches wide tunnel; and clamber up an additional 60 feet on ladders and stone steps.
Purchase tickets for these one-hour tours online at recreation.gov.
The Balcony House tour is strenuous due to the elevation and physical exertion required to visit the dwelling. The tour is not recommended for anyone with heart or respiratory problems. Balcony House, like all of the cliff dwellings, is located at approximately 7,000 feet elevation and involves strenuous physical activity.
Last updated: September 21, 2022