Preserving Cliff Palace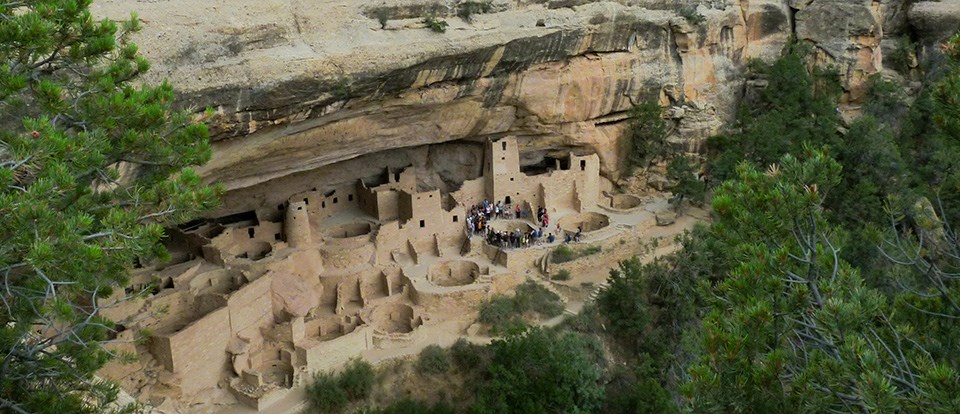 Since its 'discovery' in 1888 Cliff Palace has been the focus of early exploration, commercial exploitation, archeological investigations, and generations of visitors to Mesa Verde National Park. Throughout this history the imposing structure has also seen the development of innovative preservation strategies designed to halt and stabilize the continuing effects of natural and cultural agents of deterioration. As the centerpiece of Mesa Verde National Park, it remains one of the finest examples of a late prehistoric cliff dwelling in the American Southwest.
Cliff Palace challenges visitors to imagine what life was like over seven hundred years ago. Constructed of stone masonry, wood, and earth covered with plaster painted in a variety of colors; the structures that compose Cliff Palace reflect traces of everyday events: the mundane chores of food preparation and storage, private and public spaces, concern for defensive protection, village organization, and solemn ritual. These same buildings and spaces also reveal intentional design, subtle details of craftsmanship, and reliance upon construction materials and methods (structural systems) in use for hundreds of years. Collectively, these two views of Cliff Palace provide a way of understanding the past and the challenges we face at present to preserve this ancient place.
The preservation of Cliff Palace inspires visitors to imagine what life was like over seven hundred years ago. But the task of preserving this nearly eight century old site has its challenges as well as its rewards. Please use the following pages to learn about Preserving Cliff Palace.
Last updated: July 3, 2020