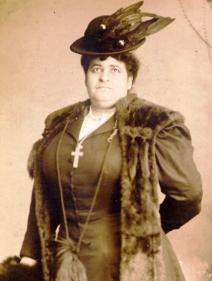 "First we need a savings bank. Let us put our moneys together; let us use our moneys; let us put our money out at usury among ourselves, and reap the benefit ourselves. Let us have a bank that will take the nickels and turn them into dollars."
-Maggie L. Walker
Independent Order of St. Luke Annual Convention
August 20, 1901
At the annual convention of the Independent Order of St. Luke (IOSL), Maggie Walker laid out her goals for her order, including the formation of a bank, emporium, newspaper, and factory. The one most important in her mind was the creation of a bank. To many, banks represented the pinnacle of financial achievement. To Walker, this bank would combat the oppressive conditions of Jim Crow and segregation while encouraging economic independence and thrift in the black community. Relegated to second-class citizenship, African Americans were denied rights in all aspects of life: education, employment, politics, and business. This bank, along with other black-owned businesses, provided courteous, safe places to conduct business away from the racism and harsh treatment often found in white owned businesses.
Mrs. Walker's idea for a bank was not new. Several fraternal orders also opened banks in turn of the century Richmond. The most famous was the Grand Fountain of the United Order of the True Reformers. Led by W.W Browne, the True Reformers became one of the largest African American fraternal and business orders in America. In March of 1888, the True Reformers made history by receiving the first charter granted to African Americans to open a bank. Between 1888 and 1920, five other black owned banks opened in Richmond, including Walker's St. Luke Penny Savings Bank and the Mechanics Savings Bank, which served as the main depository for another fraternal order, the Knights of Pythias.
There were numerous reasons for African Americans to open and patronize banks within their own community. Racial stereotypes discouraged many white bankers from loaning money to African Americans, fearing that loans would never be repaid. If black customers were issued loans, in many instances they were charged a higher rate of interest than white customers. While many white-owned banks accepted deposits from black customers, some did not. They feared the black customers would scare away white patrons. Also, as Mrs. Walker argued, why should African Americans "feed the lion of prejudice?" By patronizing black owned banks, money was kept within the black community, allowing Richmond's black community to prosper.