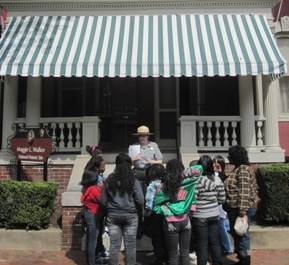 TAKE A TOUR
Ranger-guided tours start at the top of the hour, between 10 a.m. and 4 p.m. Each tour begins in the park's visitor center on 2nd Street with a viewing of the 20-minute introductory film, "Carry On: The Life and Legacy of Maggie Lena Walker," and concludes with a 30-40 minute tour of Walker's home right around the corner on Leigh Street.
Reservations are required for groups of ten or more.
The park offers special events throughout the year. Check the Calendar for upcoming programs.