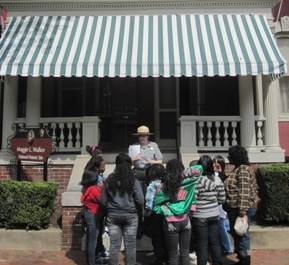 TAKE A TOUR
Park rangers provide guided tours of an exhibit hall and Mrs. Walker's home. In the exhibit hall, trace Mrs. Walker's life from her early days to her time as a community leader, bank president, and civil rights activist. Continue the tour in Mrs. Walker's historic home, preserved as a tribute to her enduring legacy of vision, courage and determination. Tours last about an hour and are offered on a first-come, first-serve basis. If you don't have time for a full tour, rangers may be able to offer an abbreviated tour.
Before your tour, watch the 12 minute introductory film. The Maggie Lena Walker Story captures the spirit of a woman who became a prominent civic leader, financier, and business woman during the early 20th century.
Reservations are required for groups of ten or more.
The park offers special events throughout the year. Check the Calendar for upcoming programs.