Maggie L. Walker Youth Summer Leadership Institute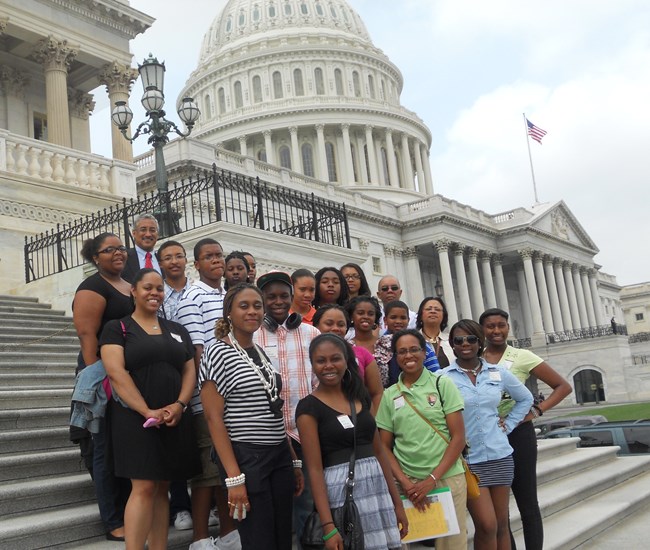 Update!
The National Park Service is pleased to sponsor the 12th Annual Maggie L. Walker Youth Summer Leadership Institute at the Maggie L. Walker National Historic Site.
The signature summer youth program at Maggie L. Walker NHS will have a new look and new outreach potential this year as it will be offered online July 6th through the 9th, 10am – 2pm each day. Concerns about maintaining the safety of participants during a pandemic caused us to rethink having an onsite, in-person program this summer.
For the first 10 years of the program, the Institute invited about a dozen high school students to the site in early July to become NPS volunteers. Participants learned Jackson Ward history, leadership skills rooted in Maggie L. Walker's example, and made modern connections, bridging the past with the present, through field trips, expert guest speakers, and student-designed service project plans.
This summer, we are seizing the opportunity to offer the program to an online audience, while continuing to fulfill the core purpose of the program: to help students tap into their own potential as community leaders. Our Leadership Institute team, including veteran instructors, Joy Davis Cobb and

Lisa

Williams

, Leadership Institute alum, Max Shavers, 2020 HBCUI intern Zosia Mackey, and Ranger Ajena Rogers, designed this new program for a new audience under vastly different circumstances.
The 2021 program will meet weekdays, Tuesday July 6th through Friday July 9th, 10AM to 2PM virtually, hosted by our program partner, the Maggie L. Walker Governor's School. To encourage small group interaction, space is limited to 20 applicants. Apply Today!
2021 Summer Leadership Institute Application
For further information, contact the program coordinator, Ajena C. Rogers, Supervisory Ranger, at ajena_rogers@nps.gov.
Last updated: May 11, 2021