Early Women In Banking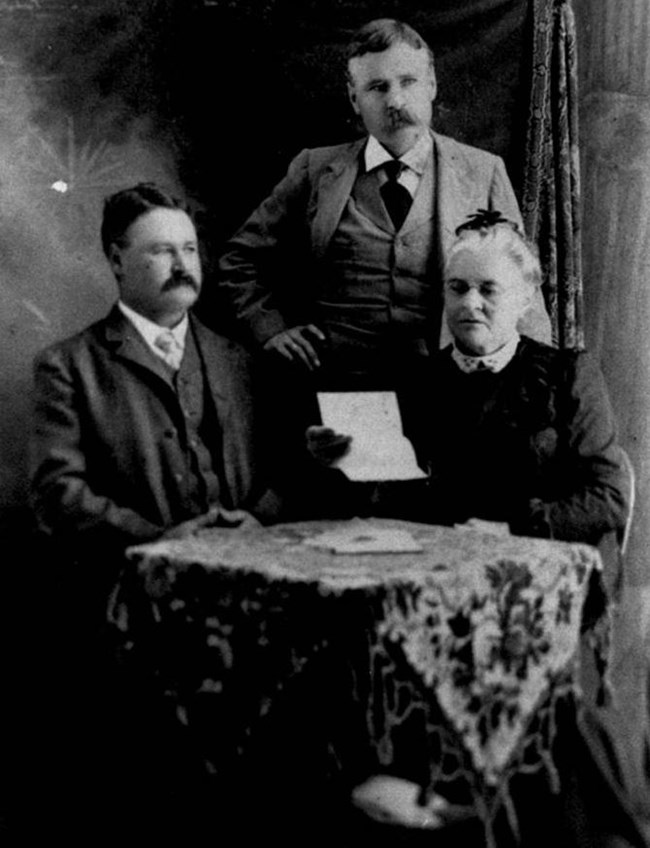 "
Woman bank presidents in the United States are very rare indeed. It is quite possible to go through a whole lifetime without seeing one
." -Mary Church Terrell, 1930
From 1903 until her death in 1934, Maggie L. Walker used her bank, the St. Luke Penny Savings Bank, to provide economic empowerment to women, and help strengthen Richmond's emerging black middle class. Walker's role as a woman who both founded a bank and served as its president was very rare for the time, and wholly unique within the black community. However, it was not entirely unprecedented. The women who preceded Walker as bank founders and presidents, all white and well-to-do, did not face the same challenges Walker did - as a black woman starting a bank from scratch in the South during the height of the Jim Crow era - nor did they always distinguish themselves like Walker with long and prosperous banking careers. Still, their lesser-known stories help us better understand how successful women were in challenging the male-dominated field of banking between the late 19
th
and early 20
th
centuries. Representing a wide variety of ages, regions, and even work experience, here are some brief biographies of just a few of those interesting women:
Louise M. Weiser (1837-1898), President of the Winnesheik County Bank in Decorah, Iowa (ca. 1875-1892).
Born in Vermont, Louise Amy married Horace Weiser around 1860 and settled in Decorah, Iowa where she lived for the remainder of her life. Her husband Horace, who had come from a family of bankers in Pennsylvania, had started the Winnesheik County Bank in Decorah in 1855 and served as its first president until his death in 1875. Weiser assumed the presidency of the bank soon after the death of her husband, and served in that capacity until their son, C.S. Weiser, became the bank's third president in 1892. To date, Weiser is the earliest known woman bank president in the U.S.

[1]
Deborah Powers (1790-1891)
, Head of the bank D. Powers & Sons in Troy, NY (1877-1891). The only woman bank president to have been born in the 18
th
century, Deborah Powers is also the oldest (87), and the first one known to have started a bank. Born Deborah Ball in Hebron, New Hampshire, she married William Powers around 1810 and moved to Lansingburgh, New York. Upon William's accidental death in 1829, Powers took over his profitable oil cloth manufacturing business and turned it into one of the largest of its kind in the world. She continued to run it even after establishing the bank, D. Powers & Sons, in 1877 which her sons, Albert and Nathaniel, helped run. Described in her day as the "oldest woman banker in the country," Powers ran the bank until her death, leaving behind an estate valued at $2,000,000, and a successful business career spanning over half a century.

[2]
Leila Comstock (1873-1895)
, President of the Comstock Banking Company in Green City, Missouri (1892-ca. 1895). Having entered the banking business at 16, and becoming a bank president at just 18, Leila Comstock is the youngest known woman to serve as a bank president. Comstock attended Ohio's Oberlin Business College from 1888-1889 before returning home to Missouri and starting work as the assistant cashier and bookkeeper at the Comstock Banking Company in Green City. In 1892, a second Comstock Banking Company was opened at Green Castle, Missouri, at which point Comstock was appointed president of the old bank and cashier at the new one. She married Edward C. Swann in 1894, though details concerning both the marriage and her early death at just 22 the following year are unknown.

[3]
Evelyn Tome [later Evelyn Frances] (1855-1927)
, President of the Cecil County Bank in Port Deposit, Maryland (1898 - ?) and the Elkton National Bank in Elkton, Maryland (1898-1906). Evelyn Tome was 42 years old when she inherited the presidency of the Cecil County Bank from her deceased husband, Jacob Tome, in 1898. Later that year, she was also elected president of the Elkton National Bank, making her the first known woman to have been president of more than one bank at the same time. Along with her position at the banks, Tome became the executrix of her deceased husband's vast estate which stipulated that she use over $4,000,000 to establish the Jacob Tome Institute in order to provide free education to its students. Three years after the school opened in 1900, Tome married one of its instructors, Joseph Irwin France, and soon began to withdraw from the world of business. It isn't yet known when Tome's presidency of the Cecil County Bank ended, but upon her husband's election to the Maryland State Senate in 1906, the couple soon moved to Baltimore, and she retired from the Elkton National Bank.

[4]
Mary E. Miller (1843-1921)
, President of the Lafayette Bank and Trust Company in Lafayette, Colorado (1900-1913), and the Louisville Bank in Louisville, Colorado (1914-1915). Mary E. Miller and her husband, Lafayette, moved to Boulder, Colorado from Iowa in 1863 and settled on a ranch. After Lafayette's death in 1878, coal was discovered on their property. With the money she earned from the companies who arrived to mine it, Miller established the nearby town of Lafayette, which she named after her late husband. There, she established a school, funded the construction of churches, ran for state office (as the Prohibition candidate), and started a bank, the Lafayette Bank and Trust Company, which opened in 1900. Miller served as the bank's president – alongside several of her children who worked in various leadership capacities - until 1913, when the controlling interest in the bank was purchased by a Robert Sohlbert of Guthrie, Oklahoma. The following year, the bank merged to become the Louisville Bank in Louisville, Colorado. Although Miller became president of the new bank, it failed just one year later.

[5]
Anna Martin (1843-1925), Founder and President of the Commercial Bank of Mason in Mason, Texas (1901-1925).
Born Anna Mebus in Germany, she arrived in Texas with her mother around the age of 15, and soon married her cousin, Charles Martin. She found work at her uncle's dry goods store, but as close family members began to pass away (including Charles in 1879), she expanded her business skills by opening a successful store of her own, A. Martin & Sons, aided by her two boys, Charles and Max. Martin switched gears and opened the Commercial Bank of Mason in 1901 at 58 years old, and soon bought out her only competitor. Martin ran the bank until her death, and it remained in the Martin family until the late 1950s.

[6]
SOURCES:
[1]
The 1860 Census provides the states in which the Weisers were born, and notes that the couple had been married "within the year." No job is listed for Louise Weiser in the 1860 Census, and in the 1870 Census it is noted that she was "keeping house," suggesting that she likely had little or no experience as a banker before assuming the presidency in/around 1875. Much of the bank's history - including its founding, and years Louise spent as its president - was gleaned from a single article, "Four Generations of Banking in Pennsylvania and Iowa," The Decorah Republican, May 6, 1915, p. 4. Ancestry.com's "Find A Grave Index" database provides Weiser's birth and death dates. It also notes that she is buried in Phelps Cemetery in Decorah along with her husband Horace.
[2]
On Powers' early life and career, see "Troy's Old People," Sun and New York Press [New York City], December 25, 1887, p. 11. Many newspaper stories about Powers made mention of her old age. Perhaps anticipating readers' questions about how she could be so old and successful, many noted that she took lots of long walks, quilted, and was a prominent philanthropist. On the value of her estate, see "Died At the Age of 101," Sun and New York Press, May 29, 1891, p. 2.
[3]
The 1880 Census notes the state where Leila Comstock was born. On Comstock's education and career, see "Oberlin Business College,"

The Enterprise

[Wellington, OH], August 29, 1894, p. 1. This article added information about Comstock's time at Oberlin to a brief summary of her banking career that was published in dozens of newspapers around the country between the summer of 1894 and spring of 1895. On Comstock's marriage to Edward Swann, see Sullivan County's (Missouri) Register of Marriage Licenses, accessed via Ancestry.com. Find A Grave's website also included an image of Leila's tombstone in Missouri which shows her birth and death dates (February 14, 1873 - March 31, 1895), and how her name was spelled (valuable since many newspapers reported it as "Lelia").
[4]
Find A Grave's website contains a photo of Tome's gravesite in Maryland which includes her birth and death years. On Tome being 42 at the time she inherited the presidency of the bank, see the 1900 Census which shows that she was born in August 1855. On Tome inheriting the presidency of the Cecil County Bank, see "A Woman Bank President," Sun [Baltimore, MD], April 20, 1898, p. 4. On her being elected the president of the Elkton National Bank, see "Items of Interest," Barbour County Index [Medicine Lodge, KS], October 19, 1898, p. 5. On Tome's marriage to France, see "Bride Worth a Million," The Minneapolis Journal, June 25, 1903, p. 6. On Tome's decision to retire from the bank in Elkton, see "Mrs. France Will Retire From Bank," Baltimore American, December 21, 1905, p. 2.


[5]

On Miller's arrival in Colorado and the discovery of coal on her land, see "Colorado Has Only Woman Bank President In U.S.," Denver Post, December 4, 1902, p. 14. Accounts differ on whether it was Mary or Lafayette who founded the town of Lafayette, but the source on it being Mary is the website for the Colorado Women's Hall of Fame -
https://www.cogreatwomen.org/project/mary-miller/
(accessed September 11, 2019). On her children working with her at the bank, see an untitled article in The Commoner [Lincoln, NE], April 24, 1903, p. 7. On Sohlbert's purchase of the bank's controlling interest, see "Guthrie Man Buys Bank At Lafayette," Denver Post, November 2, 1913, p. 34. On Miller's retaining the presidency of the Louisville Bank, see "Two Banks Combined In North Coal Field," Denver Post, December 12, 1914, p. 4. On the Louisville Bank's closure, see "Louisville Bank Turned Over To The State," Colorado Springs Gazette, January 14, 1915, p. 10.
[6]
Much of Martin's biography comes from Kirsten Fawcett's article "Anna Martin: Was She The First Female Bank President?" which appeared in the April 2016 issue of

Cowboys and Indians

. It is also accessible online through the following website:
https://www.cowboysindians.com/2016/04/anna-martin-was-she-the-first-female-bank-president/
. Fawcett's claim that Martin remained president of the bank until her death in 1925 has been adopted here, but there is some circumstantial evidence that calls that into question, namely the 1920 Census which lists "None" for Martin's occupation.
Last updated: March 25, 2023