Vice President Richard Mentor Johnson
"Sound the bugles Rumpsey, Dumpsey, Colonel Johnson killed Tecumseh"
With a catchy campaign rhyme, a frontier boy went from a Virginia farm to become the ninth Vice-President of the United States under President Martin Van Buren. Born into farm life in 1780 in Bryant's Station, Virginia, soon to be the Commonwealth of Kentucky, Richard Mentor Johnson left the family farm at sixteen to attend a local grammar school. With just a rudimentary education, he entered Transylvania University and studied law under Colonel George Nicholas. Nicholas had been one of the writers of Kentucky's state constitution and their first Attorney General. Johnson passed the Kentucky Bar in 1802 and started a law practice in Great Crossings while operating a store and other businesses. His father gave him a plantation along with a number of enslaved people, and he quickly became a cornerstone in Kentucky society. In the family tradition, he grew to maturity as a frontier Jeffersonian.
Life on the frontier had its dangers, and Richard Johnson knew the importance of being prepared to defend your home. In 1802, the Spanish intendant of the Port of New Orleans closed the port to American shipping, and the possibility of a war was looming. While still in college, Johnson organized a company of volunteers under his command. It would be the beginning of a significant military career along with his legal career.
Johnson was elected to the state legislature at just 23 years old, one year younger than state law provided. He learned to work with the likes of Henry Clay, who would be a lifelong opponent. Local banking, land sales, debt repayment, and voting rights were all topics of the day, and Johnson was chairman of the Committee on Pension and Revolutionary War claims. He served in the House of Representatives from 1807 to 1819, and his political career became known for his share of accomplishments and scandals. He is well known for his efforts on behalf of debtors, his opposition to debt imprisonment, army reform issues, and bills for widows and veterans. He had also invested significant amounts of money in unsuccessful enterprises that left him in debt for most of his life. He was a student of the Enlightenment and an opponent of the Bank of the United States.
Richard Johnson was appointed to the Senate seat that was vacated by John Crittenden, who left the Senate to return to his law practice. In 1822, he was elected to a full term and served until 1829. During his time in the Senate, he devoted considerable time to educating Native American children. The academy he started in November 1825 with twenty-one boys grew to a class size of two to three hundred Choctaw boys. While in the Senate, Johnson began to have ambitions of reaching the presidency. In 1828, he lost his bid for another term in the Senate but was elected back to the House of Representatives from 1829 to 1837.

The War of 1812 was the defining moment in Richard Johnson's life. The Northwestern Indian War of the 1790s had never actually ended. War was declared on Great Britain on June 18, 1812, and early fighting took place along the Canadian border. Johnson was serving in the House of Representatives at the time, but it was not unusual for a congressman to leave his seat in the House to participate in combat. William Henry Harrison was the territorial governor of Indiana and became commander of regular army forces. Johnson raised three hundred volunteers in Kentucky and was appointed a major. His men were merged with another battalion, all mounted riflemen, forming a regiment with Johnson as colonel. Johnson understood Native American tactics and was sent to attack the Shawnee and Miami tribes who had allied themselves with the British. On October 5, 1813, at the Battle of the Thames, Johnson is believed to have killed the Shawnee chief Tecumseh, forever cementing his name in Kentucky history. As British and native forces were driven out, the Americans regained control of the Northwest Territories. Johnson returned to his seat in Congress in February of 1814.
For all his military and political prowess, Richard Johnson's greatest legacy may be the family scandal he brought to Washington, D.C. Sometime around the death of his father in 1815, he acquired an enslaved woman named Julia Ann Chinn. Her exact origins remain a mystery, but supporters claim she was an octoroon, a term then used to describe a person who was of one-eighth African descent. They developed a relationship and had two daughters, but under Kentucky law, Johnson could not legally marry her even if he wished to. She remained his "common-law" wife. Julia was, by many accounts, a devoted mother, who made sure their daughters had an education and was a competent manager of his plantation. It was not unusual for an enslaver to sexually assault enslaved women, and children from these violent unions were rarely acknowledged and typically remained enslaved as well. The relationship between Johnson and Julia Chinn was more complex. Although we do not have records of Chinn's thoughts on the union, Johnson's recognition and fondness for his children is quite well-documented. The "crime" Johnson was charged with was expecting society to accept his daughters as equals.
Julia Chinn died in 1833 during a cholera epidemic while still legally enslaved, and Johnson began physical relationships with other enslaved women. These encounters seemed much more characteristic of most interactions forced on enslaved women by enslavers, and Johnson eventually sold these women and their children. All of these circumstances combined to make Johnson a well-known but divisive figure.
If you are interested in hearing more, below you will find an interview with historian Dr. Amrita Myers about what we know about Julia Chinn and Richard Johnson.
Visit our keyboard shortcuts docs for details
Duration:

59 minutes, 55 seconds
In this interview conducted in 2021 we sit down with historian Dr. Amrita Myers about Julia Chinn and Richard Johnson, the subjects of her forthcoming book.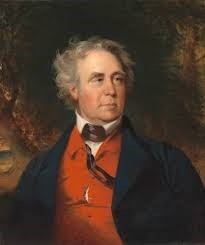 After the War of 1812, Andrew Jackson became president, William Henry Harrison was running for president, and Richard Johnson was feeling the same ambition. He wanted to be a candidate for the vice presidency in 1832, but Martin Van Buren was favored for the position. He then became a candidate for president in 1836. He was a favorite of westerners, those in favor of hard money, and the urban working class, but as the election grew near, it was clear the party supported Martin Van Buren. The choice of a running mate became a more contentious matter. Johnson's military background supported him, and Jackson favored him. His racial scandals worked against him as he was losing southern votes. Many were questioning how killing a man, in and of itself, qualified someone for elected office. Regardless of these obstacles, at the convention, Johnson was able to secure the 178 delegates and became the vice-presidential nominee.

In the early days of the constitution, the vice-presidency was a position of obscurity, and President Van Buren rarely dealt directly with Johnson. They had a cordial relationship, but Johnson was rarely consulted on policy matters. He settled into his position as President of the Senate, always recognizable in his signature red vest and bow tie. His position was one of routine work, and Johnson became known for the number of tie-breaking votes he was required to cast in the Senate. The Democrats held a strong majority in Congress, but dissension over slavery and the Panic of 1837 led to many close votes. Johnson cast seventeen tie-breaking votes in just one term as President of the Senate.

The death of Richard Johnson's wife and daughter Adeline, plus personal attacks on himself, began to take their toll on his physical and emotional health. Being already in debt, the Panic of 1837 affected him financially as well. Reoccurring illnesses began to detract from his appearance and left him short-tempered. His scandalous background and lack of appeal to conservative and southern voters led the party to consider dropping him in the 1840 election. Van Buren preferred to keep Johnson, but his appeal was declining. At the convention, the Democrats voted him out. None of the factions of the Democratic Party were able to agree on a candidate, and Martin Van Buren ran for the presidency in 1840 without an official running mate. The electoral college, nevertheless, is required to elect a vice president, and when the election was held, Van Buren received sixty electoral votes and Johnson forty-eight, with Whig candidates William Henry Harrison and John Tyler winning the election.

Upon returning home to Kentucky, Richard Johnson made several more attempts to seek elected office, even being elected to the state legislature from 1841 to 1843. The last years of his life were a mixture of depression and failure. Although he was elected to the state legislature in August 1850, he was unable to take his seat. On November 19, 1850, Richard Mentor Johnson suffered a fatal stroke and died. The hero of the Thames and former vice-president was laid to rest at Frankfort Cemetery in Frankfort, Kentucky.

Four states have counties that are named after Richard Johnson, and his bust stands in a gallery of vice-presidential statues in the Senate in Washington, D.C. His memory and that of his family, sadly, have subsided into obscurity. The courts ruled that due to the illegitimacy of his remaining daughter, she could not inherit her father's property. Instead, it was split among other family members. One of America's more colorful, heroic, and eccentric characters, Richard Mentor Johnson's life and accomplishments impacted not only himself, but the entire nation as well.
Last updated: September 17, 2022