Basic Information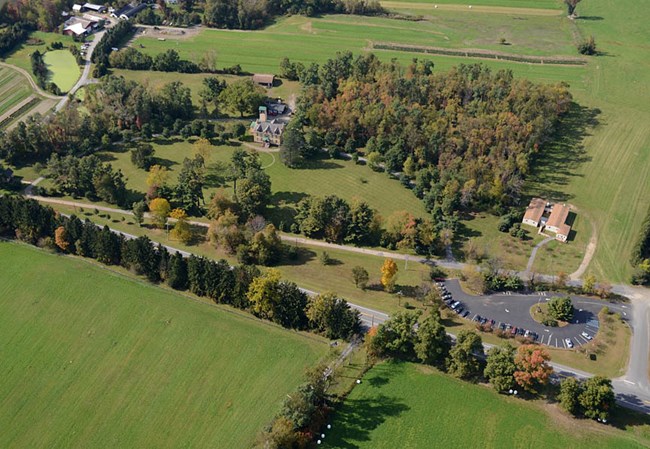 Get a Quick Start:
Operating Hours & Seasons
The 2018 visitor season begins Saturday April 21st at Martin Van Buren National Historic Site. President Van Buren's mansion will open for tours on weekends from April 21st to mid-May. From mid-May through October tours are offered seven-days-a-week. Tours return to weekend only in November. Sign-up for tours at the visitor center.

Effective Immediately: Tours of Lindenwald will be offered at 10:00, 12:00, 2:00 and 4:00. Other tours times may be available depending on staffing but this is not guaranteed.

Weekends only in April to mid-May and November tours are available hourly from 9:00 till 4:00.

There is no charge for tours or to walk the grounds which are available year round from 7:00 a.m. to sunset. Pick up a brochure and site bulletin in the parking lot and follow the three quarter-mile wayside loop to learn more about the founder of the Democratic Party.

Visitor Center
The park's visitor center is located across Old Post Road from the visitor parking lot. The visitor center is open from 9:00 am to 4:30 pm seven-days-a-week mid-May through the end of October and also on weekends April 21st through mid-May 2018 and during November 2018. Please go there first to learn about programs and to sign up for tours of the Lindenwald mansion.
Fees & Passes
There are no fees to enter Martin Van Buren National Historic Site or to tour President Van Buren's home. Visitors must, however, register for a tour of the house by stopping at the visitor center.
Weather
The weather at Martin Van Buren National Historic Site is typical of the northeast United States;it varies considerably throughout the year. Always check the forecast prior to your visit and dress accordingly. Be sure to wear comfortable walking shoes as well.
Pets
Pets are welcome at Martin Van Buren NHS, but must be kept on a leash no longer than six feet at all time. The park grounds are open for recreation, such as dog walking, from 7:00 AM to sunset year round. Remember, please clean up after your pet.
Pets of any kind, except for service animals, are not permitted inside any historic structure or other building.
Remember: Do not leave your pet in a closed vehicle in the parking lot. If you must leave your pet unattended, park under shade and leave at least two windows open half way.
Permits & Reservations
Special uses of the park, like weddings or commercial filming, require permits. Picnic tables may be used for free on a first-come, first-serve basis. Schools and organized groups may reserve guided tours of the historic site. Click for film permits
Goods & Services
Just north of the park the Villages of Kinderhook and Valatie offer dining, shopping, gas, and other commercial services. Additional good and services may be found in the City of Hudson, ten miles south of the park .
Last updated: August 10, 2018