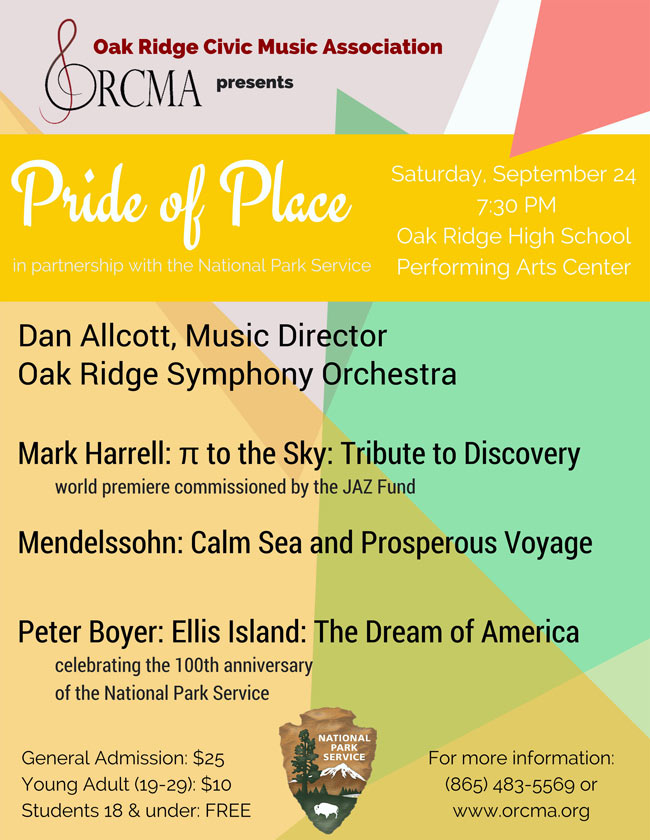 News Release Date:
August 30, 2016
Contact: Frank Graham, (423) 569-9778
Contact: Christopher Derman
Manhattan Project National Historical Park is pleased to partner with the Oak Ridge Civic Music Association for a special celebration of the National Park Service centennial birthday on Saturday, September 24, 2016, with the Oak Ridge Symphony Orchestra's 72nd season opening concert. The concert will be held at the Oak Ridge High School Performing Arts Center and starts at 7:30 p.m. (ET). The Oak Ridge High School String Quartet will perform in the lobby before the concert. Tickets for adults are $25, and ages 19-29 are $10. Students 18 and under are free for all Oak Ridge symphony and chorus performances. Tickets for chaperones of youth groups are also free. 
The concert will feature many pieces associated with the National Park Service and will conclude with Peter Boyer's powerful and moving Ellis Island: The Dream of America for narrator and orchestra. This was and is the story of Ellis Island. 
Welcome to Ellis Island! The words millions of immigrants to America first heard. Even if they did not understand them at the time, their life was going to change remarkably after they heard this short greeting. 
From 1892-1924, Ellis Island was America's largest and most active immigration station, where over 12 million immigrants were processed. On average, the inspection process took approximately 3-7 hours. For the vast majority of immigrants, Ellis Island truly was an "Island of Hope" -- the first stop on their way to new opportunities and experiences in America. For the rest, it became the "Island of Tears" -- a place where families were separated and individuals were denied entry into the United States. 
Founded in 1948, the Oak Ridge Civic Music Association (ORCMA) serves as the umbrella organization for the professional Oak Ridge Symphony Orchestra, Oak Ridge Chorus, Chamber Music Series, and the Coffee Concert Series. ORCMA provides quality music to the people of Oak Ridge and the surrounding communities, promotes opportunities for participation in the performance or music, and assists in the music education of people of all ages, through its multiple concert series, the free family concert and other outreach activities. 
For information, please visit www.orcma.org, or call the ORCMA office at (865) 483-5569.