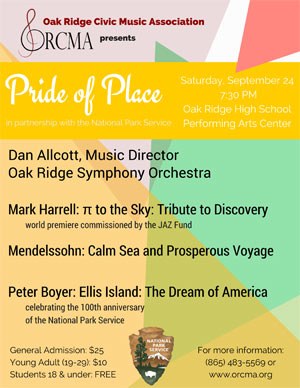 News Release Date:
June 20, 2016
Contact: Christopher Derman
Manhattan Project National Historical Park is pleased to partner with the Oak Ridge Civic Music Association for a special celebration of the National Park Service's Centennial birthday on Saturday, September 24, 2016 with the Oak Ridge Symphony Orchestra's 72nd season opening concert. The concert, titled "Pride of Place," celebrates Oak Ridge's scientific heritage with an exciting world premiere by East Tennessee composer, Mark Harrell, commissioned by the JAZ Fund to honor the post-WWII generation of scientists in Oak Ridge. The concert will conclude with Peter Boyer's powerful and moving
Ellis Island: The Dream of America
for narrator and orchestra, in celebration of the 100th anniversary year of our National Park Service.
Led by Maestro Dan Allcott, the concert will be held at 7:30 PM (ET) at the Oak Ridge High School Performing Arts Center. The Oak Ridge Civic Music Association is a participant in the
Penny4Arts program
and offers free admission for students 18-and-under to all Oak Ridge symphony and chorus performances. In addition, for this special concert celebrating the National Park Service, adult chaperones accompanying student groups may also receive a free ticket. Tickets for adults are $25 and young adults, ages 19-29, are $10. 
Founded in 1948, the Oak Ridge Civic Music Association (ORCMA) serves as the umbrella organization for the professional Oak Ridge Symphony Orchestra, Oak Ridge Chorus, Chamber Music Series, and the Coffee Concert Series. ORCMA provides quality music to the people of Oak Ridge and the surrounding communities, promotes opportunities for participation in the performance or music, and assists in the music education of people of all ages, through its multiple concert series, the free Family Concert and other outreach activities. 
For information, please visit
www.orcma.org
, or call the ORCMA office at (865) 483-5569.