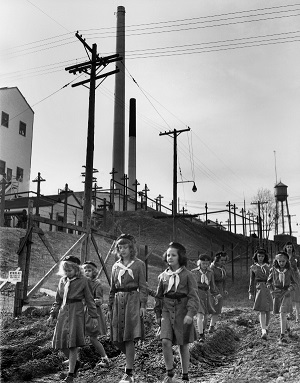 News Release Date:
February 16, 2016
Contact: Veronica Greear, (423) 346-6294
Contact: Chris Derman
Manhattan Project National Historical Park is partnering with the American Museum of Science and Energy (AMSE), Children's Museum of Oak Ridge (CMOR) and the Southern Appalachian Girl Scout Council to celebrate National Girl Scout Day on Saturday, March 12. The opening ceremony will begin at AMSE at 10 a.m., and the closing ceremony will be at CMOR at 3:30 p.m. Individuals and/or troops are welcome to participate in hands-on activities at either location throughout the day. All girl scouts will have an opportunity to earn the Secret City Heritage Badge. Anyone who is not a girl scout is also welcome and can earn their Manhattan Project Junior Ranger Badge. Any girl in a girl scout uniform and their families will have free admission to both AMSE and CMOR that day.
National Girl Scout Day commemorates the day in 1912, when founder, Juliette Gordon Low officially registered the organization's first troop. Girl scouts have a rich history in Oak Ridge as the first youth organization, established in 1943, by Elsie Novy, to help students feel at home in the "city behind the fence." Girl scouts of the "secret city" were registered by first name only and listed officially as being from Knoxville. The most memorable event of war-time efforts was the "Giant White Sale," in 1946. 
At the army's request, Troop 21048 helped organize the sale of 35,000 pieces of unclaimed laundry in Oak Ridge. These items were lost or misplaced due to the number of people sharing limited facilities. The proceeds totaled over $2,300, which was split between the army and the Girl scouts.
In celebration of the National Park Service Centennial birthday year, Manhattan Project National Historical Park will be hosting this special event. Discover YOUR new national park and the rich history this area has to offer. For more information on this event, contact (423) 346-6294.