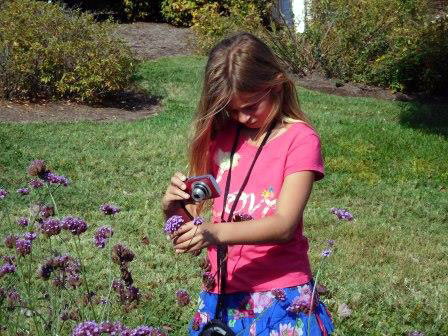 News Release Date:
December 7, 2016
Contact: Veronica Greear, 423-346-6294
Contact: Christopher Derman
Manhattan Project National Historic Park, in partnership with the 
Children's Museum of Oak Ridge
will be featuring a Parks-in-Focus photography exhibit during the month of December. The photography exhibit is located in the Imagination Gallery at the museum located at 461 West Outer Drive.
This exhibit features photographs taken by 3rd and 4th grade girls from Girls Inc. of Oak Ridge using the Parks in Focus program curriculum. The
Udall Foundation,
based in Tucson, Arizona, created the Parks in Focus program to connect youth from under-served communities to nature through photography, environmental education, outdoor recreation, and creative expressions. This program has been providing outdoor experiences for youth who have limited exposure to nature and increase their appreciation for their environment.
Girls Inc.
youth were introduced to this pilot photography program in September. Behind the lens of digital cameras, the girls are learning basic photography concepts such as subject, focus, and perspective. They are being introduced to the natural world and the historical significance of the Manhattan Project National Historical Park through inquiry based learning. As the pilot program continues, it will introduce these youths to
Obed Wild & Scenic River
and
Big South Fork National River & Recreation Area
through outdoor recreation and overnight camping experiences.
The Children's Museum of Oak Ridge and Imagination Gallery will be open from 10:00 a.m.-4:00 p.m. (ET) Saturdays, from 1-4:00 p.m. (ET) Sundays, and from 9:00 a.m.-5:00 p.m. (ET) Tuesdays through Fridays.
For information on the nation's 409th national park, go to www.nps.gov/mapr, or you can like us on Facebook page at
www.facebook.com/ManhattanProjectNPS
, or follow us on the park on Twitter page at
https://twitter.com/MnhtnProjectNPS
.