Educator Concludes 2016 Teacher-Ranger-Teacher Experience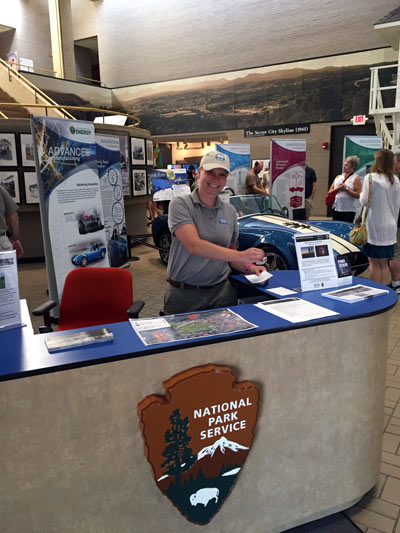 News Release Date:
July 25, 2016
Contact: Daniel Banks, (423) 569-9778
Contact: Christopher Derman
On July 18, Christina Luckman concluded her Teacher-Ranger-Teacher (TRT) experience at Manhattan Project NHP. A Technology Teacher at Inskip Elementary School in Knoxville, Tennessee, Christina's main focus was to create a virtual field trip which would allow students to learn and experience the historical significance of this site no matter where they reside. By taking this virtual field trip, students will learn more about the history of Oak Ridge, explore some of the more famous sites of the area, and learn about the historical significance of the Manhattan Project. 
The TRT program is a professional development opportunity for K-12 teachers to spend the summer acquiring new skills in experiential learning through a program provided by a partnership between the National Park Service and the University of Colorado at Denver (CUD). The participants spend between four and six weeks in a NPS unit developing a major educational project and participating in an online graduate course from CUD. The goal of the program is to train teachers in the resources and themes of the NPS so that they can return to their schools in the fall and incorporate their new skills into their classroom activities.
As to why she applied Christina said: "One reason I was eager to get involved with Manhattan Project National Historic Park was the fact that I was born and raised in Oak Ridge. I grew up learning and knowing about our history. The other reason is that I have always had a desire to be a park ranger. My parents took our family on trips where we would visit different National Parks and Park Rangers were everywhere! I wondered what they do, what their role was in the park. I just KNEW they were there to protect the environment and the animals--something that made me love park rangers even more! 
When asked about her experience at MAPR, Christina said: "I have done so many exciting things. I've gone on the public tour, which is incredibly informational and very interesting. I have gone to other sites to take pictures for myself and talk to some people around town. Turns out, there are a lot of people who are eager to talk about the Manhattan Project, you just have to know where to go. I have seen so much of Oak Ridge that I have never seen before in all my years of living here. I worked with some really awesome people as well. Park staff have been very helpful and knowledgeable about the park, being able to answer my many questions during my time at MAPR." 
Christina continued: "I am sad to see this chapter end, but I know that what I have learned, I can take back to my classroom and instill the knowledge of the Park in my kids. Hopefully, it will also encourage them to find their park and want to get out and see other parks." 
For more information about the Teacher-Ranger-Teacher program at Obed Wild and Scenic River, go to:
https://www.nps.gov/mapr/learn/teacher-ranger-teacher.htm
Last updated: August 1, 2016