Wednesdays in Mississippi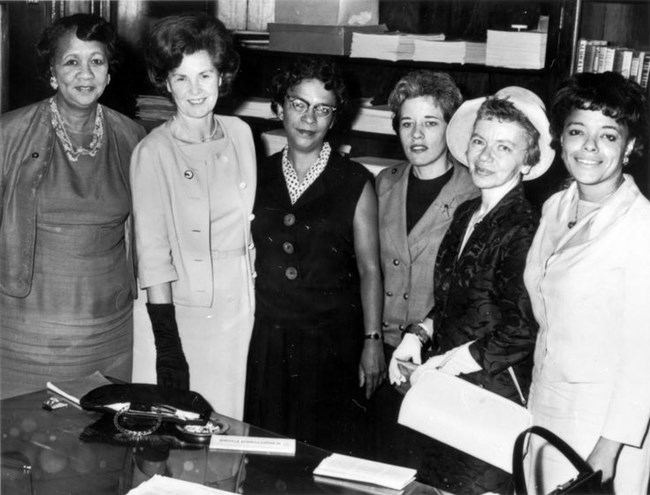 Wednesdays in Mississippi was one of the many programs that the National Council of Negro Women (NCNW) implemented to address issues of civil rights in the United States. In her memoir,
Open Wide the Freedom Gates,
Dorothy Irene Height
wrote that
the purpose of WIMS was to "establish lines of communication among women of goodwill across regional and racial lines, to observe the COFO [Council of Federated Organizations] student projects and discuss them with local Mississippi women, and to lend a 'ministry of presence' as witnesses to encourage compassion and reconciliation."
1
To achieve this goal, Dorothy Height and Polly Cowan, a volunteer for the NCNW, collected together a group of women consisting of 48 women of diverse backgrounds, including 16 Black women and 32 white women. The women came from various religious backgrounds, vocations, volunteer organizations, states, and were generally middle to upper class.
2
These women became known as the WIMS angels.
3
The seeds for WIMS were planted after the March on Washington in 1963. Height and Cowan planned a meeting with Southern women called, "After the March—What?" which was meant to address issues that the women at the meeting deemed important such as "housing, child care, education, and employment."
4
Later, after speaking with a Student Nonviolent Coordinating Committee (SNCC) worker named Prathia Hall about the police brutality activists were facing in the South, Height determined that an interracial team consisting of herself,
Dorothy Ferebee
, Cowan, and Shirley Smith would travel down to Selma, Alabama to investigate Hall's report. While the team was not successful in their attempts to speak to local white women, they were able to listen to the stories of mistreatment arrested Black activists faced and assess their needs. This trip proved to be a learning experience for WIMS.
5
Following the Selma excursion, Cowan proposed a "Cadillac crowd," consisting of an interracial group of middle to upper class women. One important aspect of the women chosen for this group was their class status and "respectable" appearance. Height and Cowan believed that these factors would protect the women from greater harm and allow them greater access to the groups they wanted to impact.
6
Before attempting the project in Jackson, Mississippi, Cowan and Smith traveled to the area to meet with local white women to ensure that they would still be welcome. After receiving the go ahead, the NCNW selected three staff members to organize WIMS in Jackson, Doris Wilson, Susan Goodwillie, and Diane Vivell. The plan for WIMS was for teams of Northern women to travel to various cities in Mississippi. On Tuesdays, they would travel down to Jackson, do their work on Wednesdays, and then go back home on Thursdays. Once in Jackson, the women would travel and live separately by race. Brief and careful meetings between Wilson, Goodwillie, and Vivell had to be conducted at the local YWCA because no other accommodations could safely be made in segregated Jackson. This was done to decrease chances of violence and to increase the group's chances of accomplishing their goals. Due to the dangerous nature of this work, WIMS staff trained with the COFO in nonviolent defense techniques. While there, they learned of the disappearance of Andrew Goodman, James Chaney, and Michael Schwerner, three Congress of Racial Equality volunteers who were murdered in Mississippi. This further emphasized the danger for WIMS staff, and they took greater precautions.
7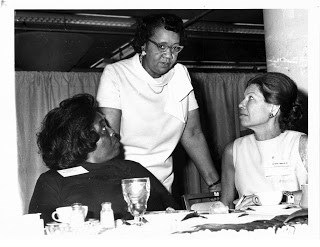 The first team of women arrived in Jackson on July 7, 1964. For the duration of the trip, WIMS angels were able to support COFO staff by building up the relationships between the volunteers and local women. They also made visits to the Freedom Schools, a program established by SNCC to provide education to local students to encourage political participation, and wrote reports on what they observed so that they could relay that information to the women they met with. Additionally, WIMS angels were able to send materials to community centers and connected local activists with organizations in the area to provide assistance with their efforts.
With these accomplishments came some challenges as well. There were some disagreements among Black and white WIMS angels on how to achieve racial equality and some activities were segregated even though they were supposed to be interracial. Also, WIMS members experienced racial intimidation and violence, with Black members exposed to greater levels of racism.
8
Despite this, Height recounts the progress that they made throughout the summer of 1964, going from meetings made up of mostly Black women to having "talked with some three hundred southern women, nearly half of whom were white."
9
As a result of their experience with WIMS, many participants were inspired to become more directly involved in civil rights issues and support the causes of SNCC, COFO, and the Mississippi Freedom Democratic Party. Furthermore, Height and Cowan testified in front of the U.S. Commission on Civil Rights in Jackson, utilizing the reports from WIMS angels to highlight the hostility in the region.
10
In 1965, WIMS staff made some changes to the program. For one, they began to house Black and white members in the same space. They also extended invitations to local Black and white women to meet in public places. Moreover, WIMS shifted its focus to support the Head Start program in Mississippi, which provides education and other services to low-income children and families. WIMS recruited women with experience and training in education and social work to volunteer with Head Start. They used the expertise of these women to assist the Child Development Group of Mississippi (CDGM), which ran the Head Start program. WIMS angels aided CDGM with maintaining their funding, worked as resource teachers, attempted to integrate the programs, and provided support with the children. As the CDGM usually employed local activists and parents as teachers, there was some conflict over WIMS's emphasis on expertise. Additionally, as the Jackson Head Start program was integrated, the program was not allowed to operate in Jackson schools. Alternatively, programs were held in "black churches, parochial schools, community centers, and one Unitarian church," that would serve over one thousand children.
11
Other activities of WIMS during the summer of 1965 included continuing to foster interracial dialogue, connecting Black southern women to professional organizations, and investigating and reporting on violations in Mississippi to the Civil Rights Act.
12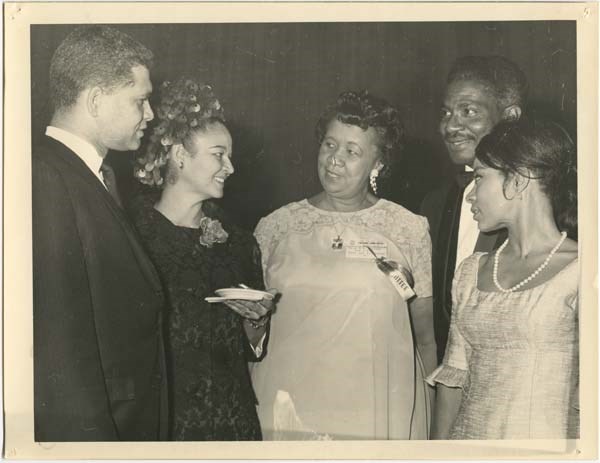 In 1966, WIMS completed its final summer. Following a series of racial uprisings from the previous year, Height and Cowan decided to shift their focus to enacting WIMS programs in Northern communities. Even though at the 1965 NCNW conference members agreed to continue the program in the North, when asked about the plan again, the consensus was split. Black WIMS angels agreed with the new direction of the program as they believed in the value of having an interracial conversation on racism in their own communities, while white WIMS members were more hesitant as they did not see the need. Despite this, WIMS created programs in Boston, Massachusetts and Paterson, New Jersey. The Boston meeting encountered resistance from both Black and white participants. Part of the reason for this was WIMS' approach, which especially offended Black participants as it implied that they were equally responsible for the systematic racism they faced. The Paterson meeting was more successful, as WIMS was able to host a conference that encouraged an interracial discussion and later led to the Women's Council for Community Service.
13
By November 1966, the name for Wednesdays in Mississippi had been changed to Workshops in Mississippi. Their goal, according to Height, "was to reach and assist more and more groups of hard-core poor women."
14
To achieve this, WIMS assisted Black women in Mississippi with their quest to receive War on Poverty funds, by acting as a link between them and the government. Unlike in previous years, WIMS workshops relied on the leadership of local women, with the NCNW assisting them in fostering relationships with government officials and helping them gain government resources.
15
The legacy of WIMS can best be summarized as "the only civil rights program organized by women, for women, as part of a national women's organization."
16
Although the program was not perfect, WIMS worked hard to encourage interracial dialogue amongst Black and white women in Mississippi and throughout the country, a substantial and significant accomplishment.
written by Sydney Coleman
[1] Dorothy I. Height,
Open Wide the Freedom Gates: a Memoir
(New York: PublicAffairs, 2005),169.
[2] Harwell, Debbie Z. "Wednesdays in Mississippi: Uniting Women Across Regional and Racial Lines, Summer 1964." The Journal of Southern History 76, no. 3 (2010): 617-54. Accessed December 11, 2020. http://www.jstor.org/stable/25700142. 632-33
[3] Height,
Open Wide
, 169
[4] Harwell, "Wednesdays in Mississippi," 624
[5] Harwell, "Wednesdays in Mississippi," 624-625, Rebecca Tuuri, Strategic Sisterhood: The National Council of Negro Women in the Black Freedom Struggle (University of North Carolina Press, 2018), 37.
[6] Tuuri,
Strategic Sisterhood
, 48, 64, Harwell, "Wednesdays in Mississippi," 649
[7] Height,
Open Wide
, 168-171
[8] Tuuri,
Strategic Sisterhood
, 72-78
[9] Height,
Open Wide
, 177
[10] Tuuri,
Strategic Sisterhood,
73-75
[11] Tuuri,
Strategic Sisterhood,
85-92
[12] Tuuri,
Strategic Sisterhood,
84,88, Harwell, "Wednesdays in Mississippi," 653
[13] Tuuri,
Strategic Sisterhood,
95-102
[14] Height,
Open Wide
, 189
[15] Tuuri,
Strategic Sisterhood,
108-114
[16] Harwell, "Wednesdays in Mississippi," 618
Last updated: July 7, 2021