Dorothy Irene Height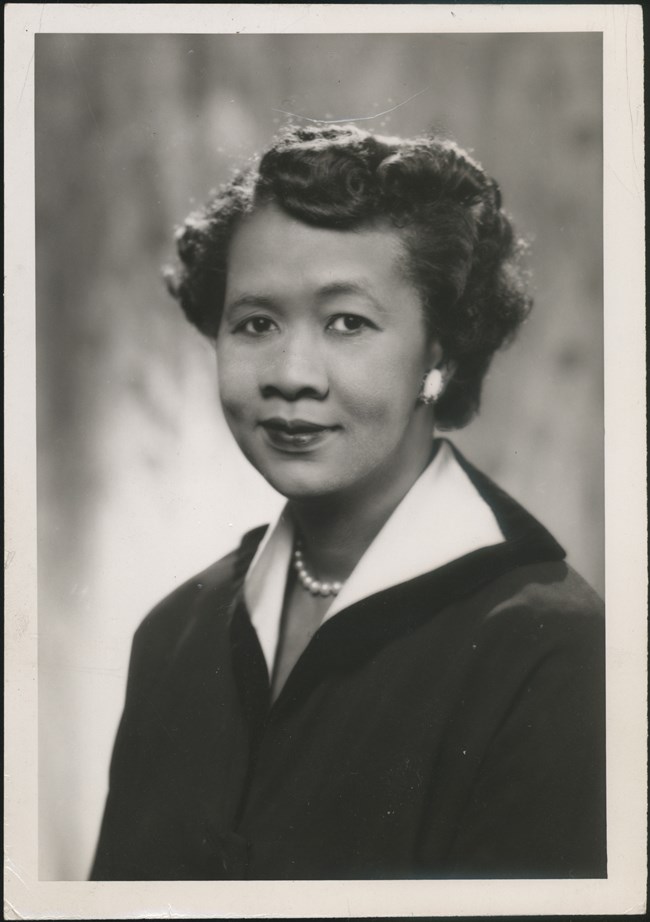 (March 24, 1912 - April 20, 2010)
Dorothy Irene Height was born on March 24, 1912 in Richmond, Virginia. Always bright and inquisitive, even as a child, she knew that when she grew up, she wanted to help others in need. After being accepted to Barnard College in New York City and then being denied entry because their "black quota" had been met, she applied and was quickly accepted to New York University where she earned her bachelor's degree in education in 1930 and a master's degree in psychology in 1932. Upon graduation, she worked for some time as a social worker with the New York City Department of Welfare. She later began working for the Young Women's Christian Association (YWCA), which placed an emphasis on the integration of its employees. She also became a member of Delta Sigma Theta Sorority, Inc. (of which she later served as its tenth international president) and was active in other endeavors in while living in New York City.
At a chance meeting with Mary McLeod Bethune in 1937, Height became involved with the National Council of Negro Women, Inc. (NCNW), serving in various capacities for twenty years, until she was elected its fourth national president in November 1957. She had the arduous task of leading NCNW during the early 1960s, a turbulent period of increased racial violence in the South as the Civil Rights Movement expanded. During her over four decades as NCNW president, she met this challenge head on, pushing for equal rights for all Americans regardless of race, class, or gender.
As one of the "Big Six" in civil rights leadership, Height offered the NCNW's headquarters as a meeting place for national organizations and individuals taking part in the March on Washington for Jobs and Freedom that was held on August 28, 1963. When she or no other woman representing a national women's organization were allowed to speak during the program at the March, and despite the request that the participants leave town immediately following the event, she and the NCNW scheduled a debriefing in Washington for the following day. Their gathering, called "After the March, What?", began a conversation about the treatment women received both during the March and in the larger black freedom movement. She and other NCNW representatives had also attended President John F. Kennedy's White House Conference on Civil Rights for Women earlier that summer.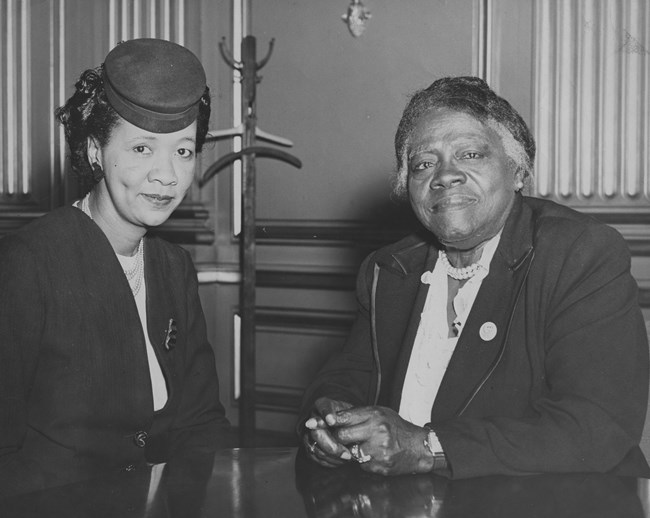 During this period, civil rights advocates were being arrested in southern states such as Mississippi, Alabama, and Georgia. As tensions mounted, Height and NCNW launched a plan that called for racially mixed groups of women to visit rural communities in Mississippi each week during the summer of 1964 to foster better communication among the races and encourage voter registration among blacks. She and her predecessor, Dr. Dorothy Boulding Ferebee, were two of the first NCNW members to venture down into the deep south to advocate for these issues. Leading by example, Height's participation encouraged other NCNW members to participate and "get their hands dirty" as well. This highly successful project became known as "
Wednesdays in Mississippi
."
One of NCNW's consistent problems had been lack of funds, caused in part because the organization did not qualify for tax-exempt status. Without this designation, foundations and philanthropists were unlikely to donate large sums of money to NCNW because they had to pay taxes on their gift. Height made it a priority to revise the Articles of Incorporation and make other changes that resulted in the U.S. Internal Revenue Service granting tax-exempt status in 1966. That same year, sizeable grants from the Ford Foundation and the Department of Health, Education, and Welfare allowed NCNW to begin a "nationwide network of Negro women, working with all segments of their communities, middle-class and poor, Negro and white, to help chart and carry out needed community service and social action programs." Increased funding allowed the council to expand and standardize its programs on the local, national, and international levels.
Starting in 1961, Height also spearheaded fundraising for a memorial dedicated to NCNW founder Mary McLeod Bethune, who had passed away in 1955. After 13 years of fundraising and planning, the
Mary McLeod Bethune Memorial
, sculpted by artist Robert Berks, was unveiled and dedicated in Lincoln Park in Washington, D.C. on July 10, 1974, the 99
th
anniversary of Mrs. Bethune's birth. One of the reasons why the memorial took so long to be realized was because in 1966, the NCNW needed to relocate their national headquarters after the "Council House" suffered severe water and smoke damage as a result of a fire.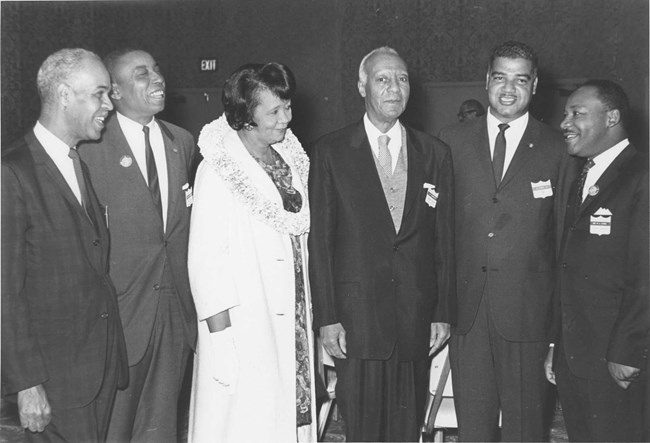 The building that had witnessed two decades of NCNW gatherings and had stood as a symbol to NCNW members remained vacant for several years. Finally, in 1975, grant money enabled NCNW members to begin restoring the townhouse. Height, with the help of noted historian and preservationist Dr. Bettye Collier-Thomas, got the idea to reopen the house as a museum. On November 11, 1979, the Mary McLeod Bethune Memorial Museum and National Archives for Black Women's History opened to the public. Height recalled that decades earlier, Mrs. Bethune recognized the need to preserve records related to African American history, particularly ones focusing on African American women. Height continued to oversee stewardship of the home by continuing to advocate for funds for its preservation. In 1982, an act of Congress designated the property a National Historic Site, and in 1995, the home open to the public as a unit of the national park system. That same year, Height and NCNW members proudly dedicated a new national headquarters at 633 Pennsylvania Avenue, N.W., a prestigious address just blocks away from the White House and the U.S. Capitol. Height continued as president of NCNW until 1998 when she became Chair and President Emeritus.
After a lifetime of breaking barriers and receiving numerous accolades, including several honorary degrees, Dr. Dorothy Irene Height died on April 20, 2010 in Washington, D.C. As one of the most celebrated figures and tireless freedom fighters in American history, she most certainly earned the title of "Godmother of the Civil Rights Movement".
written by Veronica La Du
Last updated: June 2, 2023