Dr. Dorothy Boulding Ferebee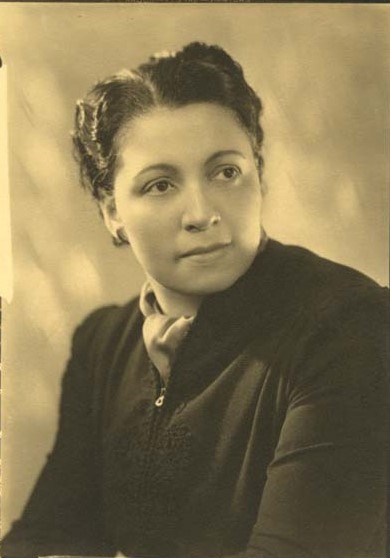 (October 10, 1898 - September 14, 1980)
Dr. Dorothy Boulding Ferebee was born in Norfolk, Virginia on October 10, 1898. At an early age, she set her sights on becoming a medical doctor. She graduated from Simmons College in 1920 and immediately began her matriculation at Tufts University, graduating with her medical degree in 1924. After becoming one of nine women to take and pass the District of Columbia Medical exam in 1927, she accepted a position as Assistant Obstetrician at Freedmen's Hospital in Washington, D.C. (now known as Howard University Hospital). It was through this position that she started actively promoting birth control and women's sex education. It was also at Freedman's that she met dentist Claude Ferebee. The two eventually married in 1930 and two children were born—twins Dorothy, Jr. and Thurston.
It was also during this time that Dr. Ferebee started two of her most well-known projects: The Southeast Neighborhood House and the Mississippi Health Project. The Southeast Neighborhood House provided medical care to the under-privileged residents of the nation's capital's African American community for many decades, while the Mississippi Health Project, sponsored by Alpha Kappa Alpha Sorority, Inc. (of which she was a member and later served as its tenth international president) brought much needed medical care and supplies to the families of African American sharecroppers in the Mississippi Delta area every summer, from 1935-1942. Her work with these endeavors and her growing medical practice, propelled her to the top of many activist circles of the day.
By 1940, she had added another extracurricular activity to her slate: working with the National Council of Negro Women, Inc. (NCNW). She eventually was elected to serve on their executive board and had even acquired a new patient—NCNW founder and president Mary McLeod Bethune! Over time, Mrs. Bethune and Dr. Ferebee developed a close relationship, and Mrs. Bethune even brought Dr. Ferebee along when she attended the historic United Nations Conference in San Francisco in 1945. Dr. Ferebee's handwritten and transcribed notes about this historic conference can be found in the National Archives for Black Women's History.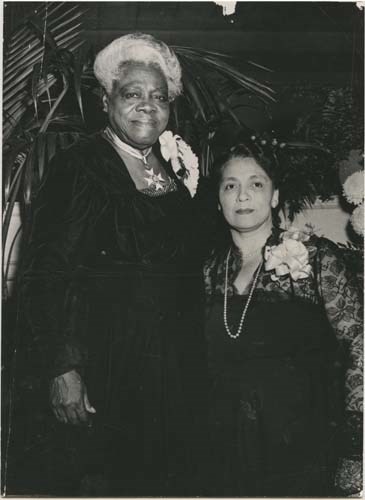 In 1949 when Mrs. Bethune retired from the presidency of the NCNW, she selected Dr. Ferebee as her successor. She immediately got to work with the large NCNW debt, even as the nationwide Red Scare loomed over she and other activists. Not surprisingly due to her position as a medical doctor, she put increased emphasis on healthcare education. Under her leadership, NCNW also focused on ending discrimination against blacks and women in the military, housing, employment, and voting. She continued fundraising efforts and participated in various meetings of national and international organizations. She was a member of the executive board of the White House's Children and Youth Council and the United Nations Children's Fund (UNICEF).
In 1951, Dr. Ferebee led NCNW in hosting a reception for the wife of the Vice-President at the Shoreham Hotel in Washington, D.C. This event was important because it gathered approximately 500 women from diverse backgrounds. As a result of her determination and leadership, it also was the first time that a major Washington, D.C. hotel had rented its main ballroom to an African American group. During her presidency, she also issued a "Nine Point Program" which called attention to the need to achieve "basic civil rights through education and legislation." She worked hard to advance the NCNW's agenda while maintaining a full-time job at Howard University and dealing with limited funds and staff.
Like Mrs. Bethune, Dr. Ferebee continued to be active in the NCNW well after her time as president came to an end. She assisted third president Vivian Carter Mason with many projects including confronting the FBI about the increasing cases of violence against African Americans in the 1950s, and when Dorothy I. Height, NCNW's fourth president, was elected in 1957, she assisted her with obtaining tax-exempt status for the organization. She was also a key observer and participant in the NCNW's "Wednesdays in Mississippi" initiative, helped to raise funds for the erection of the Mary McLeod Bethune Memorial, and was even present at the Memorial's unveiling and dedication in Washington, D.C.'s Lincoln Park in 1974.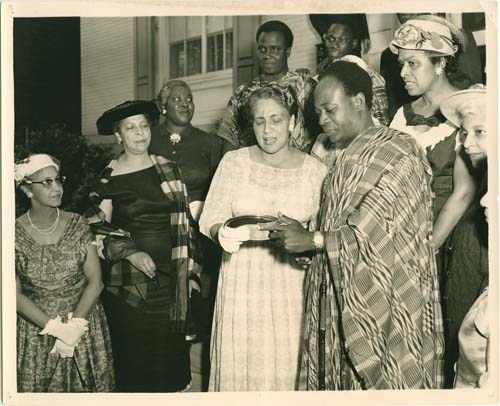 Even as she aged, Dr. Ferebee was still a much sought after authority due to her extensive experience in the medical field and activism. In 1964, the Secretary of State selected her to travel around the world and report on the health conditions of U.S. government personnel abroad, and three years later in 1967, President Lyndon B. Johnson appointed her as one of five U.S. delegates to the twentieth assembly of the World Health Organization in Geneva. That same year, Walter Washington, Mayor of the District of Columbia, placed her on the D.C. Commission on the Status of Women, of which she later served as its chair.
On September 14, 1980, Dr. Dorothy Boulding Ferebee passed away in Washington, D.C. While she was known for many things, her accomplishments in the medical field, combined with her civil rights activism, allows her to hold a unique place in American history.
written by Veronica La Du
Last updated: June 2, 2023