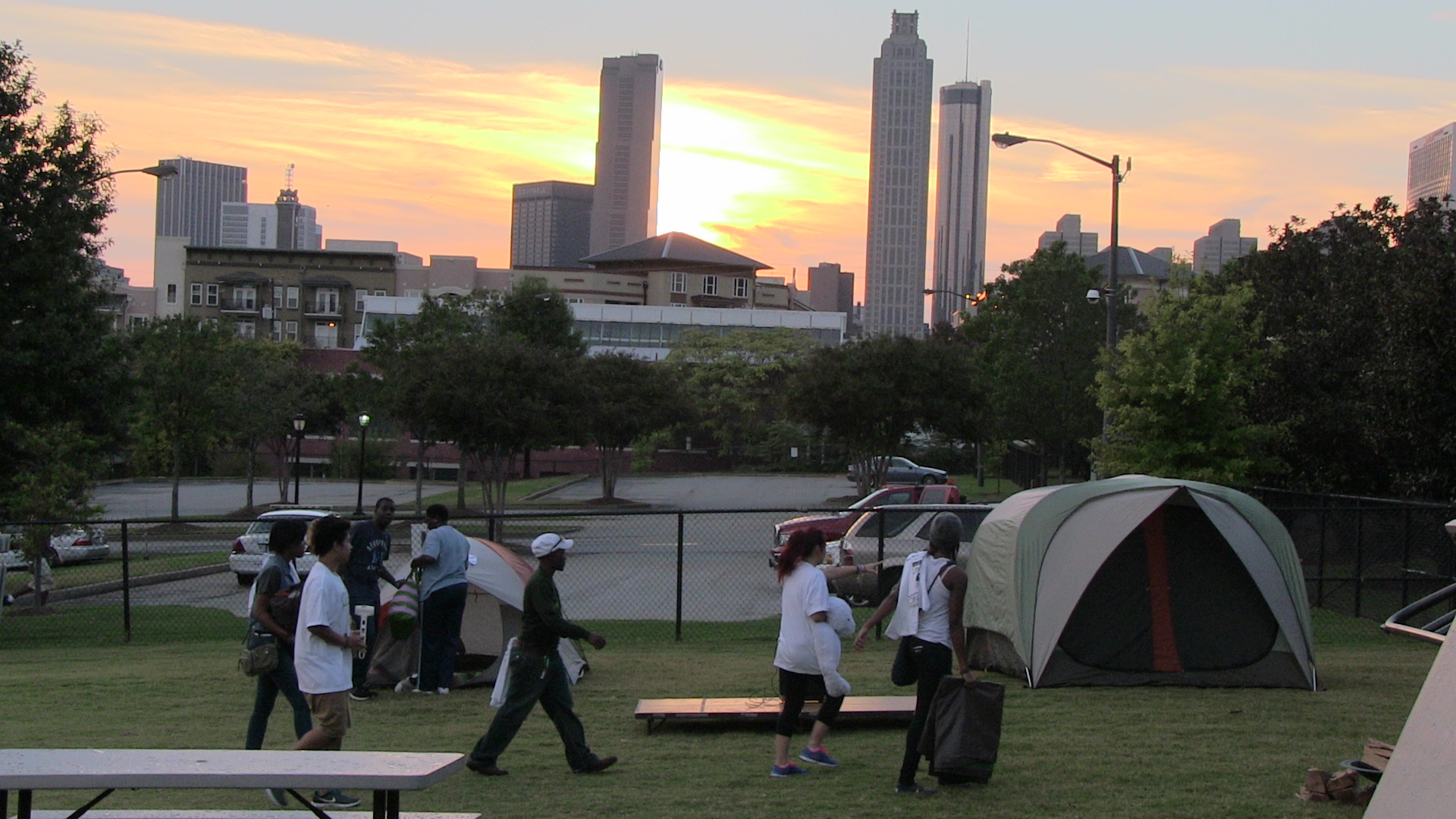 News Release Date:
September 28, 2017
Contact: Rebecca Karcher, (404) 787-3377
From Friday, September 29, 2017 to Saturday, September 30, 2017 the Martin Luther King, Jr. NHS, in partnership with the Greening Youth Foundation (GYF) will host the 6th annual Legacy Campout this year in honor of the 50th anniversary of Dr. Martin Luther King, Jr. assassination, on April 4, 2017. The Legacy Campout is a free event that offers a unique forum for local youth to have an opportunity to become better informed about Dr. King's legacy and the national park service links to a healthy lifestyle. The program will begin at 5 PM on September 29 and will end at noon on September 30. All activities will be held at the Martin Luther King, Jr. NHS.
The age group of the participating students will be ages 15 to 18. Campout spaces are filling fast, but there are still a few available. To register as a participant or campout volunteer go to https://www.gyfoundation.org/legacycampout/.
Students will have the opportunity to either brush-up on their camping skills or experience outdoor fun for the first time. ON Friday, September 29, students will receive a lesson on pitching tents and building shelters for comfortable camping, participate in interactive art and expression activities, enjoy food and play games around the campfire, enjoy a campfire program, s'mores and watch a movie under the stars that will highlight the Civil Rights movement and the impact of Dr. King's assassination on America. After breakfast and breaking down the campsite on Saturday, September 30, students will participate in volunteer service projects for National Public Lands Day.
Dr. Martin Luther King, Jr., Great Niece, Ms. Farris Watkins, student at Spelman College will be the featured motivational speaker for the evening. She is an active member of the Spellman College Glee Club and Ebenezer Baptist Church and speaks to youth about the relevancy of a civil rights movement.
Judy Forte, Superintendent of the Martin Luther King, Jr. NHS said "We are excited about partnering with Greening Youth Foundation, REI. Masons, and Easter Stars to offer this opportunity to youths to experience camping in a national park service urban environment." As a commitment to provide diverse youth with an opportunity to experience the outdoors in an innovative way, the Legacy Campout is one of the park's signature events." Through partnerships, GYF and MLK Jr. NHS have provided training and career experiences to hundreds of young people in becoming responsible stewards of natural and cultural resources.
This event is free and is a part of an ongoing series of public program offered by the Martin Luther King, Jr. National Historic Site. For more information about this event, please visit www.nps.gov/malu or call (404)331-5190. Contact Rebecca Karcher at Rebecca_Karcher@nps.gov.
Join our online family on Facebook, and Twitter @ MLKJrNHS.com. Check for upcoming events at www.nps.gov/malu