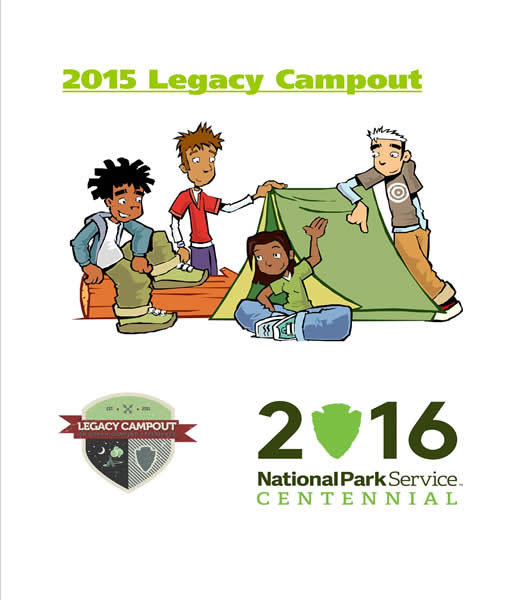 News Release Date:
August 20, 2015
Contact: Rebecca Karcher, (404) 787-3377
Contact: Jasmine Ward, (404) 254-4827
Atlanta, Georgia – Star-lit skies, fire pits, story time, s'mores bar, tents, sleeping bags, and 100 fourth graders are all necessary ingredients for what's cooking this fall! On September 25th students from across the Metro Atlanta area are set to gather at the Martin Luther King Jr. National Historic Site (MLK Jr. NHS) to partake in the Legacy Campout: Road to the Centennial – an experience being organized and executed by MLK Jr. NHS and Greening Youth Foundation (GYF).
The National Park Service is turning 100! MLK Jr. NHS, along with its partner GYF, is on a journey to celebrate this incredible centennial. As part of the celebration, Secretary of the Interior, Sally Jewell recently formalized an optimistic youth initiative that is geared to engage millions of youth with the great outdoors. Many National Parks are energized and are strategizing to reach beyond this goal. Superintendent Forte says, "What a way to kick-off the NPS Centennial celebration…the Legacy Campout!"
Secretary of the Interior, Sally Jewell emphasized the need for a bridge to be built to mend the growing disconnect between young people and the great outdoors. Her goal for youth includes having them play, learn, serve, and work in parks, lands, and waters across the nation. "The next generation of scientists, wildlife biologists, tribal experts, park managers and conservation leaders are now in school or just entering the workforce," Secretary Jewell said in a speech at the National Press Club. "This is the time we need to invest in creating meaningful connections between young people and the great outdoors."
MLK Jr. NHS has opportunities to engage in partnerships with organizations that support protecting our heritage and inspiring the next generation of young people. The MLK Jr. NHS has partnered with GYF over the past five years to offer an amazing outdoor camping experience and community service opportunity to urban youth in the metro-Atlanta area. In previous years, the campout catered to middle and high school students. This year is going to be a little different, to say the least.
Earlier this year, President Obama launched a great initiative to get all children outdoors and learning of our nation's unique history. Every Kid in a Park is an initiative that aims to expose 4th graders to their public lands and waters throughout the 2015-2016 academic school year. The Legacy Campout is proud to be a free and inspiring event that incorporates the Every Kid in a Park initiative by targeting the participation of 100 4th graders in the campout experience on MLK Jr. NHS grounds. GYF and MLK's management team assures this year, the event will be bigger and better than it has ever been!
On Friday, September 25, 2015 at 6 pm, the celebration will kick off with the 2-day Legacy Campout.
As a commitment to provide diverse youth with an opportunity to experience the outdoors in an innovative way, the Legacy Campout is one of the park's signature events. The campout also introduces youth to indelible icons like Dr. Martin Luther King Jr., Coretta Scott King, and others who contributed to America's civil rights movement. Dr. Martin Luther King Jr. once said, "Life's most persistent and urgent question is: 'What are you doing for others?" Through partnerships, GYF and MLK Jr. NHS have provided training and career experiences to hundreds of young people in becoming responsible stewards of natural and cultural resources.
After the Legacy Campout wraps up, the morning of Saturday, September 26, the community service day project as part of National Public Lands Day will be underway. National Public Lands Day is one of the largest volunteer events that improves and enhances our nation's public lands. Participants and volunteers will contribute to the preservation, restoration, and conservation of the community and the MLK Jr. NHS. This entire event will allow Greening Youth Foundation and MLK Jr. NHS to further pursue its goal of improving the sustainability of our planet by educating, training, and encouraging the next generation of environmental leaders.
Greening Youth Foundation and MLK Jr. NHS join together with its valued partners to ensure these events will positively contribute to the legacy of Dr. Martin Luther King, Jr. and the community.
Greening Youth Foundation is a Georgia-based not for profit organization that engages youth and young adult by connecting them to the outdoors while exposing them to careers in conservation. Since 2007, the Greening Youth team has been dedicated to effectively changing the face of the environmental sector by providing access to diverse young adults to work in the many facets of natural resource management across the globe.