Property_Leasing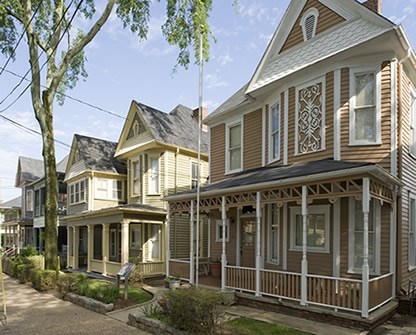 Leasing

Public Law 96-428 established Martin Luther King Jr. National Historic Site October 10, 1980. Thereafter, in January 2018, the National Historic Site was re-designated and renamed as Martin Luther King, Jr. National Historical Park. The mandate within the scope of the established legislation assures that the Martin Luther King, Jr. National Historical Park has an involvement with historic leasing, by charging the NPS with the acquisition of historic structures within the residential setting associated with Dr. King's early life.
Historic Properties are made available to the public for lease/rent without regard to consideration of sex, race, color, national origin, religion, family status or disability.
Our Objective
Protect Historic Structures
Provide safe, sanitary and energy efficient housing.
Atlanta
Atlanta offers residents the comforts of Southern hospitality with the intrigue of cutting-edge entertainment and award-winning dining. It is a city pulsating with daily cultural events, seasonal beauty, and communities that are warm and inviting.
The Community
The Old Fourth Ward, often abbreviated The Fourth Ward or O4W, is a neighborhood just east of Downtown Atlanta, Georgia. During the height of the civil rights movement, the Old Fourth Ward neighborhood of Atlanta, where the Rev. Dr. Martin Luther King Jr. was born, lived and is buried , was a bustling hub of middle-class black life. Now, the neighborhood is generating buzz again - as a cradle of culinary and artistic innovation and as a symbol of gentrification, with a more racially mixed population. Edgewood Avenue, which connects the Old Fourth Ward to downtown and Inman Park, has become a bar and restaurant district. Bar- and restaurant-owners are attracted to Edgewood's "non-corporate" feel, mostly due to its urban layout and historic buildings showcasing turn-of-the-century architecture.

Rental Unit Features
Fully renovated apartments and home
Central Air Conditioning and Heating
Security and Fire Alarm equipped
Cable Ready
Ceiling Fan(s)
Dishwasher
Smoke Free
Washer & Dryer available in some units
Fully Equipped Kitchen
Water included
Sorry, No pets
No Satellite Dishes
How to apply
Schedule an appointment to see available properties, by contacting the Real Property Leasing Specialist at 404-331-2240 or via email at lori_vann@nps.gov. Properties are shown Monday-Thursday between the hours of 10am and 3pm.
Rental/Lease Applications are available in the Park Headquarters Leasing Office, located at 450 Auburn Avenue, NE on the 2nd floor, Monday through Thursday 9-3 or, can be downloaded by clicking here.

What you need to apply
Completed application
Recent Credit Report
Proof of Income (Two paystubs)
2 References
Completed applications and supporting documentation must be submitted to the Real Property Leasing Specialist via mail. Documents can be mailed to the National Park Service, Martin Luther King Jr., NHP, Attention Real Property Leasing Specialist, 450 Auburn Avenue, NE, Atlanta, GA 30312.
All Historic properties will be leased in the order of receipt and approval of application and submission of deposit.

Last updated: March 7, 2023