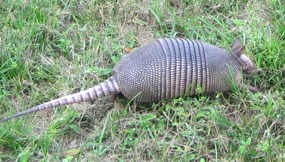 In order to maintain the cultural landscaping within Lyndon B. Johnson National Historical Park, the National Park Service continues to manage the working ranch established by President Johnson. A very regimented, closely-monitored livestock management and grazing program is followed. There is strict control over livestock numbers at the park - approximately 100-125 head of white-faced, registered Hereford cattle. In the Johnson Settlement, the park maintains a small herd of Longhorn cattle and horses.
Common native mammals that can be found within the park include the Opossum (
Didelphis virginiana
), Eastern Red Bat (
Lasiurus borealis
), Nine-banded armadillo (
Dasypus novemcinctus
), Eastern Cottontail (
Sylvilagus floridanus
), Black-tailed Jackrabbit (
Lepus californicus
), Fox Squirrel (
Sciurus niger
), Pygmy Mouse (
Baiomys taylori
), House Mouse (
Mus musculus
), Gray Fox (
Urocyon cinereoargenteus
), Ringtail (
Bassariscus astutus
), Raccoon (
Procyon lotor
), Skunk (
Mephitis
or
Spilogale
), and White-tailed Deer (
Odocoileus virginianus
).
Throughout the latter half of the twentieth century, ranchers in the Texas Hill Country diversified their practices in order to generate income. This diversification included raising a variety of exotic species for sale (such as emu) or for species propagation for zoos or other certified repositories. Income is also generated through hunting leases of native white-tailed deer and exotic game animals.
A number of exotic animal species have been historically raised on the LBJ Ranch as exotic game for hunting. Neighboring ranches also manage populations of exotic game animals. These include Mouflon-Barbados Sheep (
Ovis sp.
), Aoudad Sheep (
Ammotragus Lervia
), Nilgai Antelope (
Rosetaphus tragocamelus
), Blackbuck Antelope (
Antilope cervicapra
), English Red Deer (
Cervus Elaphus
), Axis Deer (
Axis axis
), Fallow Deer (
Dama dama
) and Sika Deer (
Cervus Nippon
). Another exotic species that can be seen along the river is Nutria (
Myocastor coypus
). These large rodents burrow into riverbanks, leading to increased erosion during the frequent floods this region experiences.