For Teachers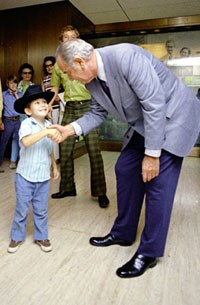 We believe, that is, you and I, that education is not an expense. We believe it is an investment.
Lyndon B. Johnson
October 16, 1968
---
As a former teacher, Lyndon Johnson understood the importance of education and its ability to transform people's lives. His presidential years saw an unprecedented wave of over 60 education bills.
The park that bears his name continues this education legacy.
Local educators have a variety of opportunities to bring lessons on President Johnson's legacy to their students through a variety of resources to integrate into your curriculum.


Last updated: July 14, 2021