Longfellow Summer Festival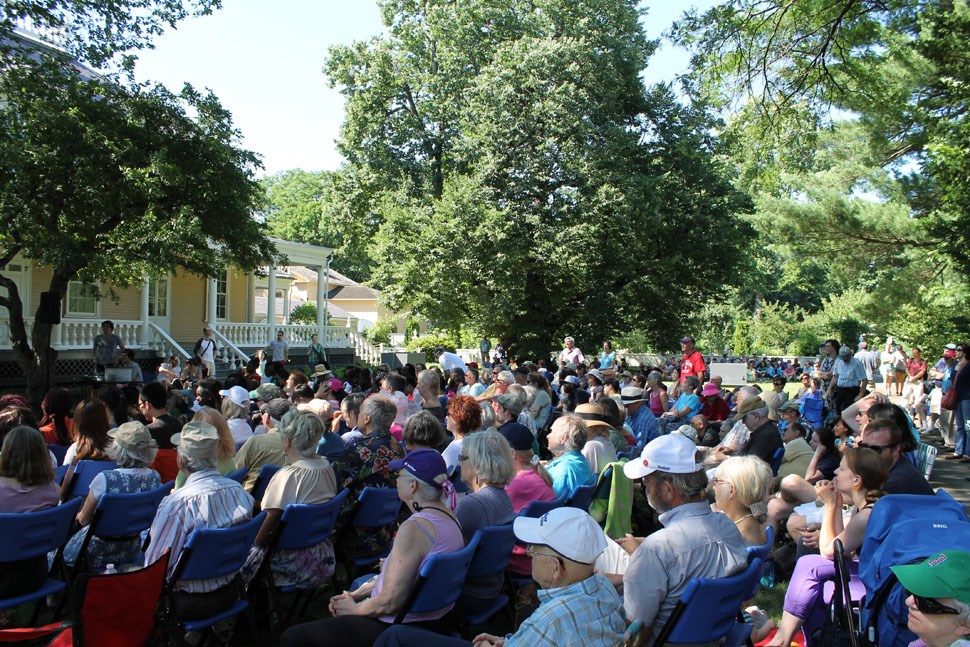 The Longfellow Summer Festival is a tradition nearly as old as the park itself. This annual festival brings music and poetry alive on the East Lawn of the Longfellow House on Sunday afternoons through the summer.
The programs are co-sponsored by the Friends of Longfellow House - Washington's Headquarters, the New England Poetry Club, and Berklee College of Music.
2019 Summer Festival
June 2nd, 3:00 p.m. - Student Poetry Awards
Join us and hear the winning student poetry submission from this year's contest, read by the poets themselves! Co-sponsored by the New England Poetry Club and the Friends of the Longfellow House-Washington's Headquarters through the Frank Buda Memorial Fund. Event occurs rain or shine.
June 9th, 3:00 p.m. - Juventas New Music Ensemble
Juventas New Music Ensemble presents selections from its 2018-19 season, The American Dream, which celebrates the American ideals of opportunity, rights, liberty, and equality. Juventas New Music Ensemble is a contemporary chamber ensemble, with a special focus on music written by emerging voices and the millennial generation. Based in Boston, Juventas serves as an incubator for promising musical pioneers, giving them opportunities to develop, present, and promote their work.
June 13th, 5 - 8:30 p.m. - Fanny Longfellow Ball Gown Unveiling
Join us for a special evening event highlighting a major conservation project of one of Fanny Longfellow's ball gowns.
5:00 pm Open House and Reception: See the dress on display in the house. Refreshments will be served in the Carriage House onsite.
6:30 pm Lecture (at Lesley University's Washburn Hall): learn about the steps taken to stabilize the garment by conservator Camille Myers Breeze.
June 16th, 3:00 p.m. - Mestiza Concert
Mestiza is an all-female group specializing in flamenco-Latin-jazz fusion with an extended repertoire in both covers and originals. With vibrant vocals, their united girl power stands out in a male-dominant environment to become one of the best, freshest, and most original bands at Berklee College of Music.
June 23rd, 3:00 p.m. - The Poetry of Kiriu Minashita
Translation was a key part of Henry Longfellow's literary career. Continuing in that tradition, we invite you to experience the poetry of Japanese poet Kiriu Minashita, as translated by Spencer Thurlow and Eric Hyett.
June 26th, 6:00 p.m. - Warrior Writers Poetry Reading
Join us for a reading of original poetry written by military veterans and service members. Warrior Writers Boston is a community of military veterans, service members, artists, allies, civilians, and healers dedicated to creativity and wellness. They use writing, painting, photography, and a host of other mediums to reflect on their experiences and to articulate/express them creatively. Program may not be suitable for children.
June 30th, 3:00 p.m. - Emily Gelineau Concert
Emily Gelineau is an accomplished violinist in classical, jazz and contemporary idioms. Hailing from Perth, Western Australia, she majors in Performance and Film Scoring at the Berklee College of Music. Emily has played with multiple noteworthy ensembles and bands, both in Australia and Boston, namely the Australian Chamber Orchestra, Australian World Orchestra, West Australian Youth Orchestra. She has performed alongside artists such as Shreya Goshal, Tigran Hamasyan, Toninho Horta and many others during her time in the USA.
July 6th, 12 - 4:00 p.m. - Meet the Washingtons
His Excellency and Martha return to his Cambridge Headquarters! Meet them, ask questions, take the perfect photograph, try out colonial clothing and play historic games. There will also be a Ranger-led walking tour, "Road to Revolution," at 2:30 p.m.
July 7th, 3:00 p.m. - Golden Rose Award Presentation
Award winning poet Mart Doty receives the New England Poetry Club's 2019 Gold Rose Award and reads his work. Mart Doty is the author of nine books of poetry, including Deep Lane, Fire to Fire: New and Selected Poems, which won the 2008 National Book Award. The Golden Rose Award is one of the oldest literary prizes in the United States, first awarded 100 years ago in 1919. The Rose is awarded to a poet, who through their works, have made a significant mark on American poetry.
July 14th, 3:00 p.m. - Camilo Velez Concert
Straight from the heights of Bogotá, Colombia, Camilo Velez seeks to fuse the rhythms and enchanting melodies of the Andes with that of jazz and funk. Let the music take you on a journey unlike any other. Let it surprise you, enchant you, and transport you to the heart of the mountains where it all began.
July 21st, 3:00 p.m. - Eileen Myles Poetry Reading
Eileen Myles is an American poet and writer who has written more than twenty volumes of poetry, fiction, nonfictions, plays and performance pieces. Born in Cambridge, Massachusetts, Myles moved to New York in 1974 to become a poet. Their books include evolution, Afterglow (a dog memoir), I Must Be Living Twice/new and selected poems. Myles has been the recipient of numerous honors and awards including a Guggenheim fellowship, grants from the Foundation for Contemporary Art, Warhol/ Creative Capital, the Clark Prize for excellence in art writing, and the Shelley Prize. In 2019, they received an award from the American Academy of Arts and Letters. They live in New York and Marfa, TX.
July 28th, 3:00 p.m. - Amal Waqar Concert
Amal Waqar is a dynamic young Omani-American oud player, composer, and educator. By seventeen, she made national headlines as the first woman and youngest musician in Oman to headline a recital. In her career, Amal has participated in music festivals around the globe, from the Beirut & Beyond International Music Festival in Lebanon to Katara's Festival for Oud Instrument in Qatar. Amal currently studies at the Berklee College of Music with oud master, Simon Shaheen.
August 4th, 3:00 p.m. - Breaking Silence: Women Out Loud Poetry Reading
Poets Krysten Hill and Shara McCallum share their works. Krysten Hill received her MFA in poetry from UMass Boston, where she currently teaches. She is the recipient of the 2016 St. Botolph Club Foundation Emerging Artist Award. Her chapbook, How Her Spirit Got Out, received the 2017 Jean Pedrick Chapbook Prize. Shara McCallum is the author of five books of poetry. Most recently, Madwoman won the 2018 OCM Bocas Prize for Caribbean Poetry and the 2018 Sheila Margaret Motton Book Prize. She is a Liberal Arts Professor of English at Penn State University.
August 17th, 7:30 p.m. - Movie Night: The White Angel (1936)
Join us on the Longfellow lawn for a showing of The White Angel. It is claimed that this Hollywood biopic of famed nursing crusader Florence Nightingale was inspired by Henry Longfellow's poem, "Santa Filomena." The film starred Warner Brothers' leading lady at the time, Kay Francis, in the role of the heroine of the Crimean War. Run time is 92 minutes, unrated. The movie will be shown on the east lawn of the site - feel free to bring a picnic blanket or folding chair - we will provide some seating.
August 25th, 3:00 p.m. - Teddy Roosevelt: Mind, Body and Spirit
Celebrate Founder's Day - the National Park Service's 103rd birthday - with Teddy Roosevelt! Actor, author, and educator Ted Zalewski brings to life one of America's greatest presidents. Combining history, drama and fun, TR gives voice to many of Roosevelt's own words, writings, and beliefs. Cowboy, soldier, naturalist, historian, father, statesman and winner of the Nobel Prize for Peace, Theodore Roosevelt lived a life that inspires us still. Get ready for a 'bully' time with Teddy Roosevelt: Mind, Body and Spirit!


All events are free and open to the public. Some RSVPs required.
Last updated: June 26, 2019