THING TO DO
2021 Virtual Summer Poetry Festival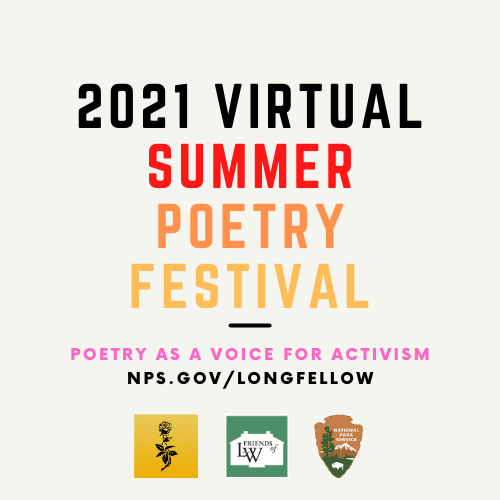 The New England Poetry Club, Friends of Longfellow House-Washington's Headquarters, and Longfellow House-Washington's Headquarters National Historic Site are pleased to announce the 2021 Virtual Summer Poetry Festival: Poetry as a Voice for Activism. This year's festival, which begins Sunday, June 27, will take place live online and connect poetry lovers across the country with remarkable poet-activists who will read and discuss their work.
---
The Longfellow Student Poetry Contest is an annual competition of original poetry, with categories for high school, middle school, and elementary school students.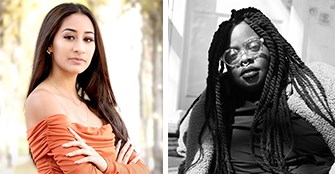 July 11 Porsha Olayiwola & Alondra Bobadilla
Porsha Olayiwola
is a writer, performer, educator and curator who uses afro-futurism and surrealism to examine historical and current issues in the Black, woman, and queer diasporas. She is an Individual World Poetry Slam Champion and the author of
i shimmer sometimes, too
forthcoming with Button Poetry. She is the current poet laureate for the city of Boston.
Alondra Bobadilla
's poetry demonstrates how creative expression can be a powerful tool for youth to examine feelings around issues, find their voice, and speak up about the changes they want to see for their future. She was named Boston's first-ever Youth Poet Laureate in January 2020.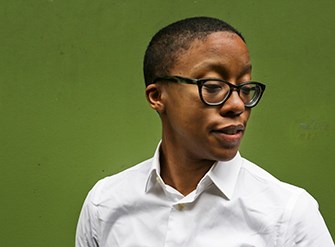 July 18 Donika Kelly
Donika Kelly
is the author of
The Renunciations
and
Bestiary
, winner of the Cave Canem Poetry Prize, a Hurston/Wright Legacy Award, and the Kate Tufts Discovery Award. She is a Cave Canem graduate fellow and a founding member of the collective Poets at the End of the World. Her poems have been published in The New Yorker, The Paris Review, and Foglifter. She is an assistant professor at the University of Iowa, where she teaches creative writing.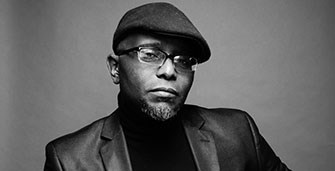 July 25 Tyehimba Jess
Tyehimba Jess is the author of two books of poetry,
Leadbelly
and
Olio
.
Olio
won the 2017 Pulitzer Prize, the Anisfield-Wolf Book Award, The Midland Society Author's Award in Poetry, and received an Outstanding Contribution to Publishing Citation from the Black Caucus of the American Library Association. Jess' fiction and poetry have appeared in many journals and anthologies. Jess is a Professor of English at College of Staten Island.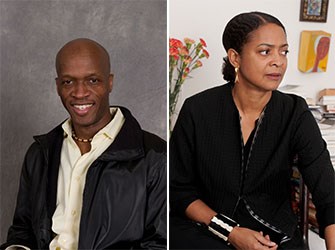 August 8 Danielle Legros Georges & Jean Dany Joachim
Danielle Legros Georges is a writer, translator, academic, and author of several books of poetry including The Dear Remote Nearness of You, winner of the New England Poetry Club's Sheila Margaret Motten book prize. She was appointed the second Poet Laureate of the city of Boston, serving in the role from 2015 to 2019. Her most recent work is a book of translations from the French, Island Heart: The Poems of Ida Faubert, published by Subpress Collective in 2021.
Jean Dany Joachim is a poet, fiction-writer, and playwright. He has four published collections of poetry, Chen Plenn (2007), Crossroads / Chimenkwaze (2013), Avec des Mots (2014), and Quartier (2016). He created the Many Voices Project, inspiring conversations about race and equality. He is an adjunct professor at Bunker Hill Community College, and he serves on the Board of the New Egland Poetry Club.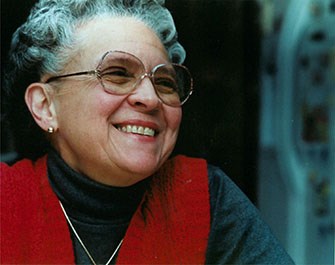 August 29 Golden Rose Award: Rhina P. Espaillat
This year's annual Golden Rose Award will be presented to
Rhina P. Espaillat
. Espaillat has published twelve full-length books, four chapbooks and a monograph on translation. Espaillat is noted for her English translations of Saint John of the Cross, as well as her book of Spanish translations of Robert Frost,
Algo hay que no es amigo de los muros/Something There Is that Doesn't Love a Wall
, and her bilingual collection of Richard Wilbur translations,
Oscura fruta/Dark Berries
.
Her work, which comprises poetry, essays and short stories in both English and her native Spanish, and translations from and into both languages, appears in numerous journals, anthologies and websites. She has received many national and international awards. A founding member of the Melopoeia trio, Espaillat performs with poet Alfred Nicol and guitarist John Tavano, as well as with the quintet known as The Diminished Prophets.
Last updated: June 4, 2021