Article
Juneteenth at Longfellow House-Washington's Headquarters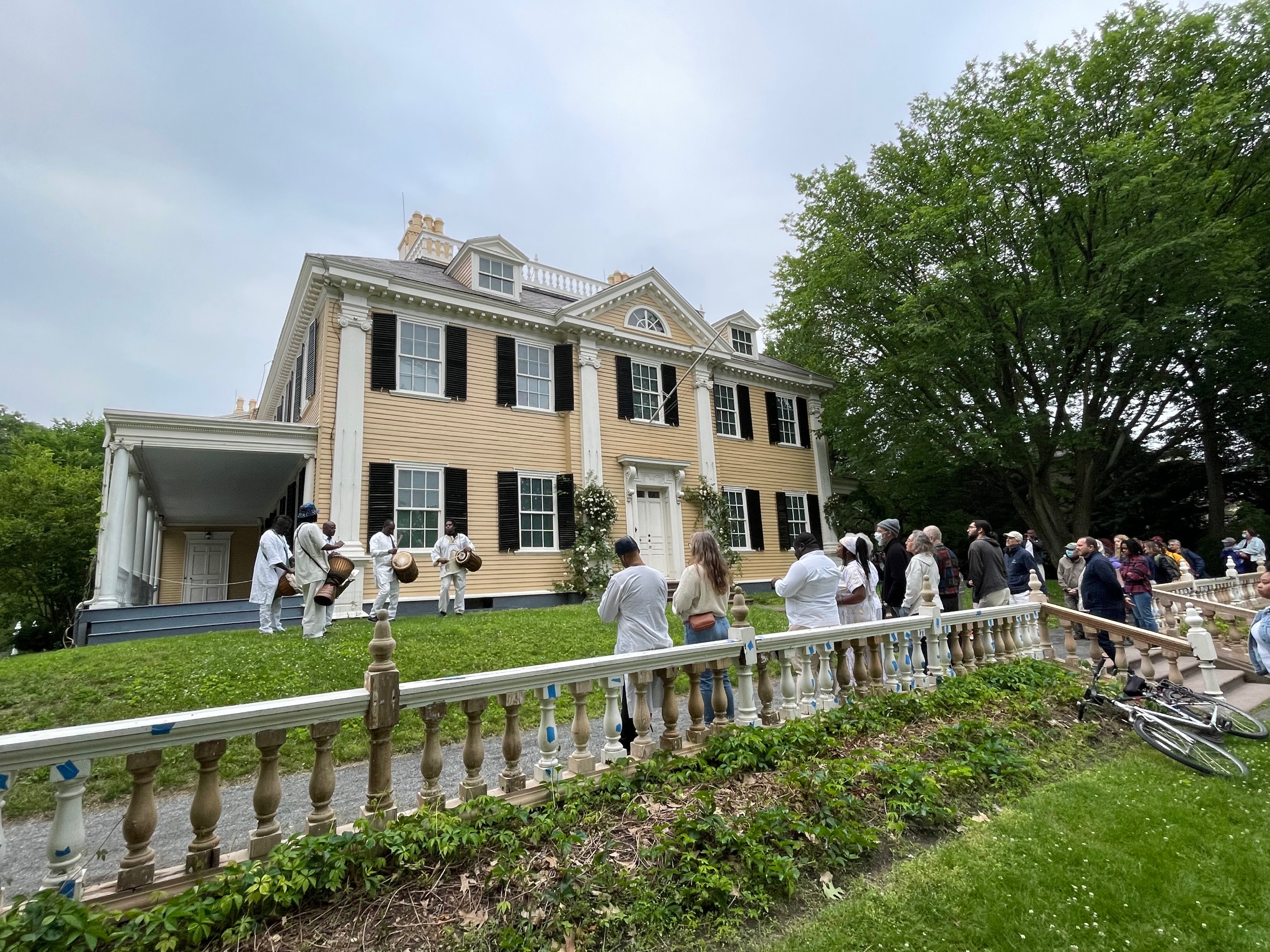 Annual Juneteenth Gathering: Sunday June 18, 2023
Gather for Juneteenth to honor those who endured slavery and seized freedom on Brattle Street before the American Revolution, their living descendants, and the long history of Black freedom activism in Cambridge and beyond. This event will feature a community gathering with music, poetry, and speeches, followed by a screening of the award-winning 2022 documentary Descendant.
4:00-6:30 PM Outdoor Community Gathering
This all-ages gathering is free and open to all. Gather with your loved ones, neighbors, and community members on the Longfellow House lawn for featured presentations by the Descendants of Tony and Cuba Vassall; family-friendly activities; a drum procession; music and #Pop-Up Poetry with Denise Washington and Akili Jamal Haynes, and insight from local historians. Light refreshments provided. The Forgotten Souls of Tory Row art installation by Black Coral, Inc. will also be on view. Light refreshments provided.
Event Schedule:
Words of Welcome
Featured descendant presentations
With special acknowledgement and gratitude to the Wolff-Platt, Washington, Weedman, Smith, and Thompson descendant families.
The Forgotten Souls of Tory Row Black Coral, Inc.
Boston Emancipation Days Christian Walkes, Museum of African American History — Boston | Nantucket
* Intermission *
Video Poem: Enslaved African Denise Washington
Gather/Didadi
Procession/Bolon
Libation/Silence
Lift Every Voice and Sing
#Pop-Up Poetry Denise Washington & Akili Jamal Haynes, Becoming Chibuzo
6:30-8:45 PM Indoor Film Screening: Descendant (2022)
At 6:30 PM, the award-winning documentary Descendant will be screened next door at the Lincoln Institute of Land Policy. The film follows descendants of the survivors of the Clotilda, the last-known slave ship to arrive in the United States, as they celebrate their heritage and take command of their legacy. Free; seating is first-come, first-served (maximum 70 attendees). Running time 1 hour 49 mins. With special thanks and acknowledgement to the Lloyd descendant family.
---
Click here to learn more about Cuba, Dinah, Malcolm, William, and three children: James and two "small boys" whose names are no longer known. These seven people were enslaved by John Vassall at 105 Brattle Street in Cambridge prior to the American Revolution, seized their freedom, and built a legacy of activism.
Presented in partnership with the Descendants of Tony and Cuba Vassall, History Cambridge, the Museum of African American History, Royall House and Slave Quarters, Slave Legacy History Coalition, Cambridge Black History Project, First Church Cambridge, Christ Church Cambridge, and Black Coral, Inc.
Last updated: July 2, 2023