Alaska Native Heritage at Kobuk Valley National Park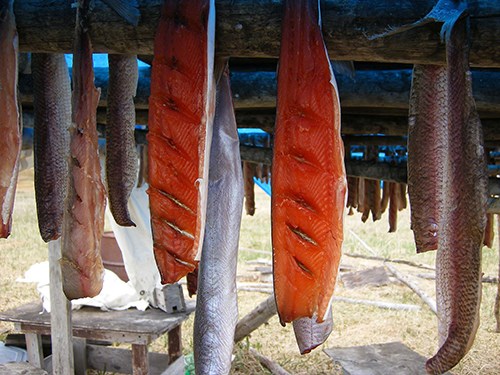 "I always remember what my grandparents told me about animals. You should not waste them… get only what you need, can eat and use. If we do that, we will have a long life." – Lulu Foxglove, Selawik, Alaska
In northwest Alaska, Kobuk Valley National Park is on the traditional homelands of the Iñupiaq people. From time immemorial, the KuvuNmiut have called this area home, relying on the land to sustain them. Residents of the villages around the park and Kobuk River depend on staples of sheefish and salmon (Subsistence Practices in Kobuk Valley - Kobuk Valley National Park (U.S. National Park Service) (nps.gov).  
The Kobuk River is an ancient and current path for people and wildlife. For 9000 years, people came to an area along the river known as Onion Portage (Onion Portage - Kobuk Valley National Park (U.S. National Park Service) (nps.gov) to harvest caribou. Onion Portage is a living history, as every spring and fall the descendants of those early hunters still come to hunt caribou as they swim across the Kobuk River. They use motor boats and rifles instead of canoes and spears, but the long tradition of surviving off the land and sharing knowledge continues today.
Provisions in the Alaska National Interest Lands Conservation Act established a Subsistence Resource Commission (SRC) for Kobuk Valley National Park, providing a venue for local subsistence users to participate in the management of their land. The Kobuk SRC makes recommendations on hunting and fishing regulations within the park, ensuring that future generations will continue to be able to rely on the bounty of the land for survival.
In her own words, learn about 1950s life along the Kobuk River by resident Ruth Sandvik: Ruth Sandvik (U.S. National Park Service) (nps.gov) and her passion for history and Iñupiat heritage.
Visit the park website at Kobuk Valley National Park (U.S. National Park Service) (nps.gov)
Last updated: November 2, 2021