Washington D.C. - Inaugural Journey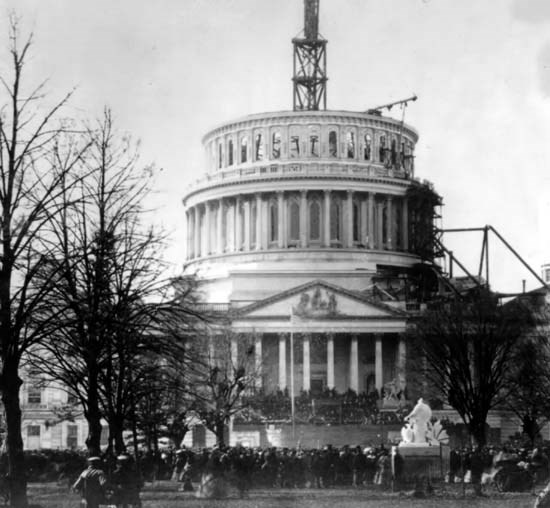 Washington, DC

February 23, 1861
Once safely out of Baltimore, the train proceeded on to Washington, where Lincoln was greeted at the Baltimore and Ohio Station, at New Jersey Avenue and D Street NW, at 6:00 a.m. by Illinois Congressman Elihu Washburne. Lincoln and Washburne then traveled to the Willard Hotel at 1401 Pennsylvania Avenue, where they had breakfast with William Seward. They then proceeded to the White House where they called on President Buchanan and met members of Buchanan's cabinet.
At some point in the morning Lincoln had also telegraphed Mary, who was still in Harrisburg, that he had safely arrived. Mary and the boy's railroad car had to change stations in Baltimore just as her husband's did, but their car was harassed as it was pulled down Pratt Street.
Back at the Willard, Lincoln received visits from General Winfield Scott; Lincoln's future postmaster general Montgomery Blair and his father Francis P. Blair, Sr.; the Illinois congressional delegation headed by Stephen A. Douglas; and, President Buchanan's cabinet. Mrs. Lincoln and the boys arrived safely in Washington, at about 4:00 p.m. and were driven to the Willard by Seward and Washburne.
Lincoln went to Seward's home, on the east side of Lafayette Park, just north of the White House, at 7:00 p.m. for a private dinner during which time a long line of people were gathering back at the Willard awaiting Lincoln's return. It was reported that Lincoln then committed another fashion blunder when, in the excitement of greeting all of those gathered to see him, he forgot to remove his hat.
Lincoln also received delegates of The Washington Peace Conference of 1861. This conference of 100 leading politicians convened on February 4, 1861, at the Willard Hotel, to try and reach a compromise that would be sent to congress to avoid war. Many compromise proposals advocated for allowing for the spread of slavery into territories, which Lincoln firmly opposed. The conference closed without success on February 27. On March 3, Lincoln was inaugurated as the sixteenth president of the United States thus beginning what would prove to be the most difficult presidency in history. During this time of crisis with civil war on the horizon, Lincoln offered a stern warning but held out a hope for peace in his inaugural address.
In your hands, my dissatisfied fellow countrymen, and not in mine, is the momentous issue of civil war. The government will not assail you. You can have no conflict, without being yourselves the aggressors. You have no oath registered in Heaven to destroy the government, while I shall have the most solemn one to ``preserve, protect and defend'' it. We are not enemies, but friends. We must not be enemies. Though passion may have strained, it must not break our bonds of affection. The mystic chords of memory, stretching from every battle-field, and patriot grave, to every living heart and hearth-stone, all over this broad land, will yet swell the chorus of the Union, when again touched, as surely they will be, by the better angels of our nature.
Local Community Contact: President's Park (White House)
Phone:(202)208-1631
Web page: www.nps.gov/whho
Last updated: March 5, 2017