Pittsburgh, Pennsylvania - Inaugural Journey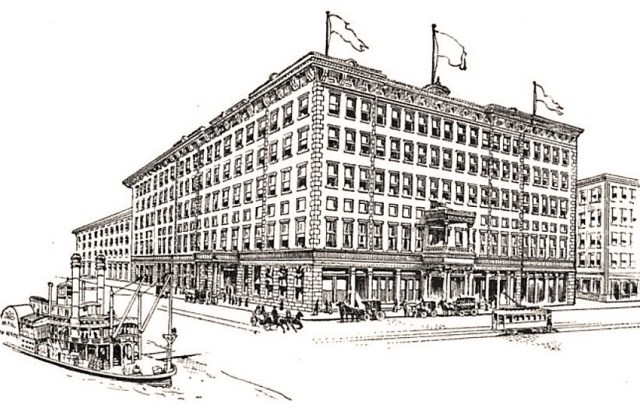 Pittsburgh, Pennsylvania
February 14-15, 1861
Lincoln's train traveled in rain most of the way to Pittsburgh and was delayed for a time due to a stalled freight train on the tracks. Lincoln finally arrived in Allegheny City at 8:00 p.m. where he boarded a carriage for a ride across the river and through mud soaked and crowded streets to Pittsburgh's Monongahela House, at the northwest corner of Fort Pitt and Smithfield Streets. Once inside the lobby, Lincoln stood on a chair to tell those gathered that he would make only a few remarks because of the lateness of his arrival, but promised that he would speak again the following morning.
I could not help thinking, my friends, as I traveled in the rain through your crowded streets, on my way here, that if all that [those] people were in favor of the Union, it can certainly be in no great danger---it will be preserved. But I am talking too long, longer than I ought. You know that it has not been my custom, since I started on the route to Washington, to make long speeches; I am rather inclined to silence, and whether that be wise or not, it is at least more unusual now-a-days to find a man who can hold his tongue than to find one who cannot.
The following morning, February 14, at 8:30 Lincoln made good on his promise to speak and ended up making the longest speech of the entire journey where he spoke of maintaining cool, that there is no crisis in the nation, that the controversy was being promoted by a few "designing" politicians. Notwithstanding the troubles across the river, there is really no crisis, springing from anything in the government itself. My advice, then, under such circumstances, is to keep cool. If the great American people will only keep their temper, on both sides of the line, the troubles will come to an end, and the question which now distracts the country will be settled just as surely as all other difficulties of like character which have originated in this government have been adjusted.
While in Pittsburgh, Lincoln visited his Illinois friend colleague Leonard Swett, who was at hotel for several weeks due to illness. The inaugural train then departed Pittsburgh at about 10:00 a.m. in route to Cleveland, Ohio.
---
Program Location: Soldiers and Sailors Memorial Hall,
4141 Fifth Avenue, Pittsburgh, PA 15213
Phone: 412-621-4253 ext. 201
E-mail: frontdesk@soldiersandsailorshall.org
Web page: http://soldiersandsailorshall.org

Last updated: March 5, 2017