Fire Management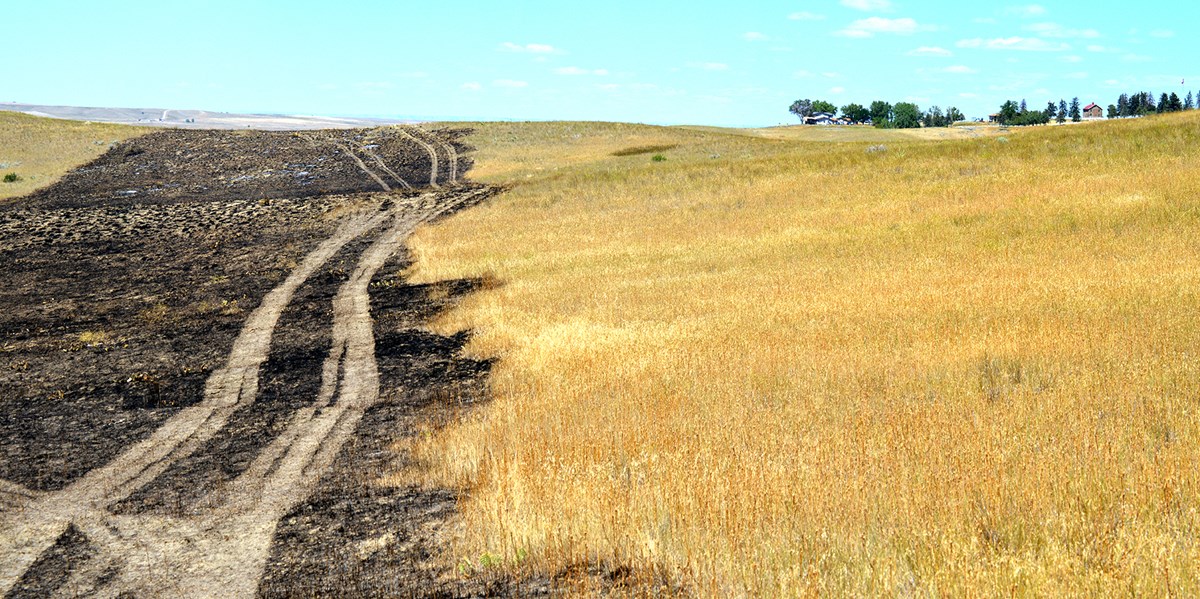 For Little Bighorn Battlefield National Monument, managing wildfire is a balancing act. Wildfire occurrence serves a crucial role in grassland ecology. One of the monument's main objectives, however, is to protect artifacts from the battle, artifacts that could be destroyed in a fire. Park buildings and other structures also need protection. In order to ensure both the health of the land and the monument's history, managers at Little Bighorn National Monument respect both priorities. Managers allow fires to burn to some extent, but take action to suppress them before they threaten the monument's assets. Unfortunately, fires are not very predictable, especially with the added factor of accidental human-caused ignitions. Visitors must be fire-conscious and do their part to help prevent wildfires.
NPS Fire Management Strategy
The National Park Service allows natural processes to take their course whenever practical and when they do not interfere with management objectives. In this case, Little Bighorn's objective to preserve historical and cultural resources may supersede the perpetuation of natural processes. Still, the monument recognizes wildfire as a fundamental aspect of the grassland's ecological health, and incorporates fire management into its strategic planning.
In 2013, the park completed anenvironmental assessment in advance of a new fire management plan for the monument. The goals of the new plan are to ensure the health and safety of the public, NPS staff, and firefighters;to protect cultural and natural resources;and to maintain a healthy and sustainable ecosystem. The NPS emphasize the value of wildfire to the ecosystem while recognizing the need to protect cultural resources, public property, and people.
Resources for more information
Documents and web sites
″Little Bighorn Battlefield Website –https://www.nps.gov/libi/index.htm
″Little Bighorn Battlefield Fire Management Plan Environmental Assessment
https://parkplanning.nps.gov/document.cfm?parkID=77&projectID=40378&documentID=49024
″Smoak, Gregory E. Review Draft June 2012. An Environmental History of Little Bighorn Battlefield
National Monument. Colorado State University Public Lands History Center. Ft. Collins, Colorado, USA.
The Crown of the Continent Research Learning Center
Phone: 406-888-5827Email: glac_citizen_science@nps.gov
Websites: www.crownscience.org, https://www.nps.gov/glac/naturescience/ccrlc.htm
Last updated: August 9, 2016