Wooden Leg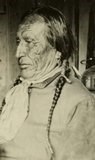 In the summer of 1876, Cheyenne warrior Wooden Leg, at the age of eighteen, participated in both the Battle of the Rosebud and the Battle of the Little Bighorn. Some 46 years later, Dr. Thomas B. Marquis, formerly an agency physician for the Northern Cheyenne, gained the trust of Wooden Leg and secured the story of his life through interviews. The veracity of Wooden Leg's account matches well with what is known about the battles. Marquis further checked Wooden Leg's statements with other Cheyenne.

Wooden Leg's account included his boyhood years and his coming of age as a warrior at age 16-17. Wooden Leg became a warrior at the time the Lakota/Cheyenne reached the climax of their resistance to reservation life. In the spring of 1877 at the age of 19 Wooden Leg's people submitted to reservation life at Red Cloud Agency in Northwest Nebraska.

Wooden Leg traveled with his family when the Northern Cheyenne were coerced to move to Oklahoma in the fall of 1877. They choose not to leave Oklahoma when Little Wolf and Dull Knife left a year later to return to the Tongue River country of Southeast Montana.

In later years, Wooden Leg served as a scout for the army out of Fort Keogh and participated as an army scout in the Ghost Dance affair in 1890. Still later he served as a judge for his tribe.

Wooden Leg's narrative includes numerous accounts of first hand experiences and observations of Cheyenne culture as he grew to adulthood. He identified the difference and importance of old man chiefs and warrior chiefs and the three warrior societies, the Elk, Fox, and Crazy Dog warriors, and the different notching of arrows by each tribe. He stated that warriors dressed in their finest clothing before engaging in battle believing that one should look his best when going to the Great Spirit should he be killed.

Wooden Leg's description of the Battle of the Rosebud pretty much sums up the fight which tactically ended in a draw, "Our Indians fought and ran away… The soldiers and their Indian scouts did the same. Sometimes we chased them, sometimes they chased us."

Wooden Leg's description of his participation in the Battle of the Little Bighorn is especially instructive as he participated, to varying degrees, in all parts of the battle. He was in the middle of Reno's retreat to the bluffs, pulling one soldier from his horse while securing his carbine. He arrived at the Custer part of the battlefield after it had well begun, stating that this part of the battle lasted for more than an hour before the troops were overrun. Wooden Leg said he witnessed some troopers turning their guns on themselves as they were being overrun.
Last updated: August 14, 2018