He Dog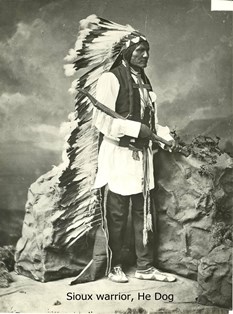 He Dog was a lifelong friend of Crazy Horse. He was born in the spring of 1840 on the headwaters of the Cheyenne River near the Black Hills. He Dog was the son of a headman named Black Stone and his wife, Blue Clay, was a sister of Red Cloud. He Dog and his brothers formed a small Oglala Lakota band known as the Soreback Band which was closely associated with Red Cloud's Bad Face Band of Oglala. As he achieved warrior status, participating in many fights with neighboring tribes, he eventually became a leader of Red Cloud's Bad Face band. He Dog participated in all of the major fights with the U. S. army during the Sioux War of 1876-1877.

His band of Oglala was camped with the Cheyenne on the Powder River when Colonel Joseph Reynold's 3rd Cavalry attacked the camp on March 17, 1876. The warriors were forced out of their camp and their tipis and property was destroyed, but they rallied and forced the army to retreat. That night they recovered most of their captured horses from the army. He Dog also participated in the Battle of the Rosebud on June 17, 1876, helping to turn back Crook's second move north.

When interviewed, He Dog stated that the Sioux/Cheyenne did not pursue Crook after the battle because they were afraid that Crook's Crow/Shoshone scouts would get at their village. He also stated that they knew they had defeated Crook at the Rosebud because he turned his army back south after the battle.

At the Battle of the Little Bighorn, June 25, 1876, He Dog participated in chasing Major Reno's troops back across the Little Bighorn River. He said that the warriors responded to Custer's threat down by Medicine Tail Coulee and chased the troops back up to what has become known as Calhoun Hill at the southend of Battle Ridge. He said that Crazy Horse led the charge that broke the 7th cavalry's line at the Keogh I Company site and divided Custer's battalion into two groups. That the last troops alive broke, from the "Last Stand" area, down toward the river. He Dog believed that the Custer part of the fight lasted not much more than an hour.

He Dog said he was at the Slim Buttes fight north of the Black Hills, September 9, 1876. He stayed with Crazy Horse through the winter of 1876-1877 and surrendered with him at Camp Robinson on May 6, 1877. After the surrender, He Dog attempted to become a liaison between Crazy Horse and the army. In this he proved unsuccessful. He Dog was present when Crazy Horse was killed while resisting arrest at Camp Robinson, September 5, 1877.
Last updated: February 1, 2017