Deep Ravine Trail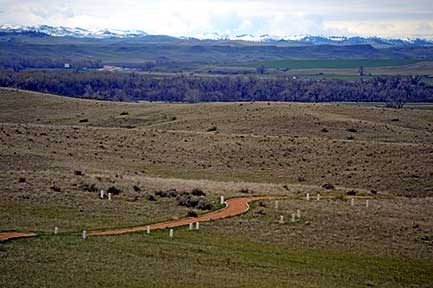 What occurred in the area known as Deep Ravine? The fighting that occurred in the basin below Last Stand Hill is still controversial among scholars and researchers. Warrior accounts describe fierce fighting in the basin, and many early scholars argued that Southern Cheyenne Chief Lame White Man's charge occurred here against soldiers of Company E who had just come down to this ridge from Last Stand Hill. Modern scholars, however, place Lame White Man's charge against soldiers from Company C in the ridge below Calhoun Hill.
Northern Cheyenne oral histories describe soldiers riding down from the present National Cemetery into this basin: "Custer went into the center of a big basin below the monument, and the soldiers of the gray horse company (Company E) got off their horses and moved up afoot."
According to oral tradition, a fierce change was initiated by approximately 20 young Lakota and Cheyenne "suicide" warriors who earlier vowed to sacrifice themselves for their people. The suicide warriors reputedly galloped up to the level ground area where the cemetery now stands, some stampeding the horses of the soldiers, while others charged right into the midst of the troopers. Soldiers who survived their fierce attack retreated to Last Stand Hill. Toward the end of the battle, a group of soldiers broke out from Last Stand Hill and attempted to either charge the warriors here or reach the apparent safety of Deep Ravine or perhaps the Little Bighorn River, but were quickly killed.
The route of the current Deep Ravine Trail was laid out almost immediately after the Battle of the Little Bighorn in 1876. Army personnel interred 7th U.S. Cavalry battle casualties on the field and erected temporary wooden stakes made from tipi poles to mark each site. By 1879, heavy rains and erosion exposed many burials, prompting annual maintenance of the site and additional re-interments. In 1890, Army personnel erected white marble markers at the original solider gravesites.
Some Lakota and Cheyenne families and tribal members also marked the casualty sites of their loved ones who died in the battle with small stone cairns. Beginning in 1999, after consultation with Cheyenne and Lakota tribes, the National Park Service began marking these sites with red granite markers to preserve them.
By the early twentieth century, the early maintenance paths to the headstones attracted visitors to Deep Ravine. Today the markers scattered over this rugged cultural landscape aid visitors and researchers in reconstructing the historic battle, known as the Battle of the Little Bighorn.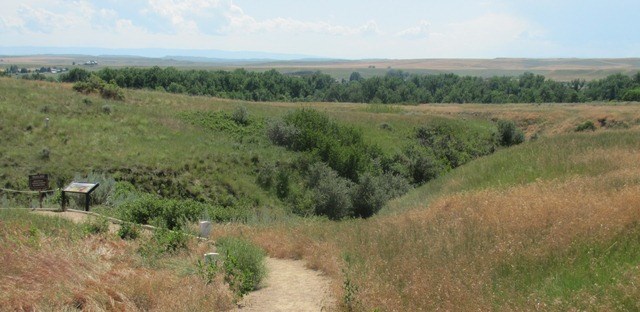 Deep Ravine
"Last gunfire was heard down here"
Cheyenne Warrior Account
Last updated: March 3, 2023