Custer's Last Message
Lieutenant Willaim Winer Cooke. Born in 1846 in Ontario, Canada, Cooke joined the 24th New York Cavalry in 1863. He became a second lieutenant in January 1864 and, first lieutenant in December 1864. He was wounded at Petersburg and mustered out of his unit on June 24, 1865. He was appointed second lieutenant, 7th Cavalry, July 28, 1866 and first lieutenant July 31, 1867. He was regimental adjutant briefly during the winter of 1866-1867 and from January 1871 to June 25, 1876.
On June 25, Custer first viewed the size of the village from the bluff near what became known as Weir Point. Shortly thereafter, at the head of Medicine Tail Coulee, he gave his orderly, Giovanni Martini, a verbal message for Captain Benteen to bring his battalion forward with the pack train as quickly as possible. Adjutant Cooke stopped Martini and scribbled a written message to reinforce Custer's order to Benteen.
Giovanni Martini Born in January 1853 in Italy, he served as a drummer boy in the Italian army at age 14. Martini arrived in the United States from Italy in 1873. He enlisted June 1, 1874 at age 22. His previous occupation was musician and he served as a trumpeter for the 7th Cavalry regiment. He survived the Battle of the Little Bighorn and was discharged at Fort Abraham Lincoln on May 31, 1879, with an excellent character rating.
Cooke apparently felt Martini, who had a thick Italian accent, needed a written message to clarify Custer's order. Cooke's scribbled message read: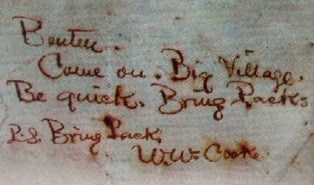 Benteen.
Come On. Big Village. Be quick. Bring Packs.
P.S. Bring packs. W.W. Cooke
By any interpretation the message called for troop reinforcement with the extra ammunition as quickly as possible. Benteen moved forward at an unhurried pace until Martini arrived with Cook's message. This message stirred Benteen to move forward with some urgency. Benteen ran into Reno's retreating battalion before coming to Custer and at Reno's desperate request, Benteen stopped to help Reno.
After Benteen joined Reno's depleted battalion, firing was heard down river to the north. When Captain Weir's (Weir was a personal friend of Custer) requested to go forward to the sound of the guns was denied by Reno, Weir went forward on his own shortly followed by his company. Benteen then followed with the rest of his battalion, with Reno attempting to follow with the wounded after the pack train arrived. Upon wiping out Custer's battalion, Sioux and Cheyenne warriors forced the rest of the 7th Cavalry back to Reno's original position where they held out through the next day until the village moved off during the evening of June 26th.
Last updated: August 10, 2016