Capt. Tom Custer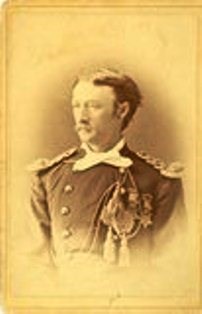 Born on March 15, 1845, at New Rumley, Ohio, Tom was more than five years younger than his more famous older brother, George Armstrong. Tom joined the army at the age of sixteen. He was two years under age when he enlisted to fight in the Civil War on September 2, 1861. He participated in the Battle of Stone's River, December 31, 1862 – January 2, 1863. Thereafter, he served on escort duty for a number of generals including Ulysses S. Grant and George Thomas. Tom reenlisted and on October 23, 1864, he was appointed second lieutenant with the 6th Michigan Cavalry, serving as aide-de-camp to his brother George Custer.
He was awarded two Medals of Honor for his actions at Namozine Church, April 3, 1865, and at Sayler's Creek, April 6, 1865. In these two fights, Tom captured two battle flags and was wounded in the face. He was the first man in American military history and the only Federal soldier in the Civil War to be awarded two Medals of Honor.
Tom Custer joined his brother's command in Texas after the war to restore order and combat French presence in Mexico under Prince Maximilian. He served in Texas until officially mustered out on April 24, 1866. After a brief appointment as second lieutenant, 1st Cavalry, he accepted an appointment as 1st lieutenant, 7th Cavalry, on December 2, 1866, effective July 28, 1866.
Tom Custer's initial experience Indian campaigning with the 7th Cavalry took place on the plains of Kansas. General Hancock's summer campaign of 1867 generally failed to subdue the Cheyenne, Arapahoe and Sioux due to superior Plains Indian mobility using hit-and-run tactics. The winter Washita campaign in present day Oklahoma fared better. At the Battle of Washita, November 27, 1868, Tom received a minor flesh wound in his right hand from a stray bullet.
In 1873, the 7th Cavalry moved to the northern Plains to deal with railroad expansion through Sioux and Northern Cheyenne territory. The 7th Cavalry was stationed at Fort Abraham Lincoln, Dakota Territory. During the summer of 1873, Tom participated in The Yellowstone Expedition where he was involved in two fights with the Sioux. In 1874, he participated in the Black Hills expedition where gold was confirmed in the Hills.
In late December 1874, Tom arrested Rain-in-the–Face, a noted Sioux warrior, for participation in the killing of two civilians, Sutler Augusus Baliran and Dr. John Honsinger, during the Yellowstone Expedition of 1873. Tom led two companies of the 7th Cavalry to arrest him. Guide Charley Reynolds identified Rain-in-the Face to Custer at the agency store in Standing Rock Agency. Tom drew close, threw his arms around Rain-in-the-Face and with the help of another soldier, disarmed him. Tom led his prisoner through a shower of threats by Lakota warriors at the agency and successfully returned him to the Fort Abraham Lincoln guardhouse. Rain-in-the Face later escaped from the guardhouse and threatened to kill Tom Custer and eat his heart.
Tom was appointed captain, 7th Cavalry, on December 2, 1875.
During the Little Bighorn campaign of 1876, Tom was Captain of Company C, but served as aide-de-camp on George Custer's staff at the Battle of the Little Bighorn. Tom died with his brother at the 'Last Stand' area of the battlefield. He was 31 years of age. He was found terribly mutilated after the battle, being identified only by the tattoo "TWC" on his right arm. Tom's remains were buried on the Battlefield, but were exhumed in July 1877, and reinterred in Fort Leavenworth National Cemetery.
Last updated: August 10, 2016