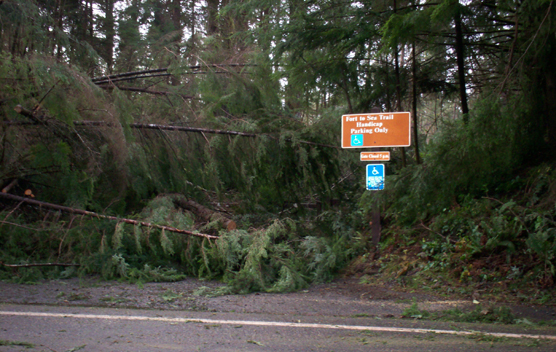 News Release Date:
January 8, 2008
Contact: Jill Harding, (503) 861-4421
Planning is underway to reopen the Fort to Sea Trail, the popular 6.5-mile hiking path between Fort Clatsop and Sunset Beach.
The trail, which was blocked by downed trees, hanging limbs and dangerous snags during December's storm, should be open in a few months, according to the National Park Service.
"Every tree that could have fallen on the trail between Fort Clatsop Road and Clatsop Ridge did," Superintendent David Szymanski said. "Some of the Park Service's most skilled sawyers will be spending a few weeks clearing the trail."
Many generous offers of help to reopen the trail have come from the community. Once hazardous work is completed, volunteer opportunities will be identified and posted on the park's website. Anticipated work includes clearing brush and preventing trail erosion.
"We're grateful that so many people have offered to help us get the trail open," said Szymanski. "Once the saw work is finished, we would love to take people up on offers to help."
The Fort to Sea trail remains totally blocked. The closed sections include the Fort to Sea Trailhead near Fort Clatsop to the Clatsop Ridge Overlook; the Overlook to the U.S. 101 underpass and the underpass to the Sunset Beach Recreation area. 
The park's 1.5-mile Netul River Trail, leading south from Fort Clatsop to the Netul Landing, is open and available to hikers, runners and leashed dogs. Park visitors are welcomed to travel the graveled trail along the river, accessible from the park's Visitor Center, as well as the Netul Landing parking area. A short detour takes the visitors around one section of the trail closed by a partially down tree.
In addition, Fort Clatsop, the Visitor Center and the Lewis & Clark National Park Association Bookstore are open 9 a.m. to 5 p.m. daily.
Meanwhile, as park employees continue to clean up, the public is reminded to heed traffic signs and flaggers on Fort Clatsop Road. Park employees will be moving limbs and clearing both sides of the road.