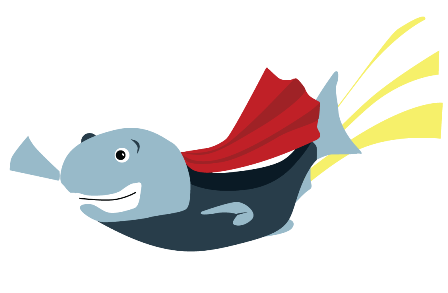 Adventure awaits kids and families in the new Lewis and Clark National Historical Park!
From sandy shores to hike-friendly headlands, we're all about hands-on history. Follow in the footsteps of the Corps of Discovery as you hike one of our many trails; check out and touch the fun exhibits at our visitor centers; call on our friendly and helpful staff to make this a memorable visit.
Here are some best bets for our visitors who are young - and young at heart!
See the "Sammy the Salmon Confronts Change" story.
The "Sammy the Salmon Confronts Change" story tells the story of how Sammy the Salmon might be affected by climate change in the Pacific Northwest. Based on various scientific reports, it shows how Sammy struggles to survive through warmer streams, less food, and increased predation, but offers hope through children who take the Salmon Pledge and chose to live more sustainably.
You can see Sammy's story here.
LEARN
Step into the Fort Clatsop replica at Fort Clatsop and you'll get a real sense of what the Corps of Discovery experienced more than 200 years ago. It looks, smells and feels pretty much the same. In peak visitor season, rangers in buckskins, offer demonstrations such as muzzle loading and shooting, hide tanning and candle making. They're patient, friendly and used to lots of questions about the Corps. Check out the historic canoe landing at the site and consider adding a short walk on one of the nearby trails. If it starts to rain, take a break inside the Visitor Center, which features excellent films, bookstore with children's books and games and other displays. Don't forget to ask to become a Junior Ranger! The activity book is free and loads of fun.
You might consider adding to your Lewis and Clark adventure at the Astoria Column, high atop Astoria. From this Astoria park, you can view the entire Lewis and Clark National Historical Park. Check out the Columbia River, 4 miles wide, and the Washington sites of Dismal Nitch, Station Camp, Fort Columbia and the river's mouth, bounded by Cape Disappointment to the north and Fort Stevens on Oregon's side. To the southwest, you will see Tillamook Head, part of Ecola State Park. The big mountain shaped like a saddle and visible to the south is Saddle Mountain and is the tallest peak in Clatsop County. Clatsop and Chinook Indians as well as other tribes recounted that the first people emerged from the spirit world from Saddle Mountain.
Most kids love to climb the 164 steps to the top of the Astoria Column, which was built in 1926 and has art depicating local history from 1790's to the 1890's. Before your youngsters set foot on the first step, outfit them with a balsa wood glider from the nearby Column gift shop.
Perched on a cliff 200 feet above the mouth of the Columbia River, the recently remodeled Lewis and Clark Interpretive Center tells the story of the Corps of Discovery's journey from St. Louis to the Pacific Ocean. It's a wonderful stop for families, with interactive, child-friendly exhibits that let children try to pack a canoe without tipping it, follow a treasure hunt and check out what the Corps had for its inaugural meal (hint: it was served on china) to what it ate during the rainy winter at Fort Clatsop (roots and sometimes dog figured into the menu.)