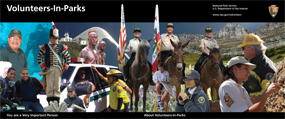 This page is specific to opportunities at the NHT headquarters in Omaha, NE. You can find us along the Missouri River in downtown Omaha, next to the Pedestrian Bridge. Our visitor center is located in the Midwest Regional Office of the National Park Service.
If you're not in the Omaha area, click "View park map" in the sidebar to find a NHT site close to you. As well, a wider range of DOI volunteer opportunities are available and searchable by location online at www.volunteer.gov
If you have questions, please contact us at (402) 661-1808, or email lecl_information@nps.gov.
Why volunteer?
Help commemorate the legacy of the Lewis &Clark expedition and the history of Omaha by getting involved with your local National Parks site. By volunteering your talents, you help enhance the operations of the Park Service in your local community, and are exposed to numerous learning opportunities in a number of fields. Volunteers have the chance to work closely with the National Parks Service staff and volunteers, and are trained in various skill sets according to position.
Do I need to be a Lewis & Clark expert?
Absolutely not! We welcome anyone who is interested in helping, regardless of their knowledge base. Volunteers will be trained on the basics, and volunteering is a great chance to get a handle on anything from the political history of the expedition to the botanical discoveries made along the trail.
Opportunities
The Lewis &Clark National Historic Trail headquarters is currently looking for volunteers to help with visitor operations, publications management, and social media. On an as-needed basis, we would also love experienced photographers and videographers to contribute their talents. More detailed position descriptions are available below.
Available positions will change, so be sure to check back even if you don't see something you would like to do now.
Commitment
Shifts are available 8am-5pm, 7 days a week, though typically we remain open on weekends only through October. Shift times and flexibility varies by position­—for instance, we ask visitor service assistants work 9-1 or 1-5—but can be as short as two hours, and volunteers are asked to commit to at least two months of service. Our greatest need falls during afternoon hours and on weekend days.
Requirements
*If under 18, an additional form must be signed by a parent or guardian.
*For some positions, a background check may be necessary.
*Some positions may require the ability to stand or sit for extended periods of time (see each position for specifics).
How to apply
Download an application online, come by the Visitors Center for a form, or email lecl_information@nps.gov.
Position Descriptions
Currently available positions are described briefly below, and include a link to a PDF with full duties and responsibilities.
Visitor Operations
Be the first face visitors see when they walk in the door! Our VO staff is a valuable resource to visitors and appreciated for their ability to tell them more about Lewis &Clark or NPS than they could get just from our exhibits.
Location: Onsite
Time commitment: 4 hrs/week
Publication Management
We need help managing the ongoing stream of promotional brochures for fellow NPS sites that we stock in our back closet, from Rocky Mountain National Park to Death Valley. This person would primarily be responsible for supervising the mailing and receipt of brochures. As well, we are in the process of cataloguing our collection of literature on the land, people, and history of the trail, and could use some help inputting titles into our database, as well as tracking and acquiring new titles.
Location: Onsite
Time commitment: Flexible
Social Media Assistant
Like to Facebook, Tweet, or otherwise get the word out online? Working with our social media team is a unique opportunity to connect with Lewis &Clark buffs and visitors from across the trail.
Location: Onsite or remote
Time commitment: Flexible
For more National Park Service opportunities visit: