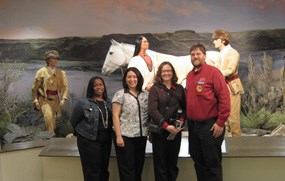 Click here for the Partner Toolkit

It is the mission of the National Park Service to preserve the remnants of the historic route of 1804-1806 Corps of Discovery Expedition located along the Lewis and Clark National Historic Trail and to provide a comprehensive interpretation of its history, including the American Indian perspective, to allow for better visitor understanding and appreciation of its significance.

The Trail is committed to building true relations with all people, to learn from them, and to tell their stories with sensitivity and respect while working to preserve and protect our natural and cultural heritage for future generations.

While Trail administration and staff can plan, influence, and guide some of what occurs along the Trail, most activities, facilities, people and land resources are under the management and control of Trail partners.

The Trail depends on the relationships it has with its partners for good management decisions, quality interpretive and educational programming, pro-active preservation efforts, and recreational opportunities for visitors.