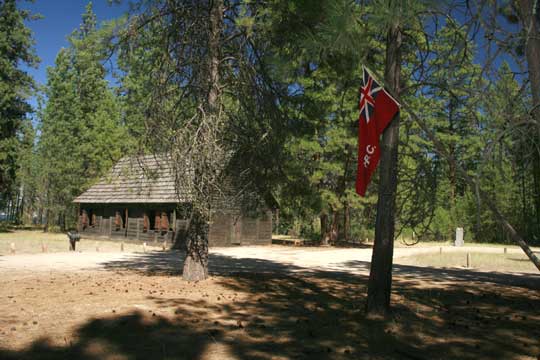 News Release Date:
May 20, 2008
Contact: Lee Snook, 509.738.6266 x 115
Mission Point, over looking the site of the Kettle Falls on the Columbia River, contains a multitude of stories that make up the history of the Inland Northwest. For at least 9000 years people have been coming to the falls to fish and trade. In a very short span of time-a little more than 100 years- the tribes that have made this area their home and fished the falls for survival have seen their way of life drastically altered.
 
One of the many stories of change for the people in and around the Columbia River is that of the Indian Boarding Schools.  Because of these schools, a group of people and their culture were altered forever and the effects from those changes continue to be felt today, decades later. As part of the Mission Point Encampment weekend, Jennifer Ferguson, a member of the Colville Confederated Tribes, will share her family's Indian Boarding School story, Sunday, June 1, at 1:00 p.m.
The living history group Friends of Spokane House will also be on hand, portraying British fur traders and will be encamped next to St. Paul's Mission. They will provide programs throughout the weekend including "Meet the People of the Fur Trade," "Fur Trade Fire Starting Methods," firearms demonstrations and a walking tour of Mission Point.
The public is invited to step back in time to talk with traders, voyageurs, trappers, Métis and Indian "Daughters of the Country."  Visit their camps and lodges; see their flintlock guns, tools, equipment, leather goods and hand-stitched clothing. See open-fire cooking, flint and steel fire-starting, flintlock demonstrations, period music and games.
Another story of change along the river is the construction of the Grand Coulee Dam which stopped the flow of salmon up river. On Saturday May 31st the annual Salmon Feast will to return to the falls. The Colville Confederated Tribes plan to hold a day of drumming, dancing and feasting at the Kettle Falls Historical Center. Tribal members will gather traditional roots in the wild to go with salmon cooked over a fire and other foods. This will be an alcohol-free event to celebrate the Ceremony of Tears when the damming of the river covered the falls and fishing grounds in 1939. The last time the popular feast was held at the Historical Center was in 1980. The public is invited to enjoy the powwow atmosphere, and donations will be accepted for the salmon feast. For more information about the Celebration of the Ceremony of Tears please call Michael Finley, 509-690-7536.
Mission Point is located north of the town of Kettle Falls on Hwy 395, just before the bridge over Lake Roosevelt to Barney's Junction. Parking is less than a ¼ mile from the encampment site, but there will be handicap access. The encampment runs Saturday, May 31, 10:00 a.m. to 5:00 p.m. and Sunday, June 1 10:00 to 4:00 p.m. The Kettle Falls Historical Center is open 11:00 a.m. to 5:00 p.m. Bring sunscreen, lunch, and water to drink. For further information about the Mission Point Encampment, please call 509.738.6366 ext.115 or visit the park web site https://www.nps.gov/laro