Canoeing & Kayaking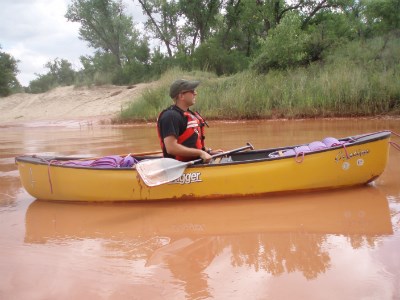 Paddling Lake Meredith and Spring Canyon can be a fun way to explore Lake Meredith National Recreation Area. From quiet, leisurely trips in the Stilling Basin or canal to strength-training paddles across the windy lake, any paddler, from novice to expert can find a perfect experience on the Lake. Be sure to know the weather forecast. Conditions can change quickly.
In years of high water levels, canoes and kayaks can be put in at the Mullinaw crossing and you can paddle down the Canadian River, onto the lake, and all the way to the Fritch Fortress or Sanford-Yake boat ramps.
As added bonuses, canoes and kayaks often can navigate the more narrow, shallow channels that motorized boats cannot, and these activities can improve upper body strength, reduce stress levels, and aide in weight loss plans.
Non-motorized vessels such as canoes and kayaks do not need registration. Remember that most people capsize at least once, so make sure your PFD's (life jackets) are in good condition and worn properly.

Paddling at night: Remember that you must carry one bright white light that can be exhibited in time to prevent a collision. It is recommended that you carry a lantern, flashlight, or other attached white light that will be visible from 360 degrees. Regulations state that canoes, kayaks, and all other manually driven vessels shall exhibit sidelights and a sternlight, and shall exhibit at least one bright light, lantern, or flashlight from sunset to sunrise when not at dock.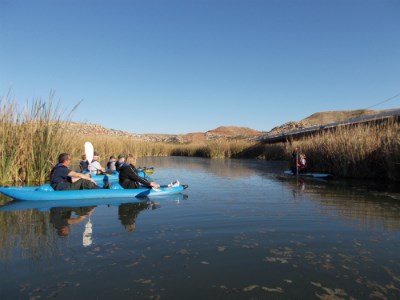 If you are new to kayaking, or don't have your own equipment, you have options.
Wright-On Bait, Tackle and Watercraft Rental, a park vendor at the Sanford-Yake boat ramp, rents kayaks, paddleboards, and even pontoon boats
The park offers ranger-guided kayak trips in Spring Canyon in the late spring through fall, weather permitting. There is a limit of 20 participants per trip. Check the Ranger Guided Hikes page for the kayak trip schedule and please call Park Headquarters at 806.857.3151, Monday-Friday 8:00 a.m. - 4:30 p.m. to make your reservations.
Special Notice:
Keep Invasive Non-Native Mussel Out Of Lake Meredith NRA

Zebra mussels and quagga mussels (nuisance invasive species) have not yet made it to Lake Meredith. In order to not contaminate the lake and spread the mussel , please follow the suggestions below. Effective ways boaters (including personal watercraft, canoe, and kayak users) and fisherman can ensure that their boats, vehicles, trailers and other equipment do not spread mussels to other waters:

1. Drain the water from your motor, live well, and bilge on land before leaving the immediate area of the lake.

2. Completely inspect your vessel and trailer, removing any visible mussels, but also feel for any rough or gritty spots on the hull. These may be young mussels that can be hard to see.

3. Wash the hull, equipment, bilge and any other exposed surface with hot, soapy water or use a 5% solution of household bleach.

4. Clean and wash your trailer, truck or any other equipment that comes in contact with lake water. Mussels can live in small pockets anywhere water collects.

5. Air-dry the boat and other equipment for at least five days before launching in any other waterway. Do not reuse bait once it has been exposed to infested waters.
Last updated: June 7, 2018