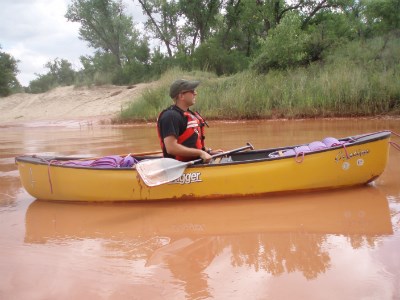 Paddling Lake Meredith and Spring Canyon can be a fun way to explore Lake Meredith National Recreation Area. From quiet, leisurely trips in the Stilling Basin or canal to strength-training paddles across the windy lake, any paddler, from novice to expert can find a perfect experience on the Lake. Be sure to know the weather forecast. Conditions can change quickly.
In years of high water levels, canoes and kayaks can be put in at the Mullinaw crossing and you can paddle down the Canadian River, onto the lake, and all the way to the Fritch Fortress or Sanford-Yake boat ramps.
As added bonuses, canoes and kayaks often can navigate the more narrow, shallow channels that motorized boats cannot, and these activities can improve upper body strength, reduce stress levels, and aide in weight loss plans.
Non-motorized vessels such as canoes and kayaks do not need registration. Remember that most people capsize at least once, so make sure your PFD's (life jackets) are in good condition and worn properly.

Paddling at night: Remember that you must carry one bright white light that can be exhibited in time to prevent a collision. It is recommended that you carry a lantern, flashlight, or other attached white light that will be visible from 360 degrees. Regulations state that canoes, kayaks, and all other manually driven vessels shall exhibit sidelights and a sternlight, and shall exhibit at least one bright light, lantern, or flashlight from sunset to sunrise when not at dock.