Places To Go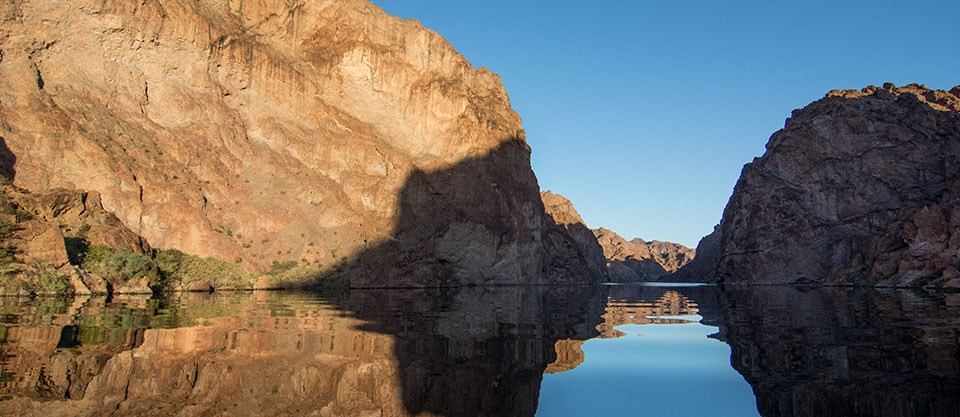 Lake Mead National Recreation Area is big, it's diverse and it's extreme. Temperatures can be harsh, from 120º Fahrenheit in the summer to well below freezing in winter on the high plateaus.
From the mouth of the Grand Canyon, the park follows the Arizona-Nevada border along what was formerly 140 miles of the Colorado River. The two big lakes-Mead and Mohave- are the big draw here.
Lake Mead is impressive: It's 1.5 million acres, 110 miles long when the lake is full, 550 miles of shoreline, around 500 feet at greatest depth, 255 square miles of surface, and when filled to capacity, 28 million acre-feet of water, about two years' flow of the Colorado River. Sixty-seven-mile-long Lake Mohave, formed by Davis Dam, still retains in its upper reaches some of the character of the old Colorado River.
Although much of Lake Mead must be experienced by boat, the various campgrounds, marinas, lodges, and other facilities clustered around the lake make it possible for non-boaters to enjoy it as well. Literally millions of people use the park each year, and many of these visitors return again and again to find that special cove, hiking trail or campground, or just to sit on the shore and enjoy solitude of a quality that only nature can supply.
---
Black Canyon
Explore the newest national water trail at Lake Mead NRA — canoeing, kayaking or rafting, through Black Canyon. This canyon is a wonderland of coves, caves, and hot springs.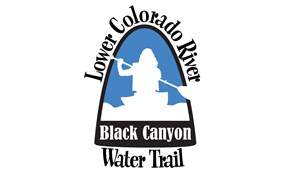 Black Canyon Water Trail
Learn about a national water trail right here at Lake Mead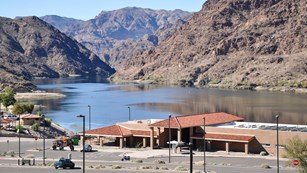 Willow Beach
Willow Beach (offsite link)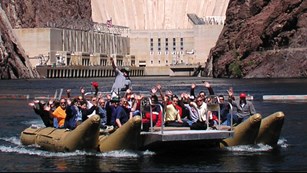 Black Canyon River Adventures
Off site link.
---
Overton Arm
The Overton Arm is in the northern region of the park. It's a tranquil finger of water fed by the Virgin and Muddy rivers. The Overton Arm of Lake Mead attracts the largest concentration of bald eagles wintering in the park.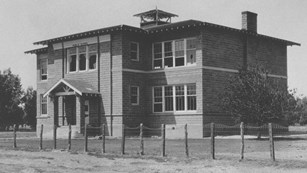 St. Thomas Townsite
See the once thriving town of St. Thomas, Nevada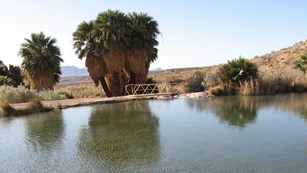 Rogers and Blue Springs
Rogers Spring is a fine example of one of the many springs at Lake Mead.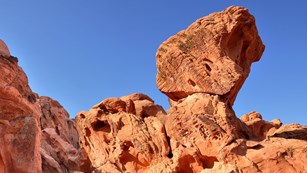 Redstone
Have a picnic surrounded by ancient sand dunes.
---
Boulder Basin
Boulder Basin is the most recognizeable part of Lake Mead NRA. It is the closest part of the park to the entrances from Las Vegas, Henderson, and Boulder City.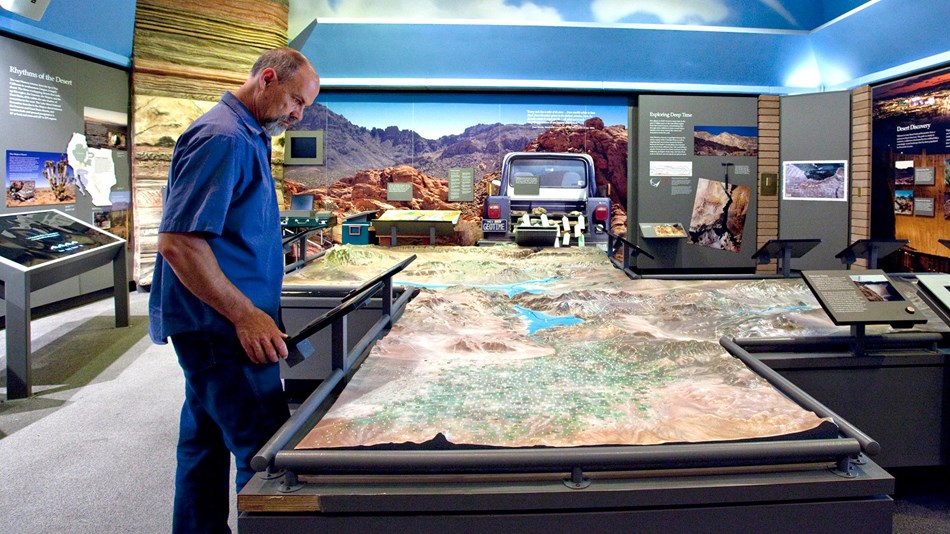 Lake Mead Visitor Center
Enjoy our visitor center where you can get information about the park, maps, directions, books and many displays about the park.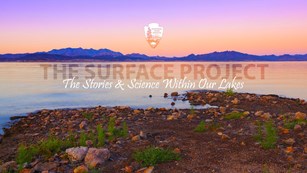 Historic Railroad Trail
Hike the trail that helped build Hoover Dam.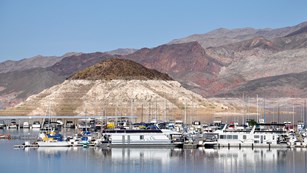 Lake Mead Marina
Lake Mead Marina (offsite link)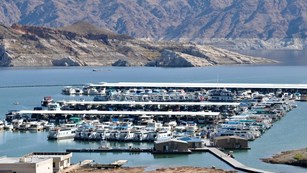 Callville Bay
Callville Bay harbor and campgrounds.
---
East Lake Mead
Quiet and serene, east Lake Mead provides relaxation and scenery in the tranquil part of Lake Mead NRA.
---
Lake Mohave
Formed by Davis Dam, Lake Mohave is a recreation paradise with ample room for water skiing, boating, and swimming.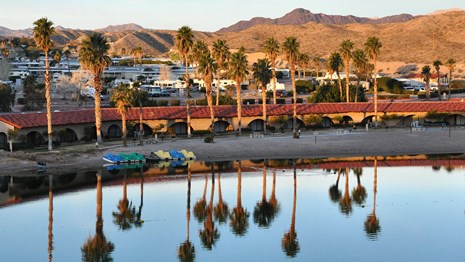 Cottonwood Cove Resort
Cottonwood Cove Resort and marina. (Offsite link)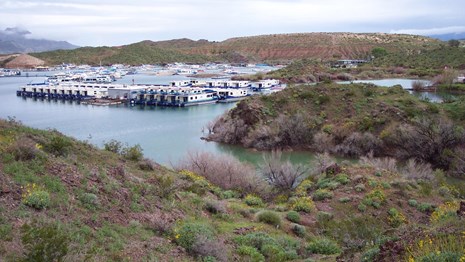 Katherine Landing Resort
Katherine Landing Resort (offsite link)
Last updated: June 11, 2020