Black Canyon National Water Trail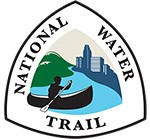 In 2014, the Secretary of Interior designated this portion of the Colorado River as a National Water Trail, making it the first in the Southwest and the first to flow through a desert. You can access the water trail through a guided tour at the base of the Hoover Dam, from Willow Beach, Arizona, or near an old mining town in Eldorado Canyon, Nevada.
As you travel the 30-mile trail, you'll find beaches, caves, coves, hot springs, wilderness and solitude. Desert bighorn sheep and other wildlife are often seen on the cliffs along the river. Historic structures associated with the construction of Hoover Dam can also be viewed.
TRAIL INFORMATION
The water trail is around 30 miles long
Launching at the Hoover Dam (river mile 64) requires a permit
Paddlecraft can launch and takeout at Willow Beach (river mile 52 1/2)
Emerald Cave is located 2 miles up river from Willow Beach
The water trail ends at Eldorado Canyon (river mile 39)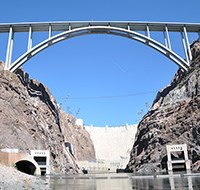 Hoover Dam
Launching at Hoover Dam is an exclusive experience provided by a limited number of vendors in Southern Nevada and Northern Arizona. Visitors are escorted to the launch site on a narrated bus ride into the Hoover Dam Security Zone. Before rafting or paddling down the water trail, guides describe the engineering marvel that is holding back up to 28.9 million acre feet of water in Lake Mead. Tours range from float trips near the dam to day trips to full exploration tours. Approved vendors for Hoover Dam access are listed below.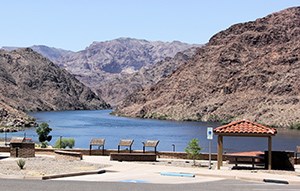 Willow Beach
Located 14 miles south of Hoover Dam off of U.S. 93 on the Arizona side of the water trail, Willow Beach offers a variety of amenities, including a launch ramp and full-service marina with watercraft, canoe and kayak rentals; a campground and RV park; and a store and restaurant. The beach and fishing pier are also popular destinations. Whether hiking, rafting, boating or fishing, visitors at this part of the Black Canyon Water Trail enjoy sheer cliffs of multicolored rocks, sandy beaches and secluded coves.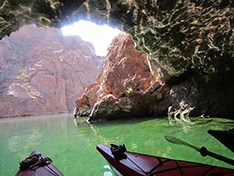 Emerald Cave
Glide into this small cave backwards and have your camera ready. When the afternoon light is just right, the cave becomes a radiant grotto of shimmering green.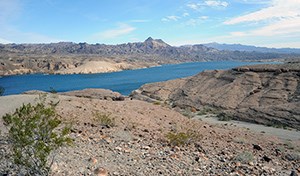 Eldorado Canyon
In the late 1700s, Spaniards searched for gold along the Colorado River. They named their camp "Eldorado" in honor of their quest for the legendary city of gold. At one time, thousands of men, driven by gold fever, lived within the narrow confines of the canyon. This was more men than in the nearby town of Las Vegas.

The Eldorado Canyon marks the end of the Black Canyon Water Trail. Paddlers must carry their watercraft ¼ mile up a desert wash to a vehicle. Those who continue south from Eldorado Canyon need to be prepared for open water, possible windy conditions and extreme temperature ranges. The distance to Cottonwood Cove is 17 miles and it is 40 miles to Katherine Landing.
---
The waterway from the Hoover Dam to Willow Beach is narrow. To provide a wilderness experience in this part of the park, there are rules restricting certain watercraft at various times of the year. Houseboating, water-skiing and wakeboarding are prohibited year round for safety reasons.
Year Round (Sunday and Monday)
The water from Hoover Dam to Willow Beach is managed as a primitive zone. People can experience a variety of motor-less recreational opportunities in a natural setting. Personal watercrafts and vessels with motors are prohibited Sunday and Monday year round.

Between Labor Day and Friday of Memorial Day Weekend (Tuesday through Saturday)
The water from Hoover Dam to Willow Beach is managed as a semi-primitive zone. Personal watercraft remain prohibited. Boating is restricted to vessels with 65-horsepower engines or less.

Between the Saturday of Memorial Day Weekend to Labor Day (Tuesday - Saturday)
The water from Hoover Dam to Willow Beach is managed as a rural-natural zone. During the busy boating season there are no horsepower restrictions and PWCs are allowed.

---
The Lower Colorado River Water Trail Alliance
was formed in 2012 to pursue the designation of a National Water Trail, promote the recreation experience, protect the water's natural beauty and resources, and engage the public in its stewardship. The alliance includes representatives from the National Park Service, Bureau of Reclamation, Get Outdoors Nevada, outfitters/local businesses, the Chamber of Commerce and outdoor enthusiasts.The Alliance's website can be seen at
www.blackcanyonwatertrail.org
Explore the entire National Water Trails System online at
www.nps.gov/watertrails
.
Last updated: May 4, 2023