Tracking Contaminants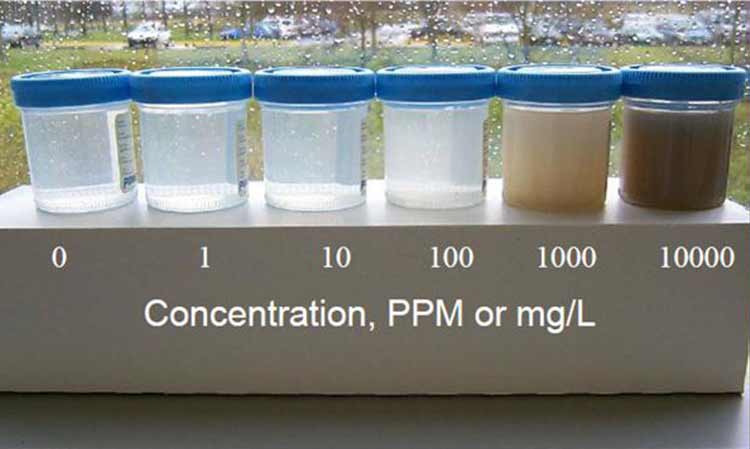 This image demonstrates oil concentrations in water. Notice at levels 1-10 part per million, the water looks as clear as the water containing no oil.
We rely on water every day - when we take our first drink in the morning, take a shower or flush the toilet - but we rarely think about how important clean water is to our daily lives. Yet water-related diseases are some of the world's leading killers, especially among the poor in developing countries. We are fortunate in the United States that a series of laws and regulations protect our waters. Here in the Southwest Desert, water quality is taken very seriously.
---
Ensuring the safety of our water is a big job and the U.S. Environmental Protection Agency (EPA) and the Nevada Division of Environmental Protection are tasked with that undertaking. These agencies monitor not only the water we use but also the water that returns back to the environment. Although the source water in this area is generally good quality, some contaminants are inevitable. Many of the daily products we use, like fragrances, flame-retardants in household products, personal care products and pharmaceuticals, make their way into the water supply through municipal and industrial processes and also from us as consumers. For example, here in Southern Nevada, chemical hormones used in birth control pills and replacement hormones have been found in the Las Vegas Wash and have affected fish populations within the wash. These chemicals are called endocrine disrupting compounds (EDCs) because of their effect on the endocrine system of fish and wildlife. Fortunately, Southern Nevada's highly advanced wastewater and drinking water treatment processes use chlorine and ozone which break down these contaminants so that they do not appear in the community's drinking water and are reduced in water released into the environment.
Drinking water is the heavily regulated and standards are more stringent than water for swimming, for example. The EPA regulates many types of contaminants including microorganisms that can cause disease, disinfectants (and their byproducts) that are used to kill off microorganisms in the water, and inorganic – and organic – chemicals and substances that can seep into the water as it passes through rock deposits with natural radioactivity. For each contaminant, standards indicate the maximum amount allowed in drinking water. Southern Nevada Water Authority conducts extensive testing to ensure drinking water meets these standards. For many of these contaminants, the EPA sets level limits that are in the parts per million (ppm), equal to one milligram per liter of water. (Approximately 40 grains of salt in one gallon of water.)
The Las Vegas Wash is the most significant contributor of contaminants to Lake Mead. Contaminants entering through the wash include EDCs from wastewater, pesticides and gasoline combustion products1 from the surface runoff of the Las Vegas Valley, and the element selenium2 which naturally occurs in soils in the Las Vegas Valley. Although these contaminants are not present in great enough concentrations to be a human health issue, studies related to EDCs3 have documented biomarkers of poor fish health from both Lakes Mead and Mohave. The extent and nature of population level impacts from these compounds on fish in Lake Mead is not yet known.

References
Bevans, H. E., Goodbred, S. L., Miesner, J. F., Watkins, S. A., Gross, T. S., Denslow, N. D., and Choeb, Trenton, 1996, Synthetic organic compounds and carp endocrinology and histology in Las Vegas Wash and Las Vegas and Callville Bays of Lake Mead, Nevada, 1992 and 1995: Water-Resources Investigations Report.
Boyd, Robert A., and Furlong, Edward T., 2002, Human-health pharmaceutical compounds in Lake Mead, Nevada and Arizona, and Las Vegas Wash, Nevada, October 2000-August 2001: Open-File Report.
Burbey, T. J., 1993, Shallow ground water in the Whitney area, southeastern Las Vegas Valley, Clark County, Nevada; Part II, Assessment of a proposed strategy to reduce the contribution of salts to Las Vegas Wash: Water-Resources Investigations Report.
Covay, K.J., and Leiker, T.J., 1998, Synthetic organic compounds in water and bottom sediment from streams, detention basins, and sewage-treatment plant outfalls in Las Vegas Valley, Nevada, 1997: U.S. Geological Survey Open- File Report 98–633, 15 p. (Also available at http://pubs. er.usgs.gov/publication/ofr98633.)
Goodbred, S.L., Leiker, T.J., Patiño, R., Jenkins, J.A., Denslow, N.D., Orsak, E., and Rosen, M.R., 2007, Organic chemical concentrations and reproductive biomarkers in common carp (Cyprinus carpio) collected from two areas in Lake Mead, Nevada, May 1999–May 2000: U.S. Geological Survey Data Series 286, 18 p. (Also available at http://pubs. er.usgs.gov/publication/ds286.)
Leiker, T. J., Abney, S. R., Goodbred, S. L., and Rosen, M. R., 2009, Identification of methyl triclosan and halogenated analogues in male common carp (Cyprinus carpio) from Las Vegas Bay and semipermeable membrane devices from Las Vegas Wash, Nevada: Science of the Total Environment, v. 407, iss. 6, p. 2102-2114.
Lico, Michael S., and Johnson, B. Thomas, 2007, Gasoline-Related Compounds in Lakes Mead and Mohave, Nevada, 2004-06: Scientific Investigations Report.
Roefer, P., Snyder, S., Zegers, R. E., Rexing, D. J., & Fronk, J. L.. (2000). Endocrine-disrupting chemicals in a source water. Journal (american Water Works Association), 92(8), 52–58. Retrieved from http://www.jstor.org/stable/41297361
MJ Rudin, WH Johnson, and AM Meyers, Radionuclide content of Las Vegas wash sediments: Chemosphere [Chemosphere]. Vol. 35, no. 12, pp. 3039-3046. Dec 1997.
Patino, R., Rosen, M. R., Orsak, E. L., Goodbred, S. L., May, T. W., Alvarez, D., Echols, K. R., Wieser, C. M., Ruessler, S., and Torres, L., 2012, Patterns of metal composition and biological condition and their association in male common carp across an environmental contaminant gradient in Lake Mead National Recreation Area, Nevada and Arizona, USA: Science of the Total Environment, v. 416, p. 215-224.
Rosen, Michael R., Goodbred, Steven L., Patino, Reynaldo, Leiker, Thomas A., and Orsak, Erik, 2006, Investigations of the Effects of Synthetic Chemicals on the Endocrine System of Common Carp in Lake Mead, Nevada and Arizona: Fact Sheet.
Rosen, M.R., Turner, K., Goodbred, S.L., and Miller, J.M., eds., 2012, A synthesis of aquatic science for management of Lakes Mead and Mohave: U.S. Geological Survey Circular 1381, 162 p.
Ryan, R., 2008, Las Vegas Wash mainstream water quality report, 2003–2007: Las Vegas, Nev., prepared for Las Vegas Wash Coordination Committee by Southern Nevada Water Authority, accessed August 20, 2012, at http://www.lvwash.org/assets/pdf/resources_wqresearch_mainstreamfinal.pdf
Snyder, S.A., Kelly, K.L., Grange, A.H., Sovocool, G.W., Snyder, E.M., and Giesy, J.P., 2001, Pharmaceuticals and personal care products in the waters of Lake Mead, Nevada in Daughton, C.G., and Jones-Lepp, T.L., eds., Pharmaceuticals and personal care products in the environment—Scientific and regulatory issues: Washington, D.C., American Chemical Society, ACS Symposium Series 791, p. 116–139.
Last updated: April 5, 2017