Date:
September 2, 2015
National Park Service
U.S. Department of the Interior
LAKE MEAD NATIONAL RECREATION AREA News Release
For Immediate Release: September 2, 2015
Release No.: 2015-59
Contacts: 702-293-8691
INTERIOR SECRETARY, WHITE HOUSE KICK-OFF 'EVERY KID IN A PARK' IN LAS VEGAS
All 4th Graders Receive Free Access to National Parks, Public Lands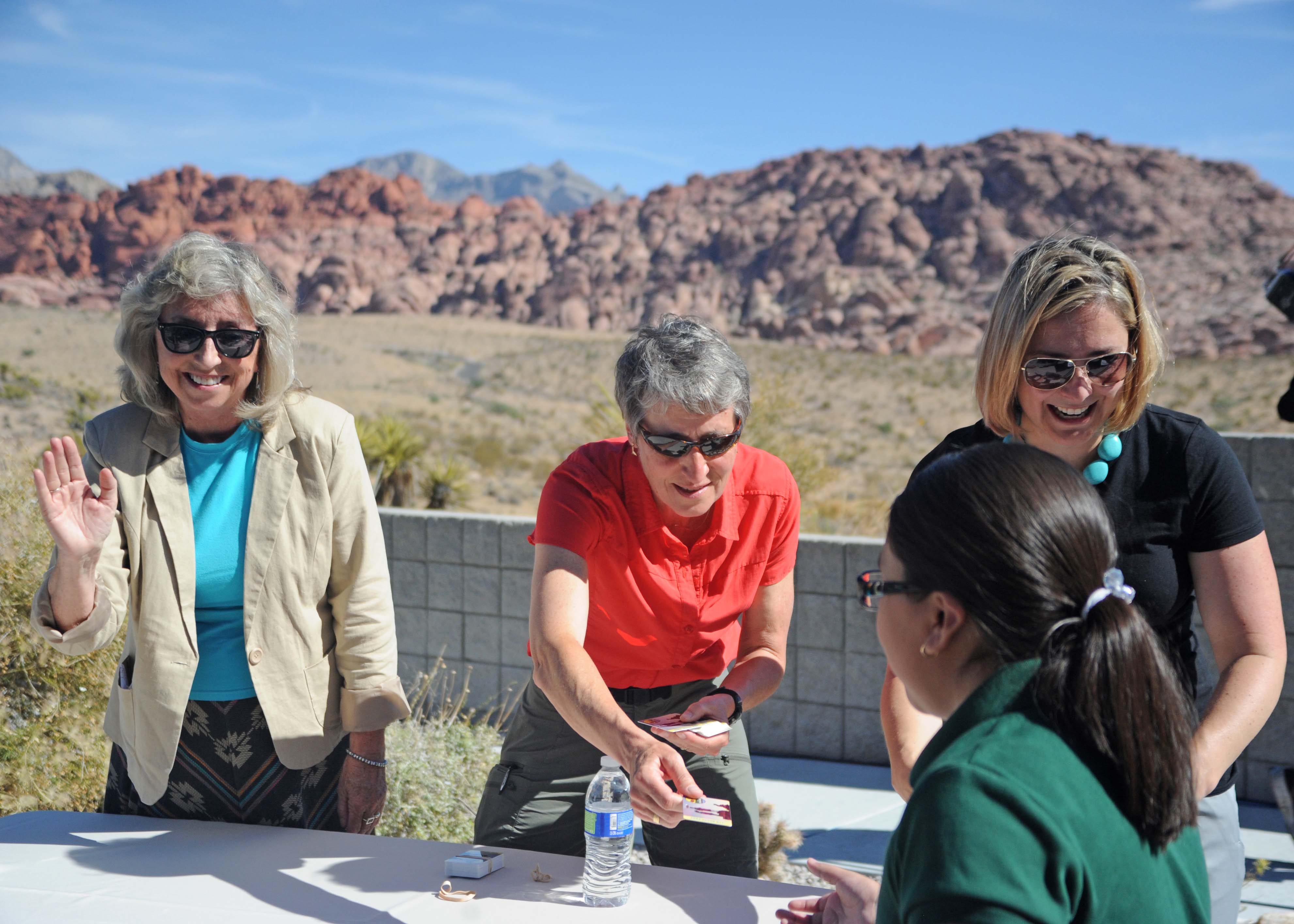 LAS VEGAS –U.S. Secretary of the Interior Sally Jewell gave 65 Las Vegas fourth graders an annual pass for free entry to more than 2,000 federally managed lands and waters during the nation's first official Every Kid in a Park event Sept. 2.
Jewell and Christy Goldfuss, managing director at the White House Council on Environmental Quality, hosted the event and shared details of the White House initiative at Red Rock Canyon National Conservation Area just west of Las Vegas.
"America is blessed with the great outdoors, and through Every Kid in a Park, we're inviting every fourth grader and their family to enjoy our nation's unrivaled public lands and waters. We want to make sure that every American has the opportunity to develop a lifelong connection to our nation's land, water and wildlife," said Jewell.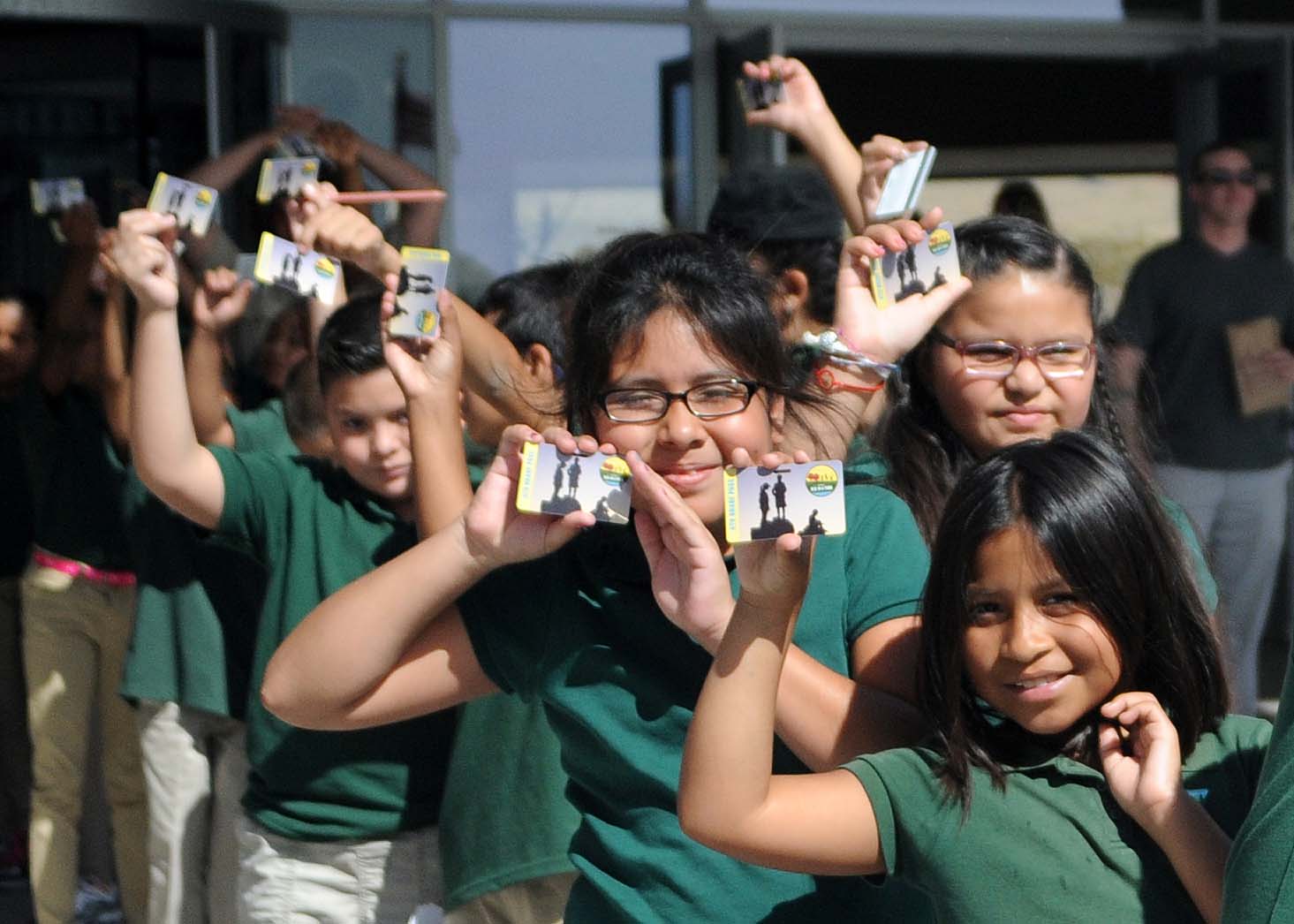 To receive a free pass, fourth graders just need to visit www.everykidinapark.gov. After playing a game, they'll get a paper pass that they can exchange for an annual pass at any fee-collecting park, such as Lake Mead National Recreation Area or Red Rock Canyon.
Every Kid in a Park is part of the National Park Service's Centennial Find Your Park campaign.
"I found my park when introducing my kids to their park," Goldfuss told the crowd of West Preparatory Academy fourth graders. "That's what this program is about, giving every kid in this country the opportunity to have that experience –to discover the wonders and joys of public lands and waters that belong to all of us."
Mauricia Baca, executive director, Outside Las Vegas Foundation, said she found her park growing up in New York City.
"My park is Central Park. That was where I explored rocks, and I climbed trees, and I developed a love for being outside," she told the students. "You find your park, and you'll find your adventure."
Jewell, Baca and U.S. Rep. Dina Titus (NV-1) pointed out that finding your park doesn't have to mean traveling far. Places like Red Rock Canyon, Lake Mead, Tule Springs Fossil Beds National Monument, Mount Charleston and the Desert National Wildlife Refuge are all just minutes from Las Vegas.
"We need to take advantage of the great national parks that are around us," said Titus. "Going to a park is good for us. It's good for our physical side, our emotional side, our intellectual side. It helps our bodies because we're outside. We're in the sunshine. We're exercising. We're hiking. It helps our minds because we learn about the animals and about the desert and the geology. And it helps our spirit because what can be more inspirational than just looking at this kind of fabulous scenery. It inspires us to do good things, to create art, to go back and tell our friends about how wonderful it is."
After receiving their passes from the secretary, the students joined her on a hike at Red Rock, so they could find their park and find their adventure.
Parents are encouraged to visit www.everykidinapark.gov, too. The new website has additional links for more information on planning trips to nearby public lands. Educators and community leaders can also visit the site for educational activities, the ability to print passes for their classrooms and field trip options.
Baca and Will Shafroth, president and CEO, National Park Foundation, said they're committed to getting every kid in a park by providing transportation grants to assist with field trips.
"It takes a community to take care of these places. It's wonderful to welcome you all into this community to care for these places and find adventures in them," Baca told the students. "As I look at you, I just imagine what kind of adventures you're going to find in your lives after you find your special park."
For more information, please visit www.everykidinapark.gov, and follow the program on Twitter @everykidinapark, on Facebook, on Instagram and Youtube.
-NPS-