Surface Geology of Lake Mead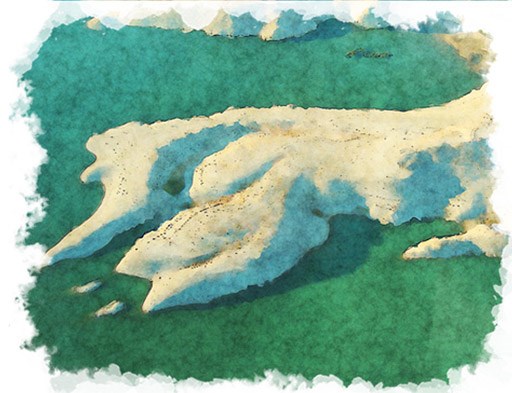 Lake Mead lies along the eastern edge of the Basin and Range province, an area characterized by alternating northward trending mountain ranges and intervening wide basins with low relief. The Colorado River has cut deep canyons through the mountain ranges where the historic river channel is bordered by steep, high-relief walls composed primarily of Precambrian to Tertiary Igneous and metamorphic rocks.
In the adjacent basins, the pre-impoundment Colorado River valley is wide with low banks and flanked largely by the Muddy Creek Formation, Tertiary aged muddy sandstone, or Quaternary alluvial deposits. Following the completion of Hoover Dam in 1936, the waters of the Colorado River began backing up, filling the narrow canyons and flooding the adjacent basins as the waters rose. The resulting morphology of the new reservoir, thus, reflected its basin and range heritage.
Surface Geology
The bottom of Lake Mead is generally characterized by rock outcrops and alluvial deposits that existed prior to the formation of the lake along with post-impoundment sediments deposited since the lake formed. Rock outcrops are most extensive in the narrow steep-sided sections of the lake. Alluvial deposits, which consist of unconsolidated silt, sand, and gravel, are most extensive on the gentle flanks of the broader basin sections of the lake. Post-impoundment sediment is generally distributed along the floors of the deepest parts of the lake, mainly following the paths of the former Colorado River and the tributary valleys that fed into it, rather than being deposited as a drape across the entire lake floor. These sediments are thickest in the deltas that formed at the mouths of the Colorado River and its tributaries, including the Virgin and Muddy Rivers. As the lake level has dropped, these delta deposits have been eroded by the river flow and redistributed to the deeper parts of the lake.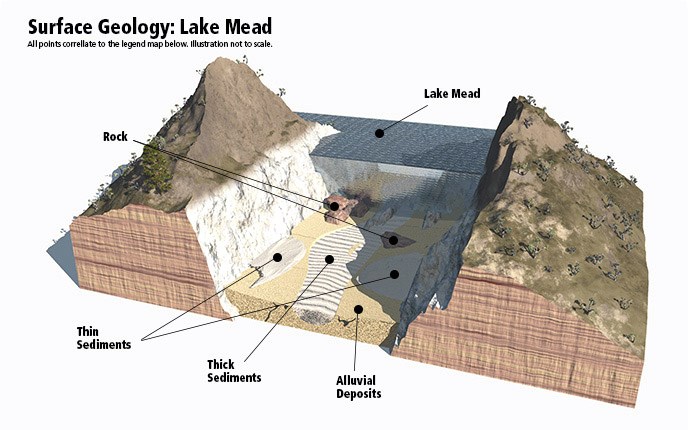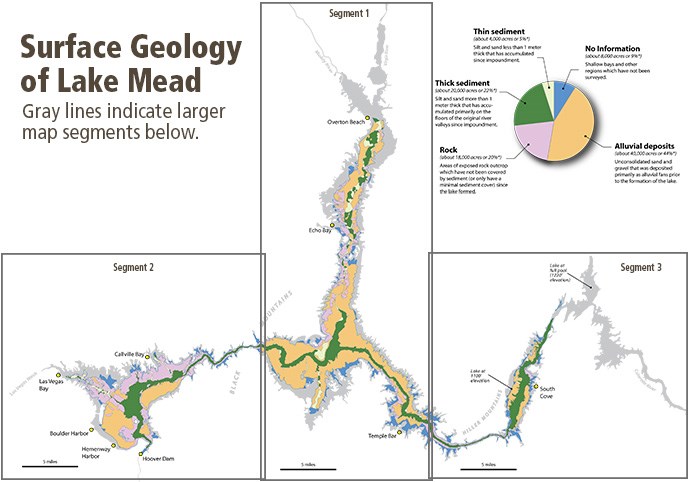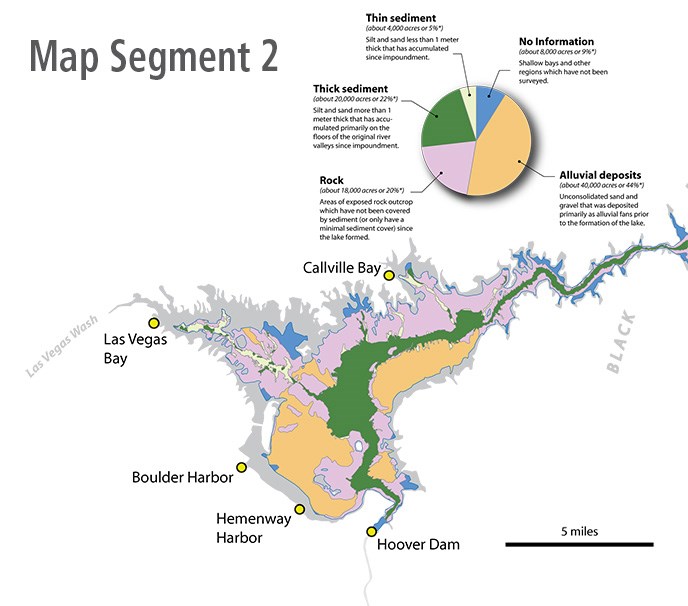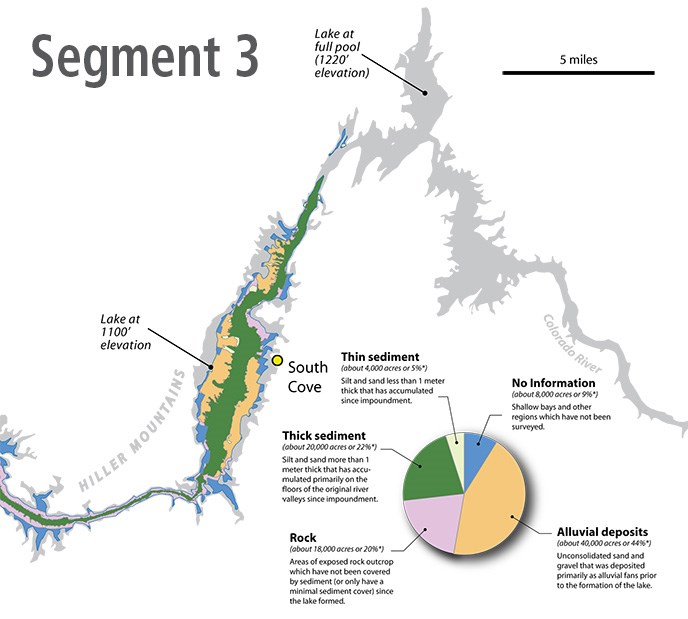 References
Comprehensive Survey of Sedimentation in Lake Mead, 1948-1949 U.S. Geological Survey Professional Paper 295
Mapping the Floor of Lake Mead (Nevada and Arizona): Preliminary Discussion and GIS Data Release U.S. Geological Survey Open File Report 03-320
Surficial Geology of the Floor of Lake Mead (Arizona and Nevada) as Defined by Sidescan-sonar Imagery, Lake Floor Topography and Post-impoundment Sediment Thickness U.S. Geological Survey Open File Report 2009-1150
*Note: Calculations and mapping are based on a lake elevation of 1100'.
Surveys were conducted between 1999 and 2001 by the U.S. Geolgocial Survey in collaboration with the Bureau of Reclamation, University of Nevada Las Vegas, and the National Park Service.
Last updated: December 13, 2022