Storage Capacity of Lake Mead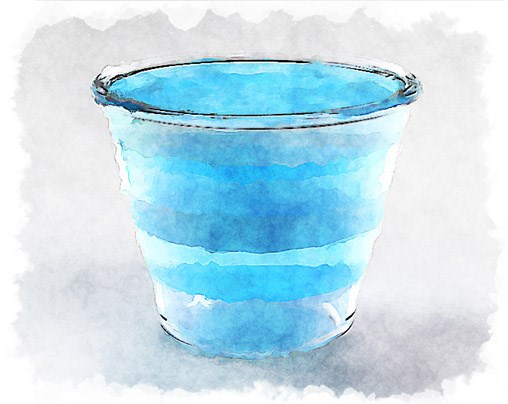 Reported elevations for full storage capacity ("full pool" ) of Lake Mead can vary. The U.S. Bureau of Reclamation (BOR) reports a high water line of 1,229.0 feet but defines an elevation of 1,221.4 (the elevation of the top of the spillway crest at Hoover Dam) as maximum lake storage capacity and 1,219.6 feet elevation as "operationally full." The 1229.0 elevation refers to the top of "exclusive flood control."
The minimum elevation to generate power at Hoover Dam is reported by BOR to be 1,050 feet, below which the reservoir is considered an "inactive pool." Water above 1,050 feet elevation is considered "live storage" and a "dead pool" exists at 895 feet in elevation, which is the lowest water outlet at Hoover Dam.
Measuring the Capacity of Lake Mead
In 1935, the BOR and Soil Conservation Service undertook a mapping program to calculate the storage capacity of the nearly formed Lake Mead. As water began to back up behind the dam, surveyors recorded measurements of the ground surface based on stereoscopic aerial photographs and water soundings (Brown 1941). This study produced calculations of an estimated capacity of over 31 million acre-feet of water at an elevation of 1,221.4 feet. Since 1935, sedimentation has decreased the capacity of the reservoir and a number of subsequent studies have been carried out to determine its current storage capacity as well as to model the lake's economic life into the future.
Subsequent ground surface measurements include bathymetric studies conducted from 1948 to 1949,1963 to 1964, and in 2001. In late 2009, BOR acquired LiDAR (combination of Light and Radar) data for elevations of emerging shorelines, which was meant to complement 2001 side-scan sonar data. The LiDAR and sonar data, which cover elevations of the ground surface at and below 1,230 feet elevation, have been obtained by Lake Mead NRA from BOR under a data sharing agreement and used to estimate lake capacity.
Lake Mead Operational Levels
Description
Elevation
Maximum designed water-surface elevation
1229.0
Crest of drum gates on spillway (raised)
1221.4
Operational capacity
1219.6
Permanent crest of spillway sill
1205.4
Intake tower, upper gates
1050.0
Intake tower, lower cylinder gate entrance liners*
895.0
*Lowest water outlet; below this elevation is dead storage
From Brown [1941] and Bureau of Reclamation [2010]
Area and Capacity of Lake Mead at Controlling Elevations (1935)
Location
Elevation (Feet)
Area of lake (Acres)
Capacity of Lake (Acre-feet)
Maximum designed water-surface elevation
1229.0
162,677
32,359,274
Crest of drum gates on spillway (raised)
1221.4
157,736
31,141,756
Permanent crest of spillway sill
1205.4
148,508
28,691,265
Intake tower, upper gates
1050.0
77,895
11,474,857
Intake tower, lower cylinder gate entrance liners*
895.0
33,287
3,207,346
*From Brown (1941)
Area and Capacity of Lake Mead (2010)
| Location | Elevation (Feet) | Area of Lake (Acres) | Capacity of Lake (Acre-feet) |
| --- | --- | --- | --- |
| Maximum designed water-surface elevation | 1229.0 | 159,866 | 29,686,054 |
| Crest of drum gates on spillway (raised) | 1221.4 | 154,323 | 28,507,783 |
| Operational capacity | 1219.6 | 152,828 | 28,229,730 |
| Permanent crest of spillway sill | 1205.4 | 144,871 | 26,150,596 |
| Current lake level (February 2010) | 1100.0 | 88,689 | 14,210,242 |
| Intake tower, upper gates | 1050.0 | 73,615 | 10,217,399 |
| Intake tower, lower cylinder gate entrance liners | 895.0 | 30,084 | 2,576,395 |
Calculations from Surface and Bathymetric data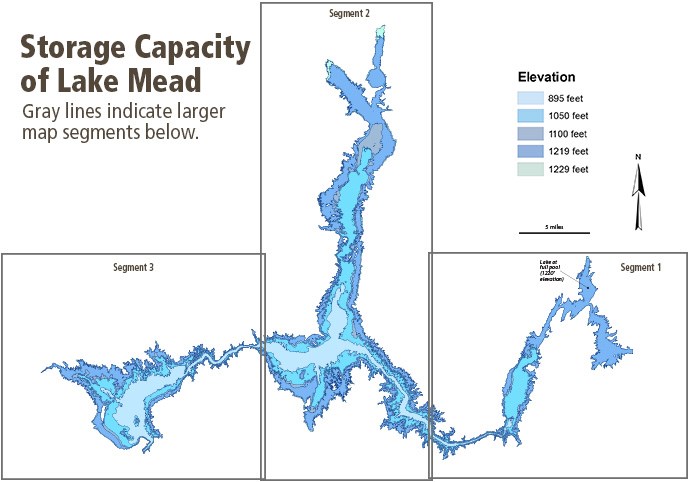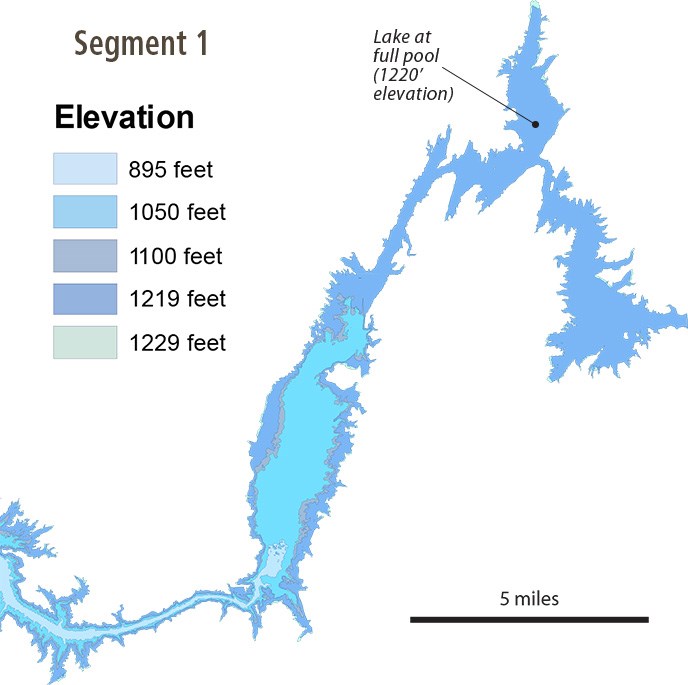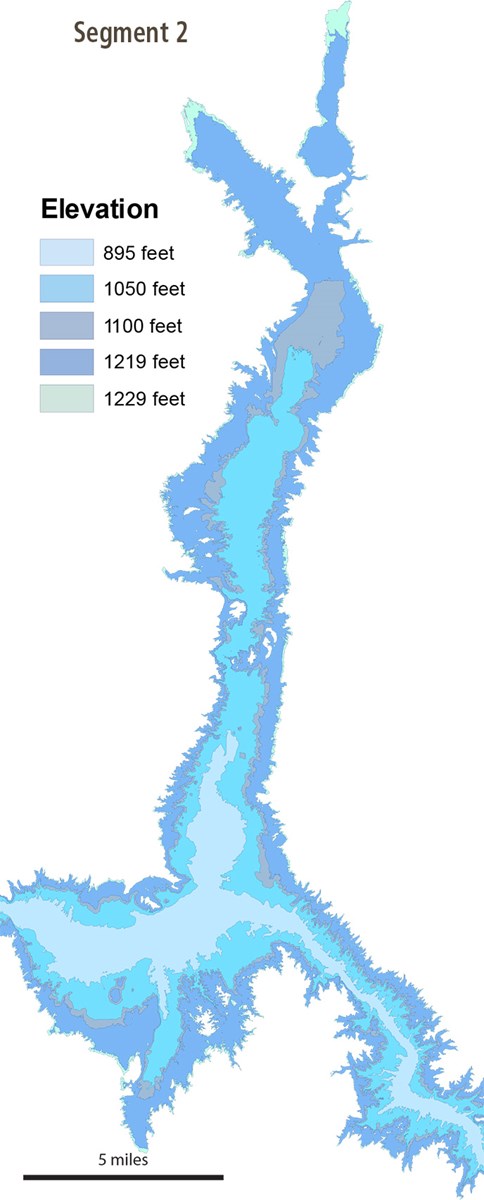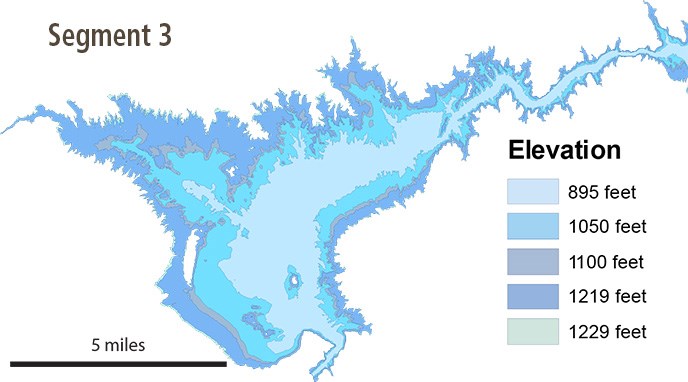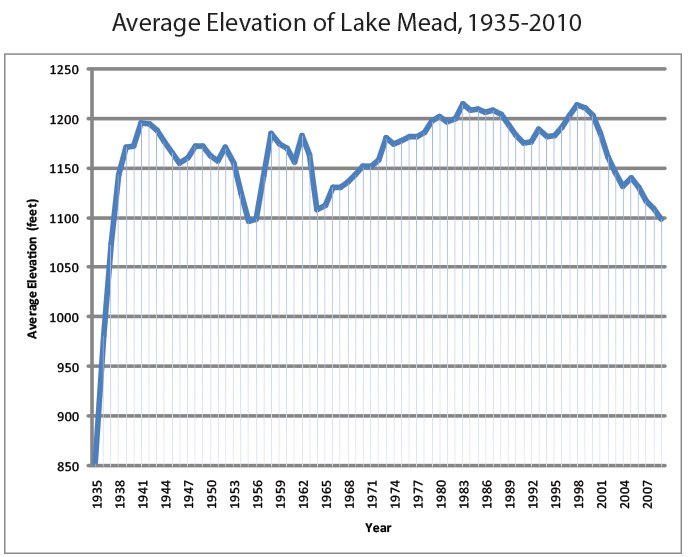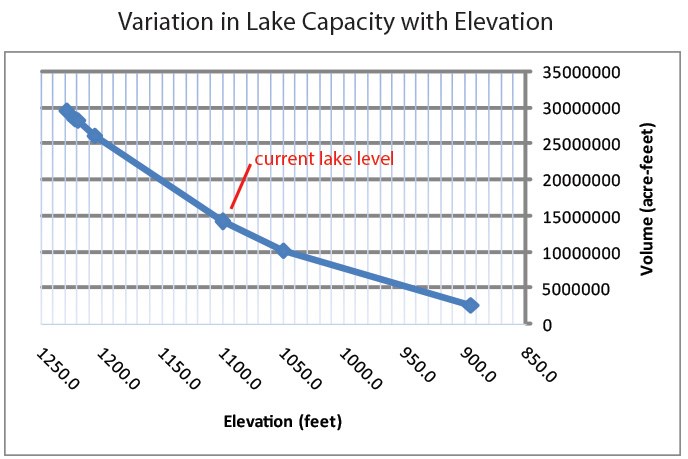 Mapping the Floor of Lake Mead (Nevada and Arizona): Preliminary Discussion and GIS Data Release U.S. Geological Survey Open File Report 03-320, 2003 https://pubs.usgs.gov/of/2003/of03-320/
Mapping Lake Mead Carl B. Brown, Geophysical Review, Vol. 31, No. 3, pp. 385-405, July 1941
Bureau of Reclamation , Lower Colorado Regional Office GIS Group, The 2001 Lake Mead Bathymetry Study. September 2003
U.S. Bureau of Reclamation Lower Colorado River Operations http://www.usbr.gov/lc/riverops.html
Lara, J. M. and Sanders, J. I. The 1963-64 Lake Mead Survey. Bureau of Reclamation, Sedimentation and River Hydraulics Group. Denver, Colorado. Bureau of Reclamation REC-OCE-70-21
Last updated: August 5, 2019