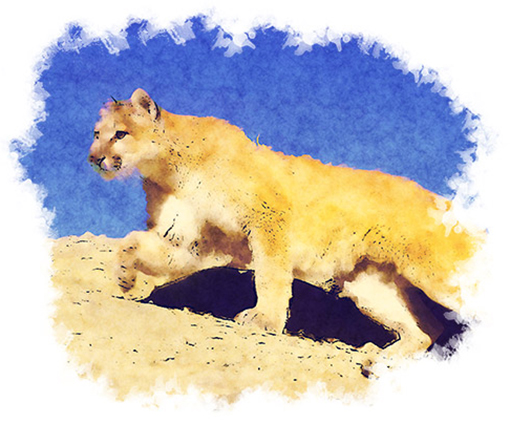 Also known as cougar, puma, panther, yellow cat, catamount, etc., the mountain lion is North America's largest member of the cat family. These majestic creatures once roamed throughout North America, but today, their range is limited to British Columbia and Alberta, Canada, the twelve westernmost states in the U.S., and Florida.
Excessive hunting following European colonization of the Americas and the ongoing human development of mountain lion habitat has caused populations to drop in most parts of its historical range. Sighting a wild mountain lion is a rare and unexpected event. So unexpected that it's common for people to initially mistake them for deer even though the only things deer and mountain lions have in common are four legs and similar colored fur.
These large cats, as adults, can be 30 inches in height at the shoulder, and approximately 8 feet long from nose to tip of tail. The tail of the mountain lion is about one-third the entire length of the body. Mountain lions usually weigh between 75-175 pounds. The largest mountain lion ever to be documented weighed 276 pounds, but a lion of this size is extremely rare.
The coat of the mountain lion is light brown in color, and the fur is short and coarse. The underside of the cat is white, and the tail is tipped in black. Variations in the color of the lion's coat have been listed as rust, apricot, lemon, smoke, and even black.